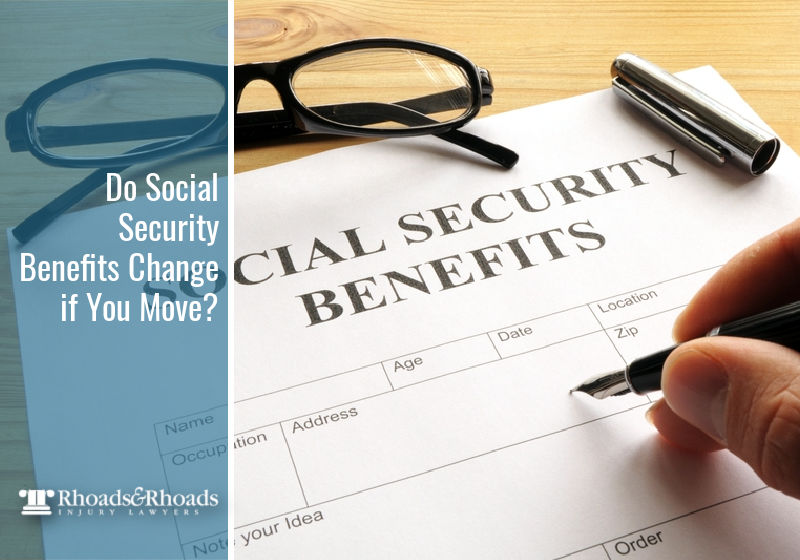 Key Points of this Article:
Generally, your SSDI or SSI benefits will not change when you move.

Your state supplemental disability benefits can be affected, depending on the state you move to.

Moving in with someone could affect your SSI benefits. 
Moving can be a stressful time. Not only are there all of the logistics of the actual move to consider, such as packing, hiring movers, dealing with travel, and then unpacking and getting settled in, but there are also financial logistics to consider, like change of address with creditors and utilities. However, if you are someone who collects SSDI or SSI benefits, you might also be wondering—do social security benefits change if you move?
We get this question a lot as Kentucky Social Security attorneys, and the short answer is no. SSDI and SSI are federal, not local, disability benefit programs, which means you do not need to reapply if you move, nor will you experience social security benefit changes just because you moved to a new state. 
There are some exceptions, however, such as moving in with someone and state supplemental benefits. You will also need to notify the Social Security Administration (SSA)  to ensure your benefits keep arriving. While there is no transferring of social security benefits to another state, the administration does need to know where you live to keep track of you, especially if you receive your benefits by mail. 
So, while your benefit amount should not change, you do need to officially file a change of address for Social Security benefits to continue arriving. 
Notifying the Social Security Administration When You Move
You are required to notify the SSA when you experience a significant life change, even if it does not technically affect your benefits. So if you move, they must have your new address and telephone number on file so they can reach you if needed. 
To file a Social Security disability benefits change of address, you can go online and make the change on your Social Security profile, or you can visit your local office and report the change to someone working there. 
Though there will be no changes in your Social Security benefits, there are four reasons why you still need to notify the SSA of your new address:
To avoid delays in receiving benefits if you get them by check through the mail. 

To keep the SSA records current in case they need to get in contact with you.

To ensure you receive any other mail from the SSA, such as new information regarding your benefits or any other important notices. 

To ensure there is no disruption in state supplements you receive with your Social Security Income (SSI). 
Moving Will Affect Your State Supplemental Benefits
Supplemental benefits can vary from state to state. So where you move from and where you move to could affect your state supplemental benefits. 
States that DO NOT pay SSI state supplements include:
West Virginia

Tennessee 

North Dakota

Mississippi

Arizona

Arkansas
States that pay their own supplements rather than having them included in your SSI payment include:
Kentucky

Alabama 

Florida 

Indiana 

Maine 

Nebraska 

Ohio

South Dakota 

Wisconsin

Alaska

Georgia

Kansas 

Maryland

New Hampshire

Oklahoma

Texas

Wyoming 

Colorado 

Idaho 

Minnesota 

New Mexico

Oregon

Virginia 

Connecticut 

Illinois 

Louisiana 

Missouri 

North Carolina 

South Carolina

Washington
States which have the SSA administer their supplemental benefits include:
California

Hawaii

Montana

Pennsylvania

Delaware

Iowa

Washington D.C.

Massachusetts

New Jersey

Utah

Michigan

New York

Vermont
Moving in With Someone Could Affect Your SSI Benefits
While there will likely be no changes in Social Security benefits for your SSDI payments, your SSI benefits could be affected if you move in with someone. This is because SSDI is based on your work and income history, while SSI is based on general financial need. And if you move in with someone who supports you financially, this means your needs have changed, and thus your SSI benefits could change. 
Kentucky Social Security Lawyers – Rhoads & Rhoads
If you have questions or concerns about your Social Security Disability benefits, the team at Rhoads & Rhoads can assist you. We represent disabled clients throughout Western Kentucky with offices in Owensboro and Madisonville.
Call us at 888-709-9329 or contact us by email to schedule an appointment with one of our Social Security attorneys today. We offer free initial consultations, and all cases are taken on a contingency fee basis, so no initial payment is required. We get paid only if we win or settle your case, and there is NO RISK involved.