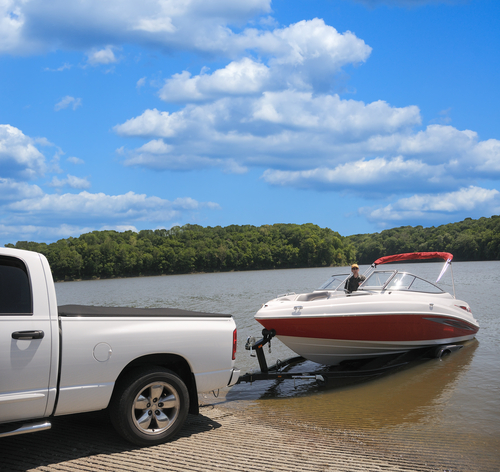 What Drivers Should Know Before They Tow
Earlier this summer, two motorcyclists died after colliding head-on into a utility trailer that came loose from a truck on U.S. 150 in Mount Vernon. The trailer went into the eastbound lane, where the motorcycles were also traveling. While towing accidents aren't always the riskiest roadway hazard for Kentucky drivers to deal with, they do happen.
For the common drivers who tow boats, travel trailers, lightweight open trailers, or toy haulers, our attorneys have collected some common towing mistakes that could trigger serious accidents and deadly injuries to all motorists involved.
Avoid These Common Towing Mistakes  
1. Assuming Your Vehicle Can Handle More Than the Limit
Be sure you know the tow rating for your vehicle before even attempting to travel with anything on your hitch. You can find a tow vehicle's specs listed in the car's owner's manual and usually on a driver's-side door. If you overload your tow, you could soon be dealing with alternative issues that trigger roadway accidents like failing brakes, loose or broken suspensions, blown-out tires or some of your vehicle's technology and safety features may not work the way they were designed to.
2. Not Following State Towing Regulations
Knowing about taillights, safety chains, extra mirrors, or braking equipment required can help not only save you from causing an accident but also a ticket. These laws and regulations can vary from state to state so make sure you are aware of them before you set off with your tow. States also differ on their maximum towing speeds, the maximum trailer width, and the number of vehicles a driver is allowed to tow.
3. Failing to Light Up!
Without the brake lights, taillights, turn signals, and reflectors required by federal law, cars behind you can't see you or your tow vehicle. Be sure to double-check all connections and ensure every light is working prior to hitting any road.
4. Driving with Blind Spots
With limited visibility out the rear, an accident may be inevitable. Mirror extenders can provide an added precaution for changing lanes and going in reverse, but it's really a trailer's size that easily reduces visibility and increases the odds of being involved in a serious accident or even death.
5. Failing to Check Tire Pressure
Science has proven that underinflated tires produce more friction, which can lead to blow-outs and even cause a tragic rollover accident. Driving a fully loaded trailer with underinflated tires can be extremely dangerous and easily trigger an accident. Be sure to check the tire pressure on both your tow vehicle and your trailer before hitting the road.
Kentucky's Auto Accident Lawyers
While most towing accidents are preventable, traffic accidents and road fatalities still happen because of the extra loads. If you or someone in your family has been seriously injured or killed in a motor vehicle accident, the Kentucky car accident lawyers at Rhoads & Rhoads want to help. Take advantage of our free initial consultation and discuss your case with us. Call us at 888-709-9329 or contact us by e-mail to schedule an appointment with one of our Madisonville or Owensboro personal injury attorneys.