At Rhoads & Rhoads, we have a deep and abiding love for the communities we serve. The work we do in our offices is driven by a passion for helping others when they are at their most vulnerable. Deep in our hearts, we believe our most successful days are the ones that leave our neighbors and community members better off than they were the day before. This passion, combined with the confidence and faith of our clients, has sustained us for nearly half a century in western Kentucky.
Our community service, however, goes beyond just what we do in the office. For over 45 years, Rhoads & Rhoads has been fully engaged with life in Owensboro and the surrounding communities. Our attorneys and staff are committed to making a positive difference for our local youth, our veterans, those who are making their way through difficult times, and faith-based service organizations by supporting and participating in community service projects.. Our philanthropy comes from a place of deep personal gratitude and stems from a lifetime commitment to the communities in which we live, work, play, and raise our families.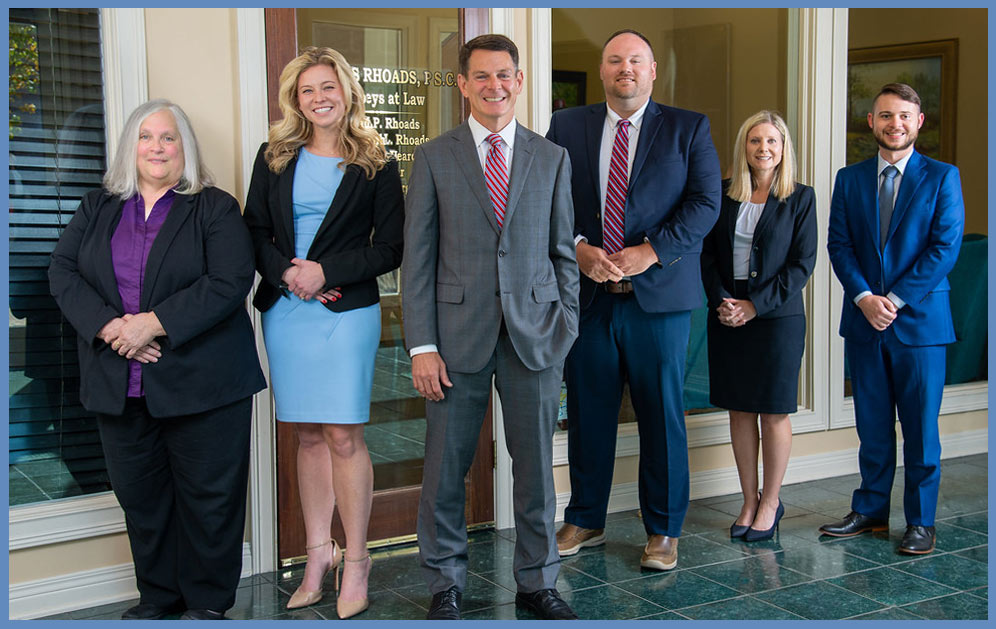 Rhoads & Rhoads: Platinum Readers' Choice Award for Community Service
We were so grateful to be named a Messenger Inquirer 2016 Platinum Readers' Choice Award and a 2019 Gold Readers' Choice Award for being a "Business That Gives Back." In 2019, we were also voted a Platinum Award for Legal Services and a Gold Award for Places to Work. To us, it's an acknowledgement that our community members feel as supported by us as we do by them. Rhoads & Rhoads attorneys and staff commit time and resources to dozens of organizations each year, engaging in community service through pro-bono work, charitable contributions, philanthropic partnerships, attending and sponsoring charity events, volunteering, and serving on boards of charitable organizations.
Annual Dust Bowl in Owensboro, KY
Apollo Football
Benedicts Shelter
Boulware Mission Inc.
Care Net Pregnancy Center
Cinderella's Closet of Western Kentucky
Cliff Hagan Boys & Girls Club, Inc.
Connecting Ministries
Daviess County High School Soccer Team
Dream Riders of Kentucky
Eastern Little League
Fellowship of Christian Athletes
Fraternal Order of Police
Friends of Sinners
Friends of Sinners
Good News Jail & Prison Ministry
Hospice of Western Kentucky
Humane Society of Owensboro
Kentucky Remembers Veterans Day 5K
Kentucky Wesleyan College Campus Ministries
Kids Football League
Madisonville North Hopkins High School Cheerleaders
Mentor Kids of Kentucky
Oasis Women's Shelter
Owensboro Catholic High School Baseball Team
Owensboro Family YMCA
Owensboro Fraternal Order of Police
Owensboro High School Baseball Team
Owensboro High School Cheerleading Team
Owensboro High School Football Team
Owensboro High School Junior Class 2019
Owensboro High School Track & Field
Owensboro Middle School Football
Owensboro Museum of Fine Arts
Owensboro National Day of Prayer
Owensboro Regional Recovery
Owensboro United Soccer Club
Owensboro Western Baseball League
Southern Little League
Sutton Elementary School
The Daniel Pitino Shelter
The Salvation Army
Two River Buddy Ball
Volunteer Owensboro
YMCA
Our interaction with our community goes beyond service. We aim for ongoing civic engagement, leveraging our time and resources to not only give back, but also to listen and build partnerships for long-term problem solving. Change doesn't come quickly or easily, but we believe in fighting the good fight every single day. Together, we can all make a difference.
Supporting Opportunity and Community-Building
At Rhoads & Rhoads, we're proud of our history of community service. We've worked with organizations who support those who are homeless or lifting themselves out of addiction. To be able to serve, support opportunities for our neighbors, and affirm the value of life in these ways is an honor. In particular, we are committed to improving the lives of children and families in need and work in an ongoing capacity with organizations like MentorKids of Kentucky, the Owensboro Family YMCA, and the Cliff Hagan Boys & Girls Club.
In addition to our commitment to those experiencing a life crisis or challenge, we provide support to many organizations responsible for the foundations of our community. Our sponsorship of youth sports teams and local events grew out of a desire to enhance community and provide young and old alike with a place to gather, share, and create memories.
More Than Just a Law Firm
Our greatest hope is for our community to see us far beyond our work as personal injury attorneys. The relationships we have built through our long engagement with the Owensboro and western Kentucky communities are meaningful and driving forces in our daily lives, both professional and personal. No matter what life throws at us, we're right here with you. Rhoads & Rhoads has got your back.