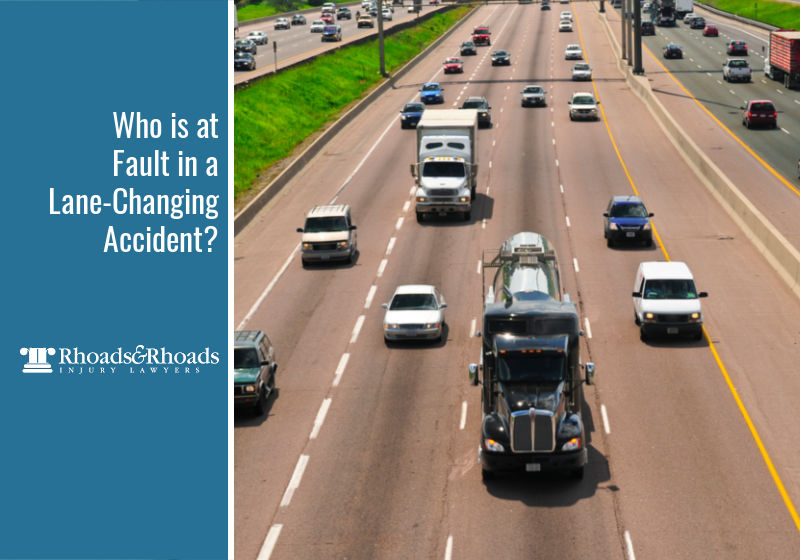 Key Points of This Article:
It's challenging to determine who is at fault in a lane-changing accident because these crashes can be quite complex.

There are many factors involved and numerous parties who may be at fault, including another driver or multiple drivers who did something negligent.

You may have life-changing injuries from an accident like this, plus medical bills and other costs that bring a financial burden.

It's your right in Kentucky to make a legal claim against the person who hurt you in a lane-changing accident.
How Fault is Assigned in Kentucky Lane-Change Crashes
A lane-changing car accident happens when one driver attempts to move from one lane to another, something goes wrong, and two cars collide. On a busy multi-lane highway, a lane change crash can set off a dangerous chain reaction collision that involves multiple vehicles.
It seems like it should be obvious who's at fault, but this isn't always the case. The fault isn't automatically assigned in these crashes and it will depend on the circumstances. 
Potential at-fault parties may include:
The driver who was changing lanes

Another driver who failed to follow the law

Someone merging onto a highway

A distracted driver

A drunk or drugged driver

Multiple drivers who made driving errors
When it comes to traffic accidents, Kentucky is a pure comparative negligence state. This means the fault is distributed among the involved parties by percentages, with a total of 100%.
After a lane-changing accident, two drivers could share 50/50 blame or the percentages could be divided among three or more drivers. It's always possible that one driver will be found to be 100% at fault and the other driver(s) has 0% of the liability, or anywhere in-between.
Types of Lane-Change Crashes We See in Kentucky
Lane-changing crashes tend to fall into certain categories. Below are some of the most common versions of these crashes we see at Rhoads & Rhoads:
Sideswipes Merging Into Traffic
A driver is merging onto a highway or roadway and they sideswipe another vehicle or another vehicle sideswipes them.
Lane Maneuvers in Traffic
Someone attempts to change lanes in traffic and fails to use their turn signal, fails to see someone in their blind spot, rear-ends someone, or makes a quick movement that triggers a crash.
Distracted Driving
While trying to change lanes, a driver is distracted and doesn't make the lane change properly. They might be eating food, putting on makeup, texting and driving, or even just chatting with their passengers – but it's enough distraction to cause a lane-change crash.
Drunk Driving
Drunk driving is a huge problem here in Kentucky, as is drugged driving. When people are intoxicated, their attention span and reaction times are reduced, so car accidents like lane-change crashes are more likely to happen.
Multi-Car Lane-Change Collisions
In some accidents, numerous cars are involved and there are chain-reaction impacts. A bad lane change sets off a two-vehicle collision, which triggers a multi-car collision involving extensive vehicle damage and bodily injury.
What Kentucky Law Says About Lane Changes
Kentucky has state statutes that apply to lane-change crashes. First, there's KRS 189.330, which lays out regulations for turns and lane changes. A lane-change crash is essentially a failure to yield the proper right of way, a violation that can come with a monetary penalty and points on your driver's license.
Another applicable law is KRS 411.182, a tort law that addresses negligence in car accidents. When a driver fails to obey traffic laws they may be assigned blame. Also, more than one motorist can be assigned a proportion of blame under the pure comparative fault system.
Talk to your Kentucky car accident lawyer about other legal issues that might be involved with your crash. For example, maybe a highway road sign was missing or a construction zone improperly led you to a dangerous merge point and caused your accident. A government municipality or private construction company might play some role in your car accident case.
Injuries and Damages From Lane-Change Accidents
Depending on the severity of your lane-change accident, your injuries could range from minor scrapes and bruises to severe injuries like brain damage. Below are some of the more common injuries that arise from lane-change traffic accidents.
Broken bones

Puncture wounds

Soft tissue damage

Skin abrasions and lacerations

Whiplash

Organ damage

Head injuries including concussions

Traumatic brain injuries (TBIs)

Back and spinal injuries

Hand injuries

Foot and ankle injuries
In addition, someone who has been in a traumatic traffic crash may have deep and long-lasting emotional damage that requires psychological treatment. You could have:
Anxiety

Depression

Anger issues

Nightmares

Flashbacks

Trouble sleeping

Emotional damage

Post-traumatic stress disorder (PTSD)
It's important to note that not all injuries from a car accident arise immediately. Physical injuries like concussions and back injuries may take hours or even days to arise. Emotional damage can also be difficult to assess without a professional's insight.
Seek medical care immediately after your crash and continue following your doctors' orders for treatment. Save all of your medical bills and other evidence of your many losses from the accident. This will strengthen your case when you start legal action or an insurance claim.
Take Action After a Lane-Change Accident in Kentucky
Here at Rhoads & Rhoads, we have compassion for injured people who are facing added stress and financial hardship from a traumatic car crash. Our goal is to help you and your family recover the compensation you need to get through this difficult time. 
Don't let anyone talk you out of pursuing accident compensation after your traffic crash. You may be eligible for valuable compensation that covers your medical bills, car damage, lost days of work, and other losses.
You can take advantage of our free initial consultation to discuss your case with us. There is no upfront payment required and there is NO RISK involved.
Call the Kentucky car accident attorneys at Rhoads & Rhoads at 888-709-9329 to schedule your FREE legal consultation today.
Also read: Understanding the Dangers of Drowsy Driving