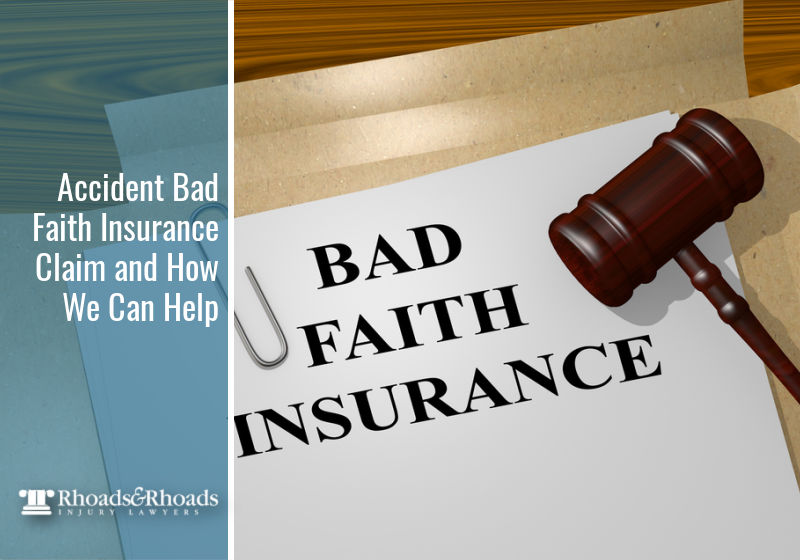 Knowing that you have auto insurance should make you feel reassured. Not only are you spending hundreds or thousands of dollars a year to satisfy the law in Kentucky, but you are also deriving the comfort of knowing that you will be taken care of financially if you do end up in an accident. Unfortunately, for many people who have had to deal with an insurance company after a crash, the positive connotations of the word "insurance" are replaced with negative memories and connections. Simply put, insurance companies are profit-making entities that will offer as low compensation settlements as possible in the hopes that you will accept.
It is always in your best interest to work with an experienced and competent car accident attorney to make sure that you are fairly compensated.
In some cases, however, insurance companies are not only reluctant to fairly compensate you, but they also act in bad faith. If this happens, you have the right to file a bad faith claim.
What Is Bad Faith?
The official bad faith definition is the intent to deceive. In a legal sense, the term "bad faith" pertains to deceit or deception in a transaction. Its meaning varies based on the specific context; it may refer to an insincere intention or objective, inadequate fulfillment of responsibilities, disregard for equitable business practices, or a deliberate scheme to defraud.
What Is Bad Faith Insurance?
When an insurance provider fails to fulfill its obligations to policyholders, such conduct is commonly referred to as "bad faith insurance." This can take the form of denying a legitimate claim by a policyholder or neglecting to investigate and process a claim within a reasonable timeframe. In Kentucky, Bad faith insurance applies when your insurance company breaches Kentucky's Unfair Claims Settlement Practices Act (UCSPA). The details of this act are found in Kentucky Revised Statute 304.12-230. The state declares that it is unfair for any person to "either commit or perform" any of the 17 "acts or omissions" listed.
Examples:
Misrepresenting pertinent facts or insurance policy provisions relating to coverages at issue.
Failing to acknowledge and act reasonably promptly upon communications concerning claims arising under insurance policies.
Failing to adopt and implement reasonable standards for the prompt investigation of claims arising under insurance policies.
Refusing to pay claims without conducting a reasonable investigation based on all available information.
Attempting to settle a claim for less than the amount to which a reasonable man would have believed he was entitled by reference to written or printed advertising material accompanying or made part of an application.
Delaying the investigation or payment of claims by requiring an insured, claimant, or the physician of either to submit a preliminary claim report and then requiring the subsequent submission of formal proof of loss forms, both of which submissions contain substantially the same information.
Failing to promptly settle claims, where liability has become reasonably clear, under one (1) portion of the insurance policy coverage to influence settlements under other portions of the insurance policy coverage.
It is not easy to sue when an insurance company acts in bad faith, which is why you will benefit from working with a bad faith insurance lawyer who intricately knows the law. Your lawyer will need to prove that your case meets three conditions for you to proceed with a lawsuit.
Your insurance company must be obligated to pay the claim under the terms of the policy (this is your contract with them).
The insurance company must lack any reasonable basis for denying the claim.
Your insurance company must have known that there was no reasonable basis for denying the claim OR have denied the claim with reckless disregard to whether or not there was a reasonable basis.
If your insurance company has acted in bad faith, you may be able to claim more than the compensation you originally asked for because now you are suing for damages in addition to the compensation that you should have received in the first place.
These damages can include any additional expenses that you may have incurred as a result of the delay or denial, your attorney's fees, interest, and even punitive damages (since you had to prove that the delay or denial was both intentional and reckless). Steps your bad faith insurance attorney will take to pursue your claim against your insurance company include:
You or your bad faith insurance lawyer will first inform your insurance company of your intent to file a lawsuit. This is done in a formal demand letter.
You or your attorney will also contact the Kentucky Department of Insurance to file a complaint against your insurance company.
If negotiations are still unsuccessful, you will continue with your lawsuit and go to trial.
If you believe that your insurance company is not acting in your best interests, you may need a lawyer who is experienced with filing bad faith lawsuits. We can help. Call the Kentucky car accident attorneys at Rhoads & Rhoads at 888-709-9329 to schedule your FREE legal consultation today.