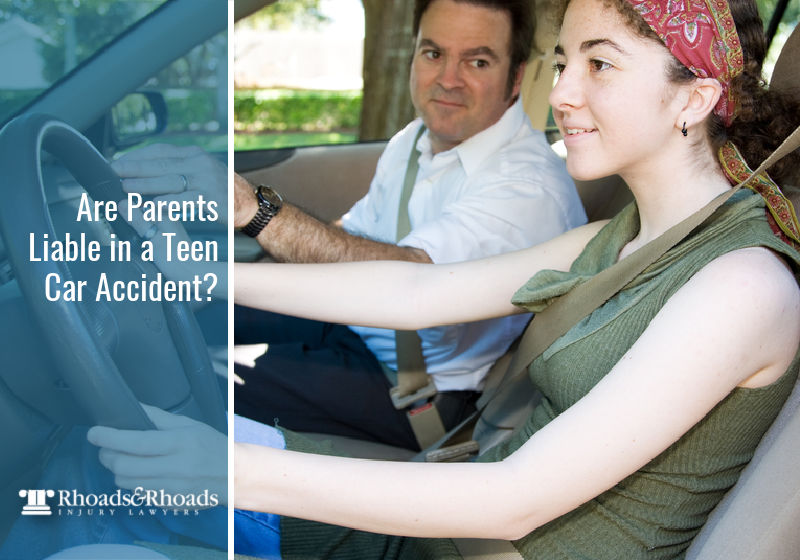 Key Points of This Article:
Teen driving causes thousands of accidents every year.

Teens have a responsibility to obey traffic laws, but their parents or guardians can be held jointly or severally liable under Kentucky motor vehicle laws.

Parents and guardians can also be held responsible due to common law and the "family purpose" doctrine.
Teen driving accidents are a serious issue in the United States. Though teenagers are minors, they are still required to follow the rules of the road the same as anyone else. Unfortunately, due to their inexperience and their often reckless behavior, teen drivers are more likely to ignore traffic laws or pay less attention while driving. 
Distracted driving is a particularly significant problem today among young drivers due to cell phone use. In 2019, 39% of teen drivers admitted to texting or emailing while driving. However, cell phone use is not the only issue. Teen driving accidents also happen as a result of speeding, distractions from friends in the car, ignoring stop signs, running red lights, and driving while under the influence of alcohol. 
In recent years, teen car accident statistics have shown over 2,000 teen drivers being killed in traffic accidents annually, with over 250,000 being treated for severe injuries in emergency departments. And these numbers don't even account for the thousands of others killed and injured by reckless teen driving. 
In addition to the devastating losses a teen car accident can cause, there is also the issue of liability to consider. Though teenagers are expected to obey the law, their parents or guardians can be held jointly or even separately liable for their negligent actions. 
If you or a loved one were injured in a car accident caused by a teen driver, the Kentucky car accident attorneys at Rhoads & Rhoads can help you with your case.  We will ensure all liable parties are held responsible for their actions and can help you get the compensation you deserve for your pain, suffering, and other damages. 
Teen Drivers Must Abide By Traffic Laws the Same as Adult Drivers
Again, despite being minors, teenagers are expected to obey all traffic laws once they have received their license or driving permit. When they receive their license or permit, they essentially agree to follow all rules and regulations and accept that there are and will be consequences for their actions if they disobey these rules. 
Unfortunately, many teens assume that they exist outside the law because they are minors. They tend to not take as much responsibility for their actions because they don't think there will be severe consequences. However, they can be held liable if they cause an accident, even if they are a minor. 
Teen drivers can still be ticketed and charged for traffic violations. They can even be asked to appear in court for their negligent driving and can be punished for their actions. But it is also possible for their legal guardians or parents to share in the liability or be held individually accountable. 
Parents Can Be Held Jointly or Separately Responsible for a Car Accident Caused By Their Teenager
There are three ways a parent or guardian can be held liable for their teenager's negligent driving in the state of Kentucky: under Kentucky motor vehicle law, the "family purpose" doctrine, or common-law liability. This is important because generally when you file an accident claim, you are filing against the at-fault driver's insurance. However, there is no such thing really as teen driver insurance. Most teenagers are typically covered by their parents' insurance, so you will need to show that the parent was responsible in some way to recover damages from their insurance company. 
Kentucky Motor Vehicle Law
Because teenagers are under the age of 18, they must have a parent or guardian sign for them when they apply for their permit or their driver's license. And according to Kentucky Rev Stat 186.590, the negligence of a minor who causes a car accident may be assigned to the parent or guardian who signed their driver's permit or driver's license application. Or in other words, the person who signed for the minor that caused the accident can be held jointly or individually liable. 
The "Family Purpose" Doctrine
In addition to the Kentucky motor vehicle laws, the state also recognizes what is known as the "family purpose" doctrine. The doctrine states that parents can be held liable for their negligent teen's actions if they provided the vehicle and it was used for "family purposes." In this case, family purpose can refer to just about any ordinary use of a vehicle. 
Common-Law Liability
Common law comes into play when talking about negligence and duty of care. All parents or guardians have a legal duty to exercise care and control of their children who are minors. If that duty is neglected and it results in the minor putting themself at risk or causing harm to another, the parent or guardian can be held liable. For example, if a parent knows their teen has a tendency to act recklessly and they do nothing to intervene, they could be held responsible for any car accident that occurs as a result. 
Kentucky Personal Injury Lawyers – Rhoads & Rhoads
Though parents have a responsibility to prevent their teenagers from causing harm and teenagers themselves have a responsibility to obey traffic laws, teen car accidents still happen. Unfortunately, when these accidents occur, they can result in severe and devastating damages and injuries for all those involved. 
If you need help handling a car accident case that resulted from a negligent teen driver or their parent, our team can assist you. We know what it takes to gather sufficient evidence to ensure all liable parties are held responsible for their negligent actions. 
Call us at 888-709-9329 to schedule an appointment with one of our Madisonville or Owensboro personal injury attorneys. We offer free initial consultations, and all cases are taken on a contingency fee basis, so no initial payment is required. We get paid only if we win or settle your case, and there is NO RISK involved.