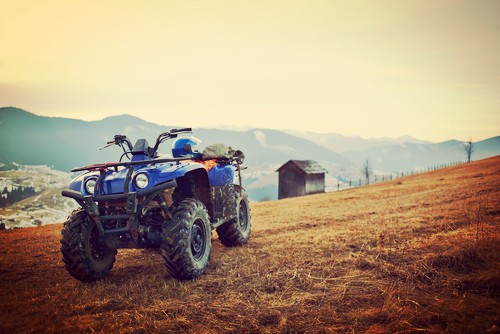 Last week proved tragic for a family off-roading in a side-by-side model of all-terrain vehicle (ATV). Spencer Lawson, 27, of Owenton, was driving the vehicle with two passengers, a female and a 2-year old child, when the vehicle overturned on a wet roadway. The female passenger and the child were taken to St. Elizabeth of Owenton where the female was in critical condition with serious injuries. Unfortunately, the child died as a result of injuries sustained in the crash. The Kentucky State Police are continuing the investigation into the accident.
Kentucky One of Most Dangerous States for ATV Accidents
Historically, Kentucky is one of the top five states for the number of ATV accidents occurring in a year. In fact, the U.S. Consumer Product Safety Commission's (CPSC) data shows just five states responsible for a full quarter of ATV-related deaths in the United States: Texas, California, Pennsylvania, West Virginia, and Kentucky. The presence of Kentucky and West Virginia on this list is notable because of the sizable difference in population between the top three states and the bottom two. The difference in ATV-related deaths is much smaller than one might expect, as shown below.
Texas Population              27,469,114          Avg. Yearly ATV-Related Deaths    23.5
California Pop.                  39,144,818          Avg. Yearly ATV-Related Deaths    21.25
Pennsylvania Pop.            12,802,503          Avg. Yearly ATV-Related Deaths    21.31
West Virginia Pop.              1,844,128          Avg. Yearly ATV-Related Deaths    21.66
Kentucky Pop.                     4,425,092          Avg. Yearly ATV-Related Deaths    19.66
On top of fatal accidents, there are hundreds of ATV accidents that result in serious injury. Rollovers and accidents that eject riders from the vehicle can cause head and brain injury, internal injuries due to the crushing force of the ATV, and spine or neck injuries. Broken bones are commonplace. Results for children are often life-altering. Nearly of people injured in ATV accidents are younger than 16, as are 35% of ATV-related deaths.
Safety Tips for ATV Enthusiasts

There are ways to ride safely, and education is a key piece of the puzzle. All ATV-owners and riders are encouraged to complete a safety training course, but these courses are not required in Kentucky. The single most important safety precaution one can take is to wear a helmet to protect the head in the case of an accident. Kentucky law requires all riders and passengers are required to wear approved headgear, but unfortunately, there are exceptions that leave those who are riding on private property vulnerable.
The CSPC also makes the following safety recommendations:
Do not drive an all-terrain vehicle on paved roads;
Ensure children under 16 are driving appropriately-sized vehicles—never allow a child to drive an adult-sized ATV;
Do not drive ATVs with a passenger and avoid riding as a passenger;
Wear protective gear (helmet, eye protection, boots, gloves, long pants and sleeves).
Despite taking all safety precautions, accidents may still occur. These may be a result of a faulty ATV, dangerous conditions, or other vehicle drivers. If you or someone in your family has been seriously injured in an all-terrain vehicle accident, the personal injury attorneys at Rhoads & Rhoads can help. Take advantage of our free initial consultation and discuss your case with us. Call us today at 888-709-9329.