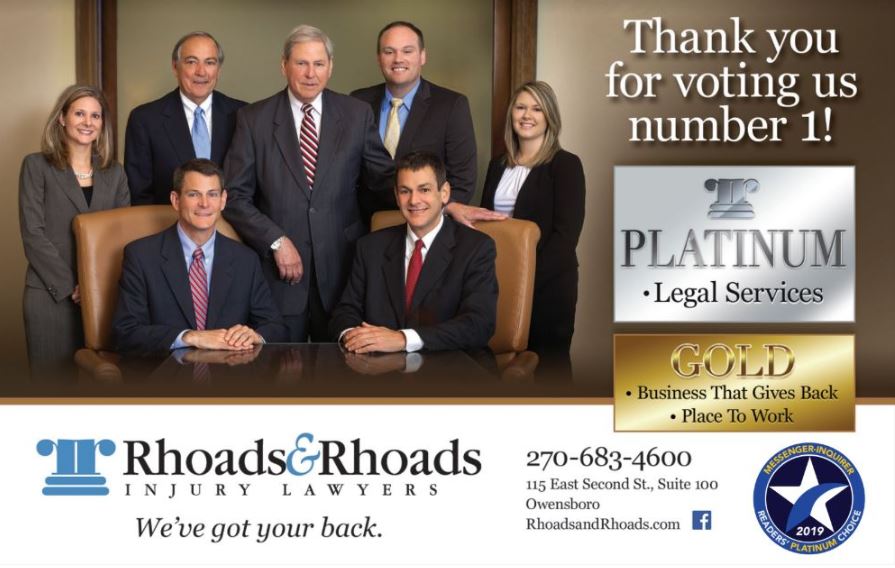 Synopsis
Rhoads & Rhoads has been chosen as the No. 1 Best Legal Service in Owensboro by the Messenger-Inquirer's 11th Annual Readers' Choice Awards.
Two additional awards were given for the firm's community engagement efforts and also for serving as an excellent place to work.
The team of lawyers has been fully engaged with life in Owensboro and the surrounding communities through providing legal support, civic leadership, volunteering, and philanthropic partnerships for more than 40 years.
Clients have shared much praise that the work Rhoads & Rhoads does is caring, supportive, professional, and makes all the difference when pursuing a legal claim.
Rhoads & Rhoads Lawyers Voted Best in Owensboro
The team at Rhoads & Rhoads would like to send the sincerest thank you to everyone in Owensboro who voted in the Messenger-Inquirer's 11th annual Readers' Choice Awards. More than 11,000 community members cast their votes for the 2019 awards by sharing their top choice for the best local businesses in Owensboro.
Rhoads & Rhoads was nominated and awarded in three categories.
Platinum for Legal Services
Gold for Businesses That Give Back
Gold for Places to Work
"Our attorneys and staff remain dedicated to this community, and it is our honor to be recognized as the Platinum Choice Law Firm and also as a business that gives back and provides an excellent working environment for our caring and talented employees," says Chris Rhoads, a partner in the firm's Owensboro office. "Our clients and community partners are some of our very best friends, and we consider it a true privilege to serve and represent the people of Owensboro and its surrounding counties."
Reviews shared by Rhoads & Rhoads clients include:
"Let this be the place to go if you need great support. The love and care are real; they work as a family and treat you as part of the one big family. They are the very best."
"They are very attentive and caring. They have handled an injury case for me and did amazing. They also helped set up a trust for my son. I highly recommend it."
"Very professional, and they take care of business. Since hiring them, my mind has been put at ease."
"The amazing people at Rhoads & Rhoads genuinely care about their clients! You're not just a number or a dollar sign, and that makes all the difference in the world."
We share so much gratitude for the Messenger-Inquirer, our clients and friends, colleagues and other law firms, business partners, and those in the Owensboro community who continue to support local businesses and the work being done at Rhoads & Rhoads.
Congratulations to all of the engaged and leading businesses that received a platinum, gold or silver award, including Foreman Watson Holtrey and Hendricks Law Offices. Owensboro is better because of all of us.
150 Years of Combined Experience
While the Rhoads' firm has tried cases all over Kentucky since the early 1970s, our firm has been committed to representing injury and disability victims in Owensboro since 1996. Listed below are examples of recent verdicts, including substantial awards and settlements received to help clients recover from their harms and losses.
$42 million verdict for death of elderly nursing home resident due to abuse and neglect by nursing facility (referring counsel)
$3.375 million recovery for a man suffering from traumatic brain injury and pelvic injuries received in an automobile wreck
$2.75 million verdict for wrongful death automobile wreck
$2 million recovery for a 21-year-old man who suffered leg injuries in a motorcycle wreck
$1.4 million settlement for a worker injured by a defective industrial product
$1.2 million verdict for a woman sexually harassed in the workplace
$1.2 million recovery for leg injuries suffered in hotel slip and fall
$1.2 million settlement for a man who suffered from an undiagnosed infection caused by surgical complications
Attorneys Brad Rhoads, Chris Rhoads, Katie Reardon, and Kyle LaMar practice in our Owensboro office where they specialize in the area of personal injury law, motor vehicle accidents, wrongful death, product liability, social security disability and workers' compensation. Together, they seek to provide an atmosphere where relationships are trusted and meaningful with clients, employees, and the Owensboro community.
A Committed History to the People of Owensboro
For over forty years, Rhoads & Rhoads has been fully engaged with life in Owensboro. Our attorneys and staff are committed to making a positive difference for local youth, veterans, those who are making their way through difficult times, and faith-based service organizations.
Chris Rhoads went on to say, "The relationships we have built in several western Kentucky communities, including Owensboro, are meaningful and driving forces in our daily lives, both professional and personal. Philanthropy comes from a place of deep personal gratitude and stems from a lifetime commitment to the where we choose to live, work, play, and raise our families. Our greatest hope is for all of the people we interact with, including our employees, is to see us far beyond our work as personal injury lawyers."
Rhoads & Rhoads attorneys and staff commit time and resources to dozens of organizations each year, are engaged in community service through pro-bono work, charitable contributions, philanthropic partnerships, attend and sponsor charity events, volunteer, and are supportive of organizations like MentorKids of Kentucky, the Owensboro Family YMCA, and the Cliff Hagan Boys & Girls Club.
Rhoads & Rhoads Has Got Your Back
We are thankful to our clients and their families for entrusting us with their cases, and for having the opportunity to represent, counsel and help them with their claims and in their lives. No matter what life throws at us, we're right here with you. Rhoads & Rhoads has got your back.
With offices in Owensboro and Madisonville, Rhoads & Rhoads represents the people of Western Kentucky. We offer free initial consultations, and all cases are taken on a contingency fee basis. We get paid only if we win or settle your case, so there is NO RISK involved.
Call us at 888-709-9329, or contact us by e-mail to schedule an appointment with one of our Madisonville or Owensboro attorneys. 
To review all of the recipients of this year's Readers' Choice, visit the Messenger-Inquirer.