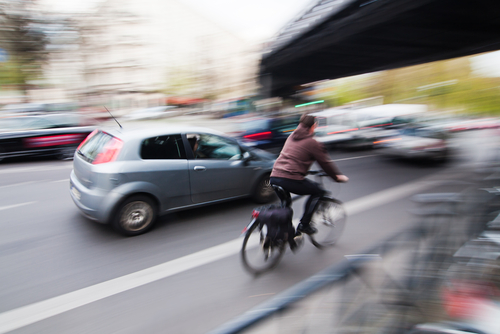 5 Ways to Reduce the Chance of Injuring a Cyclist This Summer
From the Trans-America Trail to the many new paths and city bike lanes popping up throughout Western Kentucky communities, most drivers will share the road with cyclists this summer. And when they do, transportation experts say many will be traveling too close despite what Kentucky law says. The most recent report from the National Highway Traffic Safety Administration says in Kentucky, "an estimated seven bicyclists lives are lost each year" from a collision with a motor vehicle. In 2015, there were 818 cyclists killed in motor vehicle traffic crashes in the U.S., an increase from 729 in 2014. The team at Rhoads & Rhoads took some time to gather five strategies to reduce your chance of a collision with a cyclist in Kentucky this summer. Please read and share with others.
1) Follow the 3 Feet Rule
A minimum driving distance of three feet can avoid these types of collisions and keep drivers of both bikes and motor vehicles protected from dangers such as a side view mirror collision or wind from a vehicle pushing them over. Cyclists also need space to maneuver in the event they need to avoid potholes or road debris. The benefits of allowing the 3-foot gap passing strategy include:
allowing a motorist to pass safely without worrying about contact
reducing the chance of injuring a cyclist with a car's side view mirror, and
increasing sense of security for cyclists
cyclists can have more time to avoid debris and potholes without worrying about space
cyclists can avoid being involved in a close high-speed pass, or a 'buzz' – triggering an alarm, fear, and anger for the operator
2) Practice Caution When Driving Through Parking Lots
The Independent Insurance Agents and Brokers Association says one in five accidents take place in a parking lot and that number increases to two in five accidents during the summer because of the increase in traffic and more people on bikes. Even cruising through the local park's car lot at 5mph may not feel risky for most drivers but the truth is – parking lots are often homes to the most common car crashes with bicyclists, since there's no clear separation of where to travel between the two. In particular, watch out for bicycles at intersections and when turning into a new parking lot lane, backing up, or while parallel parking.
Although most parking lot accidents tend to involve vehicle damage only, injuries and fatalities do happen, and they typically involve cyclists (or pedestrians).
3) Be Heard (Respectfully That Is …)
Use your horn if you see someone on a bike participating in unsafe behaviors or not paying attention. Giving a honk towards someone crossing an unsafe roadway or towards danger could prevent an injury or save a life. Just be cautious to not blast your horn in close proximity to cyclists.
4) Look Twice, Especially Making Right Turns
Drivers turning right on red should look to the right and behind to avoid hitting a bicyclist approaching from the right rear. Stop completely and look left-right-left and behind before turning right on red. Pass bicyclists as you would vehicles or when it's safe to move over into an adjacent lane. Give them sufficient room and do not pass too closely. But also look for bikes where vehicles do not appear. For example, before making a right-hand turn at an intersection, make sure a bicyclist isn't approaching from the right rear of your vehicle.
5) Obey the Speed Limit
Ranked high amongst the main causes of motor vehicle collisions with bicycles, speeding continues to contribute to 30 percent of all accidents on U.S. roadways. Latest statistics from the Kentucky Transportation Cabinet show that of the 640 people killed in Kentucky traffic accidents last year, 90 occurred due to speeding. Motorists should reduce speed when encountering cyclists. Don't tailgate, especially in bad weather and recognize hazards cyclists may face and give them slow space. It is in everyone's best interest to operate motor vehicles at the correct posted speed limit to reduce a driver's reaction time to hazardous situations and provide a safer control run over the vehicle. And remember, speed limits in Kentucky vary depending on the roadway.
65 MPH on interstate highways and divided highways with four or more lanes
55 MPH outside business or residential districts
35 MPH in business or residential districts
15 MPH on off-street parking facilities
Just like car accidents, bike crashes are often preventable. When a crash does occur, it is typically the driver of motor vehicle found to be at fault from either being inattentive or making a common driver error. In general, motorists need to follow safe driving practices and stay alert, follow signage, stay in their lane, and avoid distractions like texting.
Cyclist Injuries Can Be Severe
Because of a general lack of protection when compared to someone who crashes in a motor vehicle, bicyclists involved in accidents with cars or trucks are likely to be very severely injured. If you are a cyclist and involved in any accident with a motor vehicle this summer, the first thing you should do is to stay calm and receive the proper medical treatment needed. Common injuries include:
shoulder dislocations
neck and back injuries
broken arms, hips, and legs
internal injuries
concussions that can lead to severe traumatic brain injuries
Anyone planning on riding a bike this summer is advised to protect themselves by wearing a helmet and following the rules of the road as if they were operating a motor vehicle.
Bicycle Accident Attorneys in Kentucky
Rhoads & Rhoads represents bicyclists throughout Kentucky who have suffered injuries from motor vehicle collisions or those who are survivors of cyclists killed in a collision with a reckless or negligent driver. If you or someone in your family has been seriously injured in a bicycle vs. motor vehicle accident, the personal injury attorneys at Rhoads & Rhoads can help. Take advantage of our free initial consultation and discuss your case with us. Call today at 888-709-9329.