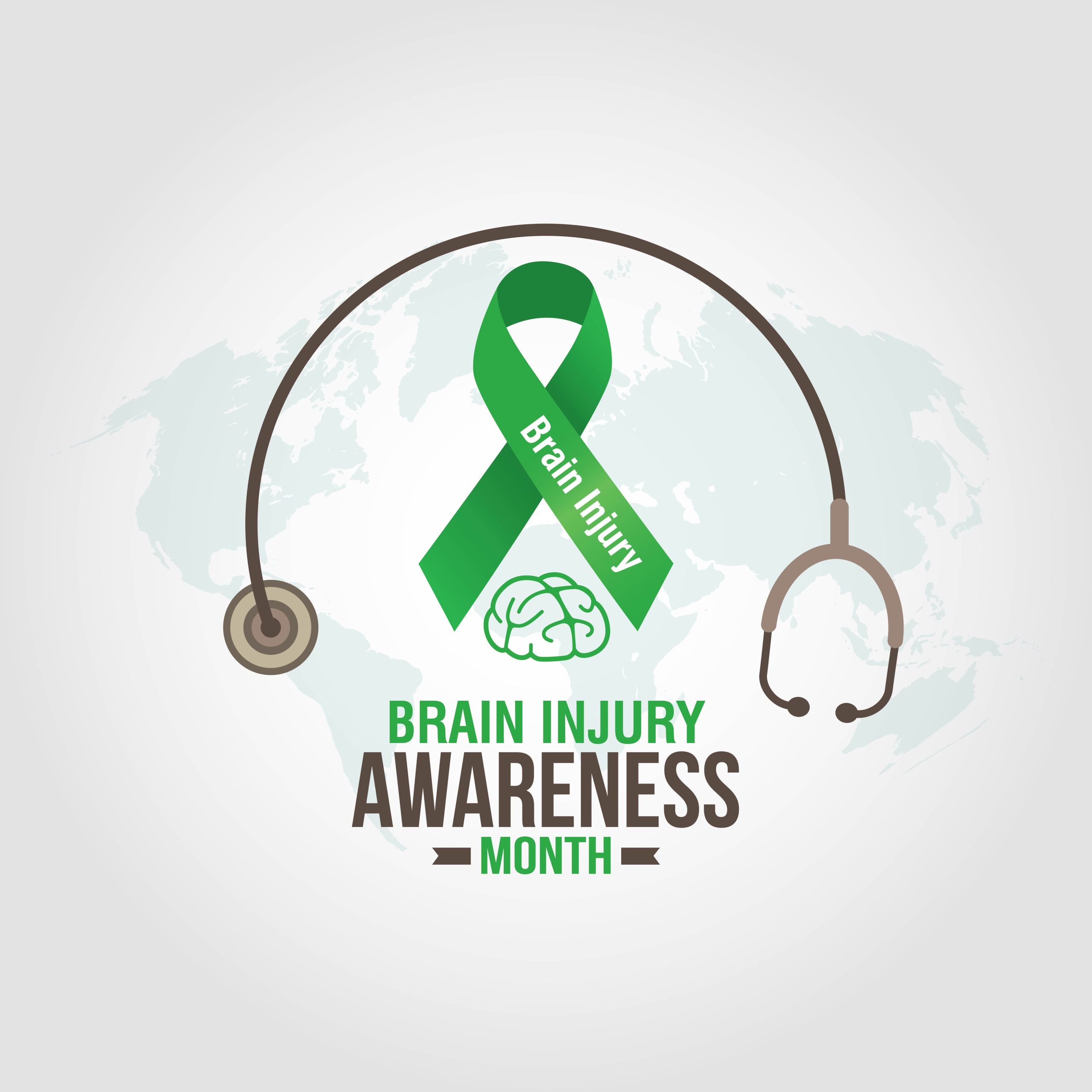 March is Brain Injury Awareness Month
Each year an estimated 1.5 million Americans sustain a TBI and the 230,000 people who survive will face long-lasting, life-changing effects. In Kentucky, approximately 30,000 brain injuries occur each year and thousands experience the onset struggle of long-term disability following a brain injury. The needs of these victims and their families can vary greatly dependent upon the severity and type of brain injury. According to the Brain Injury Association of America (BIAA), there are two types of acquired brain injury: traumatic and non-traumatic.
1) Traumatic Brain Injury: A TBI is defined as an alteration in brain function, or other evidence of brain pathology, caused by an external force. Traumatic impact injuries can be defined as closed (or non-penetrating) or open (penetrating). Traumatic brain injuries are most often caused from:
Motor Vehicle Accidents (including Motorcycle Crashes)
Falls
Assaults
Sports/Recreation Injuries
Abusive Head Trauma (Shaken Baby Syndrome)
Gunshot Wounds
Workplace Injuries
Child Abuse
Domestic Violence
Military Actions (Blast Injury)
2) Non-traumatic Brain Injury: A non-traumatic brain injury is an alteration in brain function or pathology caused by an internal force. Common causes of these brain injuries occur because of:
Stroke (Hemorrhage, Blood Clot)
Infectious Disease (Meningitis, Encephalitis)
Seizure
Electric Shock
Tumors
Metabolic Disorders
Neurotoxic Poisoning (Carbon Monoxide, Lead Exposure)
Lack of Oxygen (Drowning, Choking, Hypoxic/Anoxic Injury)
Drug Overdose
Regardless of the type of brain injury, a person with a suspected issue should call 911, go to the emergency room, or contact a physician immediately. 
Common Symptoms of Brain Injury
After an impact or injury to the head, an individual can experience a variety of symptoms. The BIAA identifies these common symptoms of brain injury:
Spinal fluid (thin, clear liquid) coming out of the ears or nose
Loss of consciousness
Dilated (the black center of the eye is large and does not get smaller in light) or unequal size of pupils
Vision changes (blurred vision or seeing double, not able to tolerate bright light, loss of eye movement, blindness)
Dizziness
Balance problems
Respiratory failure (difficulty breathing)
Coma (not alert and unable to respond to others) or semi-comatose state
Paralysis, or difficulty moving body parts
Weakness
Poor coordination
Slow pulse
Slow breathing rate, with an increase in blood pressure
Vomiting
Lethargy
Headache
Confusion
Ringing in the ears (tinnitus), or changes in ability to hear
Difficulty with thinking skills (difficulty "thinking straight", memory problems, poor judgment, poor attention span, a slowed thought processing speed)
Inappropriate emotional responses (irritability, easily frustrated, inappropriate crying or laughing)
Difficulty speaking (slurred speech, difficulty swallowing)
Body numbness or tingling
Loss of bowel control or bladder control
When an individual is brought to the emergency room with a suspected head injury, doctors will learn as much as possible about his or her symptoms and how the injury occurred. The person's condition is assessed quickly to determine the extent of injury using a 15-point test to grade a patient's level of consciousness called the Glasgow Coma Score (GCS).
1/3 of All Reported Traumatic Brain Injuries Are Result of Car Accidents 
A traumatic brain injury can occur when the head is stricken, suddenly jerked, or penetrated by a foreign object, similar to the bodily harm that happens because of a car accident. Motor vehicle and traffic injuries are the leading cause of TBI-related death. Rates are highest for adults aged 20 to 24 years. Most of these car accident victims have a combination of injuries to the brain such as:
Concussion: A mild head injury that can cause a brief loss of consciousness and usually does not cause permanent brain injury.
Diffuse axonal injury (DAI): A shearing and stretching of the nerve cells at the cellular level. It occurs when the brain quickly moves back and forth inside the skull, tearing and damaging the nerve axons. Axons connect one nerve cell to another throughout the brain, like telephone wires. Widespread axonal injury disrupts the brain's normal transmission of information and can result in substantial changes in a person's wakefulness.
Traumatic Subarachnoid Hemorrhage (tSAH): Bleeding into the space that surrounds the brain. This space is normally filled with cerebrospinal fluid (CSF), which acts as a floating cushion to protect the brain. Traumatic SAH occurs when small arteries tear during the initial injury. The blood spreads over the surface of the brain causing widespread effects.
Contusion and hematoma are injuries involving specific areas of the brain and may require surgery.
In addition, whiplash can occur when the neck and head are suddenly forced backward and then forward, putting the cervical spine through too fast motions and extreme, quick stresses. Most cases of whiplash occur as a result of rear-end car crashes but can also happen from a side-impact or T-bone collision. Serious whiplash can cause changes to occur throughout the structures in and surrounding the brain triggering a cerebral hemorrhage or life-threatening concussion, resulting in each to become a potential source of chronic or debilitating pain or death. These types of injuries most often require extended therapy or invasive surgeries that take months of rehabilitation and recovery time.
We know all-too-well the catastrophic impact of a serious injury to the brain and the lifelong medical and therapeutic needs of a TBI survivor. As personal injury lawyers, the attorneys at Rhoads & Rhoads have worked with many clients and families who have been affected by traumatic brain injury caused by the negligence of another person.
Mild, Moderate, and Severe Traumatic Brain Injury Attorneys
We know car accidents can be very frightening, and most victims want to forget about them quickly. But the truth is, no one should ever ignore injury symptoms, no matter how mild. Brain injuries, specifically, will require expert medical attention for proper diagnosis.
If you or someone you love sustained a brain injury as the result of a car accident, fall, work-related chemical exposure, or by another person's wrongdoing, the brain injury attorneys at Rhoads & Rhoads are ready to fight for you and your family. Call us today for a free initial consultation at 1-888-709-9329.