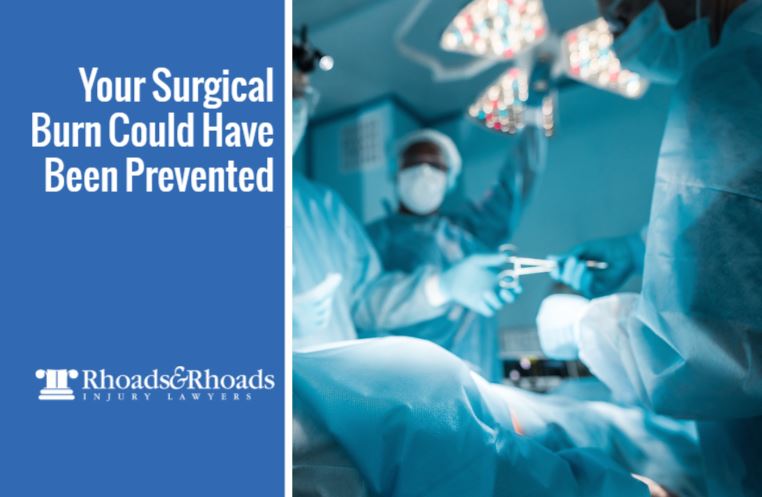 Synopsis
Medical errors remain the third-leading cause of death after heart disease and cancer, killing more than 250,000 people in the U.S. every year, according to John Hopkins.
Common medical mistakes such as prescription errors, missed or wrong diagnosis and those that occur in surgeries could have been prevented if the necessary safety measures had been followed.
While surgical burn injuries occur in smaller numbers, they remain a persistent problem for health systems and can cause potentially life-long issues that will require additional interventions and invasive surgeries for patients.
To prove a practitioner's error indeed caused a surgical burn, a personal injury or medical malpractice attorney will help gather the hard-to-access evidence needed to identify any negligence.
Your Surgical Burn Could Have Been Prevented
While doctors don't want to mention any burn injury risks when discussing surgery plans, a burn can happen anytime a person has an operation or procedure and caused by the failure of a medical device or the negligence of a professional involved in the surgery. Once contact is made with the patient, these injuries quickly happen and most often occur from a laser, equipment mishandling, heat transfer, or chemicals. The painful burns range from first to fourth-degree burns and may require extensive treatments, additional surgeries and painful recoveries, scarring and life-long deformities.
Surgical burn injuries may also major trigger infections, including sepsis. If this occurs, additional surgical procedures to remove damaged skin tissue and repair destroyed tissue through skin grafting may be necessary. Scarring is likely as well as chronic skin issues or infection and even death.
Grounding Pads Are Often Misused and Cause Serious Electrical Burns
The most common location for a surgical burn to occur is the torso or lower extremities and will be injuries caused through electrocautery and electrosurgical instruments such as grounding pads. These pads are adhered to the patient's skin away from the surgical site and intended to safely return the electrical current from the patient back to a generator through a cable. Electrical burns happen when equipment malfunctions, pads are incorrectly positioned, when moisture builds up under the negative electrode, if a surgeon activates the generator at the wrong time, and a multitude of other problems related to the misuse of pads. The direct burn occurs when the skin is overheated and eventually broken down by an electrical current. The patient will not know the skin trauma is happening because they will be under anesthesia.
These are three real-life electrical burn injury examples with adverse outcomes caused by the improper placement of the grounding electrode. Unfortunately, these mistakes can occur during routine surgeries, as noted in a 2018 research case report in the peer-review journal, Medicine.
Cardiac Surgery: A 51-yr-old male who had triple vessel disease of the coronary arteries underwent successful coronary artery bypass grafting. The operating time was 3.5 hours. The grounding pad had been applied over the lower back, which was discovered to have a deep burn after recovery from surgery and required dressings and an extensive outpatient hospital stay.
Back Surgery: A 32-yr-old woman presented through the outpatient department with a two-week history related to a wound on her lower back. She had undergone Orthopaedic surgery for a fractured radius and ulna under general anesthesia. Her surgery had lasted for two hours, and the grounding pad had been applied over the lower back. The patient required painful skin grafting and ongoing therapies for twelve months.
Breast Augmentation: A 38-year-old female patient was admitted for augmentation mammoplasty. Before the start of the procedure, the grounding pad was placed on the surgical table, and the left calf of the patient was mistakenly set on the pad. A 3-cm-by-3-cm-sized full-thickness burn was discovered on the patient's left calf.
These types of electrical burns inflict patients with deep and painful wounds. Injuries could be prevented if the medical professional responsible had not been faulted in the application and whereabout of a grounding pad. Because so many hospitals and health systems have encountered this problem, it has been recommended by ground pad manufacturers that the operating surgeon personally ensure that the device is appropriately applied to the skin and laid over an adequate surface area – and never misplaced.

Gathering Your Burn Injury Case Facts May Require an Attorney
Doctors have been trained to be productive and tell their burned patients there is "an injury" or "area of skin breakdown" that will be treated and that they are looking into it further as to how it happened. They also may tell a burned patient that they have nothing to worry about, and it is a typical "occurrence" in their type of surgery. Take this as a nod in the right direction to contact a personal injury lawyer to report a possible medical mistake.
An experienced surgical burn attorney can:
Identify who was in the room during the incident.
Request your hospital provide a list of all the equipment in use during the procedure.
Determine if the equipment was properly assessed to ensure it was functioning correctly.
Find out if the surgical tools were used according to standard procedures.
Review any procedural process documentation that mentions a surgical burn or when the injury could have happened.
Work to know if surgical equipment might have malfunctioned.
Determine everyone who was negligent in using the surgical equipment and supplies and responsible for your safe recovery.
It is possible a burn was caused by a surgeon's failure to uphold his duty of care, and at this time malpractice can be claimed. But first, evidence will be needed to presume negligence and only an attorney may have the means to collect it. Even then, medical malpractice cases can be extremely complicated. This should never make our expectations to receive safe and honest healthcare overstated, nor our accountability to hold our surgeons high in providing the proper duty of care. The attorneys at Rhoads & Rhoads understand this and will fight to ensure you are rightfully compensated for your burn injury.  
Owensboro and Madisonville Medical Malpractice Lawyers 
With offices in Owensboro and Madisonville, Rhoads & Rhoads represents medical malpractice victims throughout Western Kentucky. We offer free initial consultations, and all cases are taken on a contingency fee basis. We get paid once we win or settle your case, so there is NO RISK involved.
Call us at 888-709-9329, or contact us by e-mail to schedule an appointment with one of our Madisonville or Owensboro medical malpractice attorneys. 
Source: Hahn Sol Bae, MD. A CARE-compliant case report. Medicine. January 2018. (Retrieved July 8, 2019 https://www.ncbi.nlm.nih.gov/pmc/articles/PMC5943117/.)