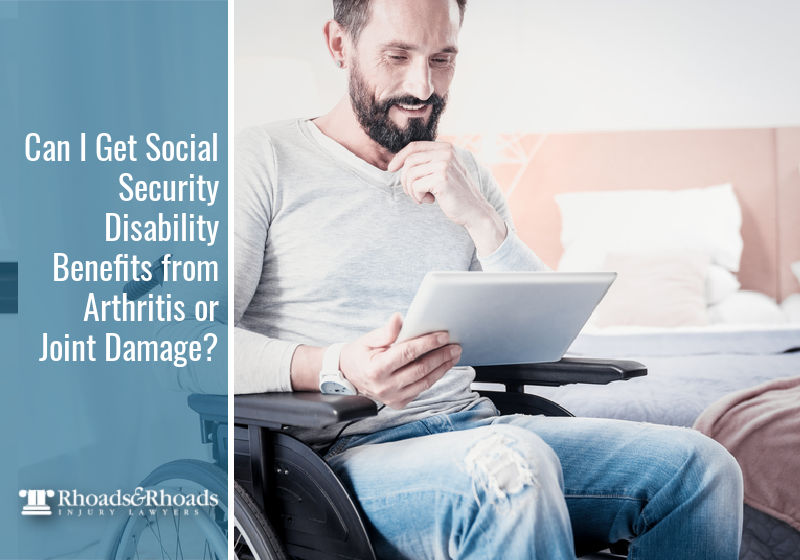 Almost 2 million Americans suffer from some form of arthritis every year, so if you are experiencing the painful symptoms of this autoimmune disorder you are not alone. Arthritis, formally referred to as rheumatoid arthritis, is an autoimmune condition that causes the victim's body to attack itself, causing inflammation in their joints.
This inflammation usually leads to swelling and pain for the victim, and depending on the severity can affect a person's livelihood or ability to work. Here at Rhoads & Rhoads, it's our goal to get you the social security disability benefits you deserve, so don't hesitate to reach out and discover how we can help. In this blog, we discuss the requirements you must meet to receive social security disability benefits for arthritis and joint damage.
Arthritis and the Body
Though it usually affects a person's joints such as ankles, wrists, knees, hands, and elbows, arthritis is an autoimmune disorder and can affect other parts of the body as well. The other symptoms arthritis might produce can have a severe impact on your ability to work and include sensitivity to light, impaired vision, shortness of breath, anemia, or even infection of your internal organs.
It's also important to note that the symptoms of this disorder do not necessarily remain consistent from day to day. Someone who suffers from arthritis may experience intense pain and swelling one day, and be fine the next.
Qualifying for Social Security Disability Benefits
Unfortunately, receiving disability benefits for this disorder is not as simple as proving you suffer from it. You must also prove how the disorder has affected your ability to work and perform normal activities. You must also satisfy the requirements established for disability benefits.
The Social Security Administration has a list of criteria that each individual must satisfy before receiving disability benefits. This list is called the "Blue Book Listings" and is what the administration uses to either approve or deny someone for disability benefits.
Though arthritis is listed in this Blue Book, it's important to understand that simply being diagnosed with the condition is not enough to qualify for benefits. You must meet all of the requirements listed under section 14.000: Immune System Disorders. Under listing 14.09 for inflammatory arthritis, the following requirements must be met:
Persistent inflammation or deformity of: One or more peripheral weight-bearing joints resulting in the inability to move effectively; One or more major peripheral joints in an upper extremity resulting in the inability to perform fine movements.
OR
Inflammation or deformity of one or more major peripheral joints with: Involvement of two or more organs/body systems with one of the organs/body systems involved in a moderate level of severity AND at least two of the constitutional symptoms (fever, malaise, involuntary weight loss, severe fever).
OR
Ankylosing spondylitis or other spondyloarthropathies.
OR
Repeated manifestations of inflammatory arthritis with at least two of the constitutional symptoms (malaise, involuntary weight loss, severe fatigue, fever) and one of the following: Limitation of daily living activities; Limitation in maintaining social functions; Limitation in completing tasks in a timely manner.
It's important to note that even if your condition does not meet these requirements, you may still be eligible for disability benefits. The Social Security Administration primarily focuses on one thing in these cases and that is how your condition affects your ability to work and gain income. If you can satisfactorily prove your ability to work has been affected, you may be eligible. However, simply complaining that your condition is painful and documenting your condition yourself may not be enough and you may need to have further evaluations done by your doctor to prove your case in court. This may entail X-ray exams or other medical documentation.
Contact a Western Kentucky Car Accident Attorney Today
To summarize, yes you can receive benefits for arthritis. The challenge lies in proving how your work has been affected by the disorder. If you or a loved one are suffering from this disorder, don't hesitate to reach out to an experienced attorney to receive the help you need to get disability benefits.
Rhoads & Rhoads has over 150 years of combined experience and will help walk you through the legal process while getting you the compensation you deserve.
You can schedule a free initial consultation by calling our office at 888-709-9329, or you can schedule a consultation online here.