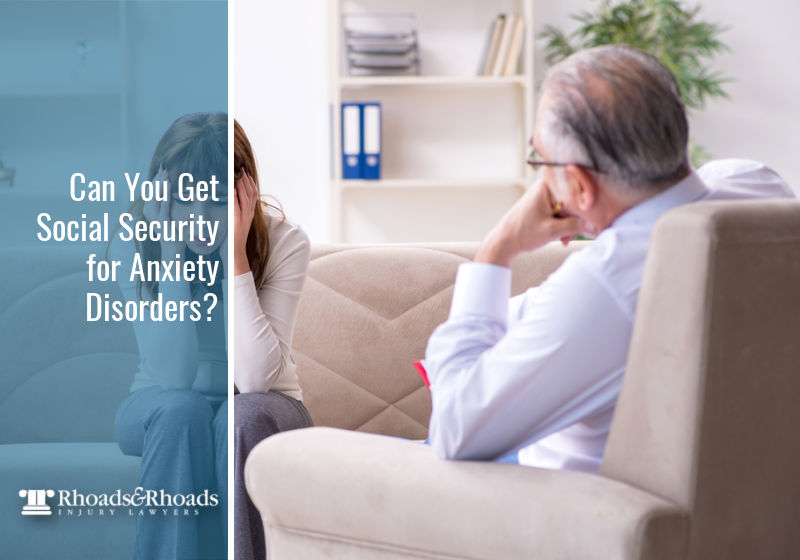 Many people are often dismissive of anxiety disorders, assuming they aren't real medical conditions. But anxiety disorders are real, and they are serious mental health conditions that can significantly affect a person's daily life.
But does this mean that a person can collect social security disability (SSD) benefits for anxiety disorders?
As Social Security Attorneys in Kentucky, we often hear clients asking this question. And the simple answer is yes, but it ultimately depends on the specific disorder you are dealing with, what your symptoms are, and how much it affects your life and your ability to work.
What are Anxiety Disorders?
Anxiety disorders are real and they are serious. In fact, anxiety disorders are the most common mental health disorders in the United States. National data shows that around 40 million people experience an anxiety disorder every year.
The term "anxiety disorder" is used to refer to a wide range of psychiatric disorders that can cause a person extreme fear and worry, which can lead to a long list of other symptoms, such as:
Inability to concentrate
Avoidance of certain places or even objects
Fear of crowds
Feelings of impending doom or danger
Feeling like you can't breathe
Heart palpitations
Extreme sweating and shaking
Nausea
Difficulty sleeping
Muscle tension
Dizziness or feeling faint
What Are the 6 Types of Anxiety Disorder?
While the term "anxiety disorder" can encompass many different psychiatric disorders, there are generally six primary types of anxiety disorders:
Generalized Anxiety Disorder: Persistent and excessive worry about any event, situation, or issue, such as worry about family, money, or work.
Post-Traumatic Stress Disorder: A psychiatric disorder triggered by traumatic past events.
Obsessive-Compulsive Disorder: Obsessions that cause intrusive, unwanted thoughts or urges. Compulsions that cause a person to feel compelled to repeatedly perform a task.
Panic Disorder: Experiencing spontaneous panic attacks that can cause anxiety, panic, or fear that often has no identifiable cause.
Social Anxiety Disorder: Fear of being in social situations or fear of being judged or rejected for performance in a social setting.
Specific Phobias: A range of fears concerning specific things, such as fear of driving, fear of leaving the house, fear of flying, fear of needles, fear of dogs, etc.
Is Anxiety a Mood Disorder?
No, anxiety itself is technically not a mood disorder. It is a psychiatric disorder, but it can coexist with a mood disorder or precede a mood disorder. Anxiety can also cause symptoms that affect your mood, but it is a mental health disorder.
Is Generalized Anxiety Disorder a Disability?
Yes, generalized anxiety disorder, along with many other kinds of anxiety disorders, is considered a disability. However, for someone with an anxiety disorder to be eligible to receive social security disability benefits, their anxiety disorder must meet certain requirements.
An anxiety disorder must affect your ability to function at work and at home for at least twelve months for you to be considered for SSD benefits. Furthermore, you must meet the medical requirements outlined in the SSA's Blue Book to get disability for anxiety.
Specifically, you must satisfy requirements A and B or A and C in the SSA's listing for anxiety disorders, which are as follows:
A.Medical documentation of the requirements of paragraphs 1, 2, or 3:
Anxiety disorder, characterized by three or more of the following;
Restlessness;
Easily fatigued;
Difficulty concentrating;
Irritability;
Muscle tension; or
Sleep disturbance.
Panic disorder or agoraphobia, characterized by one or both:
Panic attacks followed by a persistent concern or worry about additional panic attacks or their consequences; or
Disproportionate fear or anxiety about at least two different situations (for example, using public transportation, being in a crowd, being in a line, being outside of your home, being in open spaces).

Obsessive-compulsive disorder, characterized by one or both:
Involuntary, time-consuming preoccupation with intrusive, unwanted thoughts; or
Repetitive behaviors aimed at reducing anxiety.
B. Extreme limitation of one, or marked limitation of two, of the following areas of mental functioning (see 12.00F):
C. Your mental disorder in this listing category is "serious and persistent;" that is, you have a medically documented history of the existence of the disorder over a period of at least 2 years, and there is evidence of both:
Medical treatment, mental health therapy, psychosocial support(s), or a highly structured setting(s) that is ongoing and that diminishes the symptoms and signs of your mental disorder (see 12.00G2b); and
Marginal adjustment, that is, you have minimal capacity to adapt to changes in your environment or to demands that are not already part of your daily life (see 12.00G2c).
Receiving Social Security for Anxiety Disorders
When you apply for social security for anxiety or any anxiety disorder, you must provide substantial evidence that proves that you meet the requirements listed above. In most cases, this means you will need to have been receiving regular treatment for your anxiety and have the medical documentation to prove this.
The process of applying can be very stressful and overwhelming. As such, it is often necessary to work with a social security attorney who can help you with your case. Lawyers that work in this area of the law will know exactly what you need to get your SSDI claim approved. They can help you gather evidence, file your paperwork, and ensure you are getting the full and fair benefits you deserve for your anxiety disorder.
Kentucky Social Security Lawyers – Rhoads & Rhoads
If you are suffering from an anxiety disorder and need assistance filing for Social Security Disability benefits, the team at Rhoads & Rhoads can help you with your claim. We represent SSD applicants throughout Western Kentucky with offices in Owensboro and Madisonville.
Call us at 888-709-9329 or contact us by email to schedule an appointment with one of our Social Security attorneys today.
We offer free initial consultations, and all cases are taken on a contingency fee basis, so no initial payment is required. We get paid only if we win or settle your case, and there is NO RISK involved.