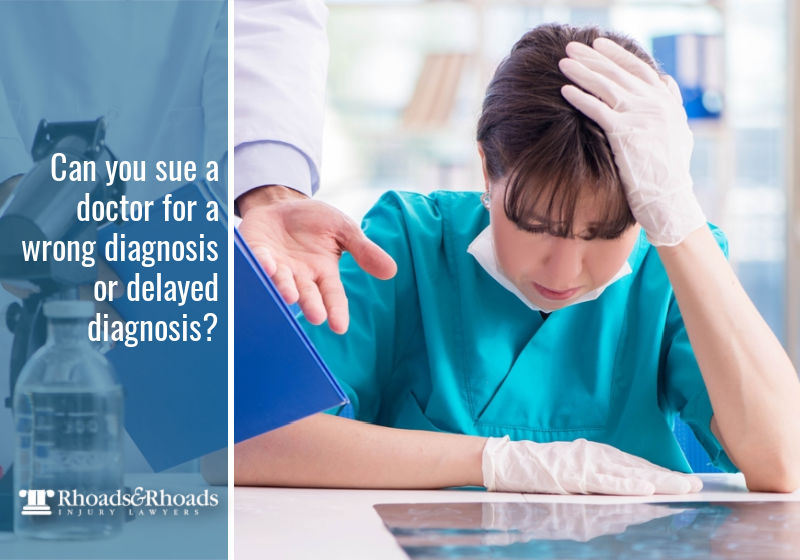 There are few things more frustrating than being sick and not knowing the cause of your illness. Sometimes your sickness may be rare or difficult to diagnose, but unfortunately, there are cases when a doctor fails to properly attend to your needs and misses your diagnosis. If you feel you received a wrong or delayed diagnosis in Western Kentucky, do not delay reaching out to our personal injury attorneys, who can help you understand whether or not you qualify for compensation.  
Unfortunately, delayed diagnosis and treatment can have serious consequences. While a simple misdiagnosis may be easily corrected, certain conditions can worsen and even become fatal if missed by a medical professional. These serious complications can be devastating for the patient, especially if a correct diagnosis sooner could have stopped irreparable damage or even death. 
These difficult circumstances may leave patients and their families to wonder, can you sue a doctor for a wrong diagnosis? And the short answer is, yes. But medical malpractice cases are complicated. 
What are some types of diagnostic errors a victim may encounter? 
Delayed Diagnosis
Your doctor eventually made the correct diagnosis, but it took an egregious amount of time to determine the right one.
Failure to Diagnose or Incomplete Diagnosis 
While your doctor correctly diagnosed one condition or illness, he or she failed to diagnose a secondary (whether related or unrelated) affliction.
Missed Diagnosis
Your doctor sent you home with a clean bill of health, telling you there was nothing wrong or that there was no treatable action when in fact, you were suffering from a particular condition or illness undiagnosed.
Misdiagnosis
Your doctor misidentified your symptoms for something else and told you the wrong condition or illness.
How common is a wrong or delayed diagnosis? 
According to the Society to Improve Diagnosis in Medicine, diagnostic errors impact around 12 million Americans annually. A 2019 study at Johns Hopkins went as far as to estimate that "100,000 Americans die or are permanently disabled each year due to medical diagnoses that initially miss conditions or are wrong or delayed." 
The National Academies of Sciences, Engineering, and Medicine postulates that every American will experience at least one diagnostic error in their lifetime. 
How do incorrect diagnoses even happen?
Incorrect diagnoses or misdiagnoses are not uncommon. As the Society to Improve Diagnosis in Medicine highlights, it is a complicated process in a world with 10,000 known diseases and over 3,500 possible lab tests that may be conducted while the physician works with a limited number of symptoms and observational information. 
Other factors include lab mistakes or switches, physician inexperience, lack of information or incomplete patient history, damaged or broken medical equipment, or documentation errors. 
While human and mechanical error happens in every facet of society, it is ultimately your doctor's responsibility to provide you with a standard of care and to "do no harm," as the often quoted oath states. If they do not maintain this standard or are negligent, they should be held accountable for any consequential damage or death that then befalls you or a loved one. It is for these reasons that the answer to the question, "Can you sue doctors for delayed diagnosis?" is commonly, "Yes."
What are some examples of a common wrong diagnosis? 
The same Hopkins study identified the "Big 3" when it comes to Diagnostic Errors in the United States before noting that diagnostic errors are "the most common, most catastrophic, and most costly of medical mistakes."
They are as follows:
Misdiagnosed cancers (37.8%)

Vascular Events (22.8%)

Infections (13.5%)
Admittedly, those are broad categories that cover a range of conditions that even laypeople are familiar with, so it is helpful to those who may be grappling with a confusing medical scenario to know the top conditions in each of these categories. The list, directly from the Hopkins study, is as follows: stroke, sepsis, lung cancer, heart attack, venous thromboembolism, aortic aneurysm and dissection, arterial thromboembolism, meningitis and encephalitis, spinal infection, pneumonia, endocarditis, and breast, colorectal, prostate, and skin cancers.
I have an injury claim. What is the statute of limitations for a delayed diagnosis?
Sometimes, an injury or negative consequence of an incorrect medical diagnosis is not immediately apparent. According to the law, a victim of medical malpractice has one year to the date of either the injury or diagnosis to file a claim in Kentucky. 
I am within one year. What is my next step in working with Rhoads & Rhoads?  
If you have a suspicion that you have been misdiagnosed or received incorrect care for a medical condition, reach out to a medical malpractice attorney immediately to receive up-to-date legal advice. Our experienced attorneys will work with you to establish the burden of proof to demonstrate that, beyond a shadow of a doubt, your healthcare provider failed to act or acted negligently and caused you or your loved one harm. Rhoads & Rhoads provides free case evaluation 24 hours a day at 888-709-9329. 
With a medical malpractice attorney on your team, you can rest easy knowing that the legal system works in your favor and you deserve compensation for the harm you experienced. An attorney can guide you through the nuances of the challenging question, "Can you sue a doctor for a wrong diagnosis?"
With offices in Owensboro and Madisonville, the attorneys of Rhoads & Rhoads are ready to represent medical malpractice victims in Western Kentucky. Beyond our free initial case evaluation, our cases are taken on a contingency fee basis. What does that mean for you? We only get paid if we win or settle your case meaning there is no risk for you.