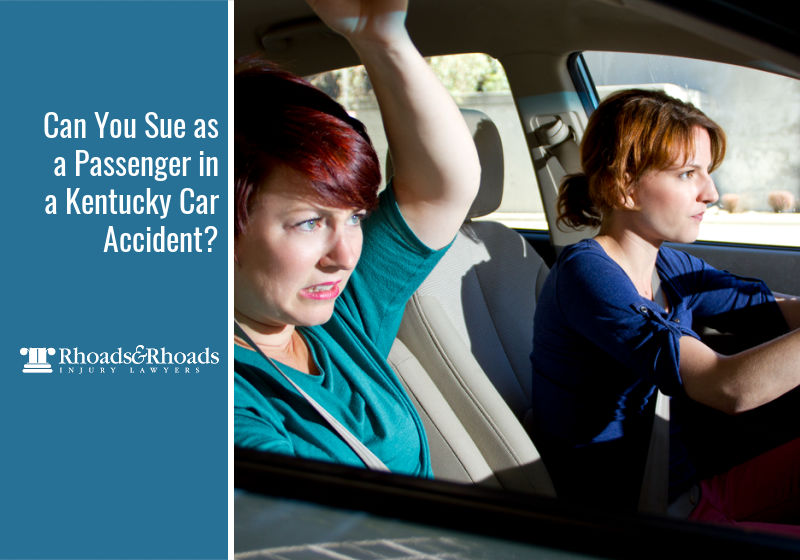 Key Points of This Article:
Passengers can file a lawsuit against negligent parties following an accident.
Kentucky's no-fault coverage requirements enable passengers to receive compensation through their own insurance.
Before filing a lawsuit, passengers must meet certain threshold requirements.
Whether you are the driver or the passenger in a car accident, you have a right to pursue compensation for any injuries sustained due to someone else's negligent actions. This includes filing a lawsuit if eligible and necessary. When it comes to pursuing legal action, you must prove that someone else owed you a reasonable duty of care and that they breached that duty, which led to the accident and your injuries.
Both drivers and passengers are entitled to compensation if fault can be proven. There may even be more than one party liable that you can hold accountable for your injuries and other damages in some situations. You are also entitled to compensation through your own insurance company's no-fault coverage since you likely played no part in causing the accident as a passenger.
Potential Liable Parties You Can Go After as a Passenger
When you file a personal injury claim or lawsuit as a passenger, there are a few different options available to you, depending on how the accident occurred and who was involved. In some cases, there may even be multiple responsible parties, all of whom can be held liable and responsible for paying your compensation. This includes friends, family members, drivers of other passenger vehicles, drivers of commercial vehicles, and vehicle owners.
Potential liable parties include:
The driver(s) of the other vehicle(s) involved: If another driver or drivers was responsible for causing the accident, you could file a claim or a lawsuit against them or their insurance for their negligent actions.
The driver of the vehicle you were a passenger in: If the driver of the vehicle you were seated in is accountable, whether fully or partially, you can also go after them or their insurance company for compensation.
The vehicle owner: Vehicle owners can also be held liable for accidents, even if they were not present when the accident occurred. This includes the owners of both personal passenger vehicles and owners of commercial vehicles.
Your own insurance company: Your own insurance is responsible for paying you through your no-fault coverage. If they unjustly deny your claim, you can sue them.
Pursuing Compensation as a Passenger Injured in an Accident
While a lawsuit is an option for injured passengers, it is not the only course of action they can take. Before filing a lawsuit, you may first want to file a personal injury claim. If your claim is denied or you feel that your compensation is not enough, you can then look into a lawsuit to pursue additional compensation.
No-fault Insurance Coverage – Kentucky is a no-fault insurance state, which means all drivers are required to carry at least $10,000 worth of personal injury protection. This coverage is payable regardless of who is at fault.
Third-party Insurance Claims – As a passenger, you can file a personal injury claim against all negligent parties. As mentioned above, potential parties you can file against include the driver of the vehicle you were in, the drivers of other vehicles, and vehicle owners.
Lawsuit – In Kentucky, a lawsuit is an option for passengers; however, due to the state's no-fault laws, you must first meet certain threshold requirements before you can file. Threshold requirements are met when:
Medical expenses from the accident and your injuries are $1,000 or more
The accident resulted in a permanent disfigurement
The accident resulted in the fracture of a weight-bearing bone
The accident resulted in a compound, compressed, or displaced fracture of any bone
The accident resulted in a permanent loss of a bodily function
The accident resulted in a permanent injury or disability
There is also a statute of limitations in the state of Kentucky that can interfere with your ability to file a lawsuit. The general rule is that personal injury lawsuits must be filed within one year of the date of the accident; otherwise, your case could be dismissed.
Kentucky Personal Injury Lawyers – Rhoads & Rhoads
If you are injured as a passenger in a motor vehicle accident, the team at Rhoads & Rhoads is here to help. We understand that the compensation you receive from an injury claim or through your personal injury coverage may not be enough to cover the damages you sustained. Our team of personal injury experts has years of experience fighting for the rights of injured victims looking to pursue a lawsuit for additional compensation.
Call us at 888-709-9329 to schedule an appointment with one of our Madisonville or Owensboro personal injury attorneys. We offer free initial consultations, and all cases are taken on a contingency fee basis, so no initial payment is required. We get paid only if we win or settle your case, and there is NO RISK involved.