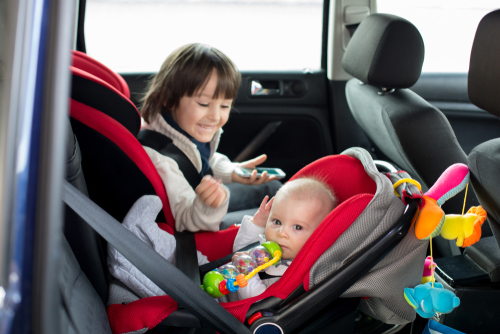 Updated Car Seat Guidelines May Save Lives, Reduce Child Accident Injuries
Newly supported research by the American Academy of Pediatrics (AAP) is impacting changes in U.S. child car seat guidelines. The updated guidelines recommend rear-facing car seats for children until they reach the height or weight limit for the seat, likely beyond a toddler's second birthday, and leaving them rear-facing as long as possible to maximize protections against accident injuries. Specific changes to the guidelines include:
"Children should remain in rear-facing seats until they reach the highest weight or height allowed by the seat manufacturer.
Once children reach the height or weight limit and shift to a forward-facing seat, they should use safety seats with harnesses for as long as possible, often up to 65 pounds.
When children exceed height or weight limits for those seats, they should use a belt-positioning booster seat until the lap and shoulder belts fit properly, often when the child has reached 4 feet 9 inches in height."
-Policy Statement and Technical Report Child Passenger Safety,
2018 American Academy of Pediatrics
To justify the changes, members of the AAP Council on Injury, Violence and Poison Prevention Executive Committee have been referencing a case from Texas in which a car seat manufacturer did not warn customers of the risks of switching from rear- to front-facing seats. The company was later found responsible for life-changing injuries of a 1-year-old sitting in a front-facing car seat. Seat limits can be found for specific car seat brands in the car seat's instruction manual.
Child Passenger Safety Tips
Car crashes remain a leading cause of death for children. Over the last 10 years, 4 children under 14 died each day but using the correct car safety seat lowers the risk of death or serious injury by more than 70 percent. Other child injuries or deaths related to safety seats or belts occur when these suggested safety tips are ignored:
If you're pregnant, schedule a car seat installation with a certified child passenger safety technician before the child is born.
If your kids complain about wearing seat belts, don't negotiate; don't drive off until they buckle up.
Always be consistent and wear your seat belt; driver safety belt use strongly influences whether your child will buckle up.
All 50 states require child seats with specific criteria; here is a list of the Kentucky laws.
The life of a car seat is from six to eight years; recalls for child seat manufacturers for the past 10 years can be found here.
Air bags can save the lives of older children and adults, but they can be fatal for young children.
NEVER drink alcohol/do drugs and drive; don't text or allow yourself to be distracted while driving at any time, but especially with child passengers.
Take advantage of permanent car seat check safety hours and events held at several Kentucky State Police Posts year round.
Speak with an Experienced Child Accident Injury Lawyer
If your child has been injured in a motor vehicle accident and you believe it was caused by the actions of someone other than yourself or by an unsafe safety seat, don't hesitate to call us. All you need to bring with you are the accident facts and your trust — we are here for you and can take care of the rest.
Call us at 888-709-9329 or contact us by e-mail to schedule an appointment with one of our Madisonville or Owensboro personal injury attorneys.