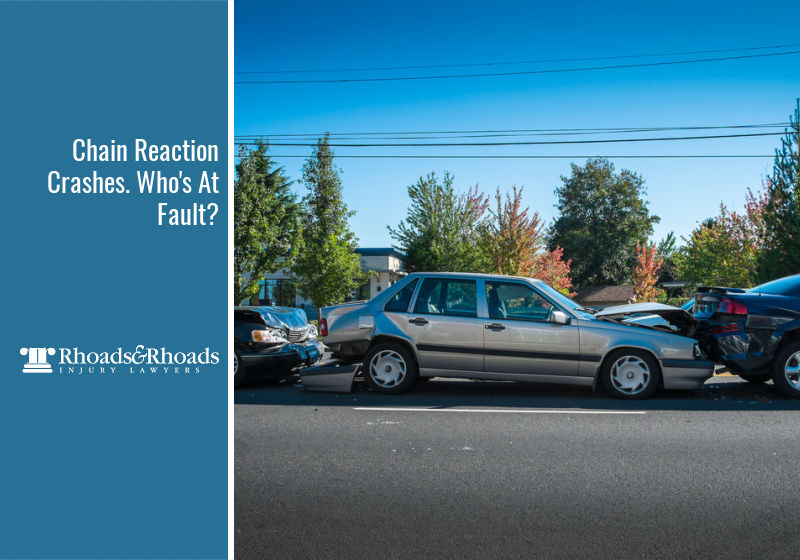 Key Points of This Article:
Causes of chain-reaction collisions
How liability is determined after a multi-car accident
How an experienced attorney can help you gather evidence and prove fault to ensure you receive the compensation you deserve
Chain reaction collisions involving multiple vehicles, also known as a pile-up, can result in severe injuries and other damages. These are often some of the most traumatic types of car accidents for the victims involved. Unfortunately, avoiding this type of devastating accident is not always easy, especially if you are one of the cars stuck in the middle.
When pile-ups occur, there is often no way to avoid it or get around it before you also become affected. For those whose car is situated towards the outside of a pile-up, the damages might not be as severe, but the results can be tragic and deadly for those stuck in the middle.
If you are involved in a chain reaction collision, an experienced personal injury attorney can help you with your case. If you were injured in this type of accident, proving who was liable in order to receive compensation can be challenging, but it's not impossible. At Rhoads & Rhoads, our attorneys have years of experience helping the victims of car accidents—including those involving multi-car pile-ups. We are dedicated to helping our clients seek justice and get the compensation they deserve to help them recover from their injuries and move on.
Causes of Multi-Car Collisions
What initially causes a chain reaction collision to occur can vary. There are any number of factors that can lead to a collision. When pile-ups occur, it is usually due to heavy traffic on the road that leaves little space for cars to hit their brakes and move out of the way before colliding with the vehicle in front of them.
Factors that can contribute to chain-reaction collisions include:
Heavy traffic
Bad weather
Speeding
Narrow roadways
Distracted driving
Impaired driving
Liability in Chain Reaction Collisions
Generally, proving fault after a collision involves showing that one or more drivers acted negligently. Drivers owe others on the road a duty of care, and when they breach that duty of care and cause an accident, they can be held liable. Unfortunately, proving liability in a multi-car pile-up can be difficult. There may be multiple perspectives and claims of what happened, making it difficult for insurance companies and courts to determine who to fault and who to award damages.
It is easy for numerous drivers to point fingers after a chain-reaction collision. However, it is not impossible for police, attorneys, or other specialists involved to determine what happened. Using evidence from the scene, they can often narrow down who was most at fault. From there, it is a matter of determining any other cars that contributed to the collision.
In Kentucky, fault is based on comparative negligence, so even if one driver was the initial cause, if any other drivers were found to be even partially responsible as well, they could be held liable. When it comes to determining compensation amounts, the amount you receive will be based on your percentage of fault. For example, if you are found to have been 5% liable, the money you are awarded will be reduced based on that percentage.
Pursuing a Personal Injury Claim After a Multi-Car Collision
If you are involved in a multi-car collision, it is in your best interest to consult with an attorney. Even if you think you were not responsible in any way, other drivers might say differently. It's important to have an attorney on your side who can advocate for your rights and ensure the proper parties are held accountable.
When it comes to determining fault, various pieces of information can be used as evidence to support your case. This evidence can help give insurance companies and the court a better understanding of what happened so they can make a more informed decision.
Evidence your attorney will work with you to gather can include:
Photographic evidence from the scene from your phone
Video surveillance footage
Eye witness statements
Police reports
Accident reconstruction diagrams
Kentucky Personal Injury Lawyers – Rhoads & Rhoads
If you or a loved one are injured in a multi-car collision, the team at Rhoads & Rhoads is here to help. We have experience handling complex cases where determining a guilty party may be more complicated than usual. Our attorneys are dedicated to helping our clients to ensure the best possible outcome.
Call us at 888-709-9329 to schedule an appointment with one of our Madisonville or Owensboro personal injury attorneys. We offer free initial consultations, and all cases are taken on a contingency fee basis, so no initial payment is required. We get paid only if we win or settle your case, and there is NO RISK involved.