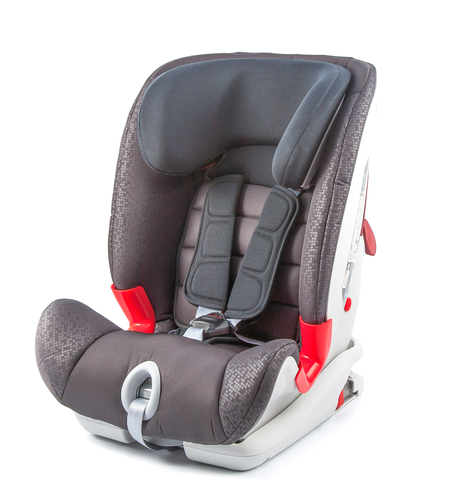 Child Passenger Safety Week is Sept. 17-23, 2017
Traffic crashes are the leading cause of death and disability for children nationwide. On average, two U.S. children under age 13 were killed and 308 were injured every day in 2014 while riding in vehicles. In 2015, 31 children age 15 and under were killed in motor vehicles on Kentucky roadways. Seventeen (55 percent) of those were unrestrained. To generate awareness about child passenger safety in our community during Child Passenger Safety Week, the team at Rhoads & Rhoads has these safety tips to share with parents and caregivers. Please help spread these messages across your social networks so others can benefit from reading them.
Tips on Child Passenger Safety
Safety experts recommend children sit in rear-facing restraint devices at least through age two, and children under 13 always ride in the back seat.
If you're pregnant, schedule a car seat installation with a certified child passenger safety technician before the child is born.
If your kids complain about wearing seat belts, don't negotiate; don't drive off until they buckle up.
Always be consistent and wear your seat belt; driver safety belt use strongly influences whether your child will buckle up.
All 50 states require child seats with specific criteria; here is a list of the Kentucky laws.
The life of a car seat is from six to eight years; recalls for child seat manufacturers for the past 10 years can be found here.
Air bags can save the lives of older children and adults, but they can be fatal for young children.
NEVER drink alcohol/do drugs and drive; don't text or allow yourself to be distracted while driving at any time, but especially with child passengers.
Take advantage of car seat safety checks held in Kentucky during National Child Passenger Safety Week.
Common Car Seat Errors You Don't Want To Make
Correctly used child safety seats can reduce the risk of death by as much as 71 percent among infants, 54 percent among toddlers and 45 percent among children ages 4 to 8, according to the Centers for Disease Control and Prevention. Avoid these common car seat errors to keep your child passenger safe at all times.
The Harness Is Too Loose
The harness is the critical part of the car seat that prevents your child's forward movement. When the harness is snug against the child, it decreases the risk of head and neck injury.
The Car Seat Is Attached To Wrong Seat belts
The majority of seats are not tight because the parent/guardian is unaware of how the seat belts work with the car seat. There are two ways to secure a car seat in the vehicle. The seat belt can be used in any seating position, but it must be locked to hold the seat securely. The other option, available since 2002, is the LATCH (Lower Anchors and Tethers for Children) method. This system is explained in your vehicle manual, and the seat attaches by hooking the designated straps to a metal bar in the right (bottom) of the seat. The strap also must be pulled tightly so the seat does not move more than an inch at the belt path any direction.
The Chest Clip Is Not Positioned At the Armpit
The plastic pieces that hold the harness straps together are pre-crash positioning devices. In a crash without the correct use of the retainer clip, the harness could slide off the shoulder. In order for the harness straps to perform adequately, the retainer clip must be in the correct position at the armpit.
You Put Your Child Forward Facing Too Soon
The American Academy of Pediatrics recommends that children ride rear facing at the bare minimum of 2 years of age. Seats on the market now will allow children to ride rear facing until they are 30 pounds.
The Child Is Riding In A Used, Recalled, or Expired Seat
Buying a used car seat may mean not knowing the history of the seat, whether it has been in a crash, missing instructions or mandated stickers. Car seats are only tested for one car crash and should never be used after a crash. Many recalls are related to a car seat's safety features. Always fill out the manufacturer's card to be notified of any recalls. The Juvenile Products Manufactures Association recommends that seats be discarded after six years. Many seats now are marked with an expiration date. All safety experts recommend using a seat that is less than 10 years old.
Blankets, Jackets, Extra Padding Get In The Way of Safety
There should never be any extra padding, blankets or infant head supports that go behind or under the child. Blankets can be on the sides, around the head or at the crotch, and should never interfere with the harness position.
Talk to Experienced Accident Lawyers
If your child has been injured in a motor vehicle accident and you believe it was caused by the actions of someone other than yourself, don't hesitate to call us.  All you need to bring with you are the accident facts and your trust — we are here for you and can take care of the rest. Call us at 888-709-9329 or contact us by e-mail to schedule an appointment with one of our Madisonville or Owensboro personal injury attorneys.