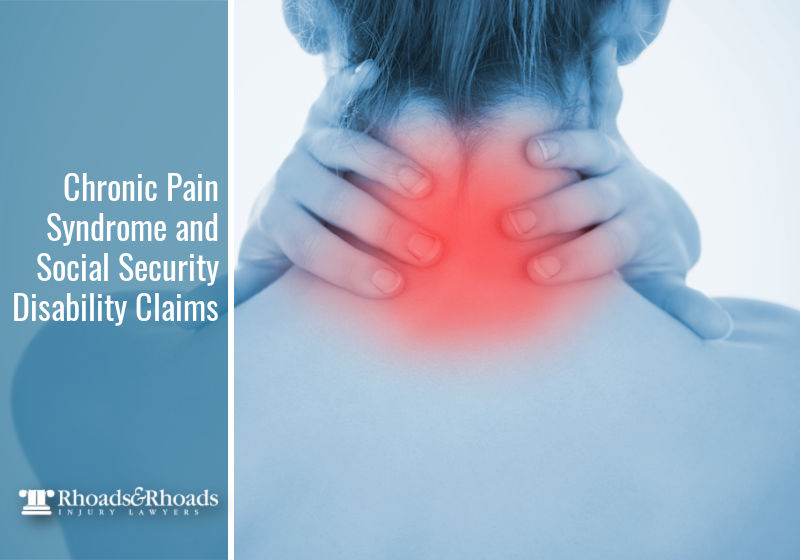 Chronic pain is pain that lasts longer than expected after an injury – usually beyond 3 to 6 months. When chronic pain continues and is coupled with depression or anxiety, as happens in about 25% of cases, it is categorized as Chronic Pain Syndrome (CPS). In some cases, this condition may exist even without there having been a triggering injury or surgery. The CDC estimates that one-fifth of our population suffers from chronic pain and that almost one-tenth (20 million) deal with what they describe as "high-impact" chronic pain. 
Chronic pain affects more women (

22%

) than men (19%). 

It also is more common in adults over the age of 65, those who live in poverty, and those who live in rural areas. 

The most common chronic pain experienced is in the lower back (27%). This is followed by headaches and migraine pain (15%), neck pain (15%), and facial pain (4%). 

Chronic pain costs the United States up to $635 billion each year, which is more than the annual costs of diabetes, heart disease, and cancer – combined. 
One type of Chronic Pain Syndrome is Complex Regional Pain Syndrome. This is a disease that affects the central nervous system. It begins as a result of an injury and affects one limb, such as an arm or a leg, but then can also affect other areas of the body. 
Symptoms of CRPS:
Sensitive skin that reacts to even the slightest touch, temperature change, or breeze with intense pain

Swelling

Stiffness

Skin changes in color or temperature
If you suffer from chronic pain, whether it had an initial trigger or not, the cost is considerable, and it encompasses far more than financial setbacks. Those with CPS struggle to accomplish both large and small tasks each day. They are unable to work or pursue their interests. Their relationships with others may suffer, and their sleep is affected, both of which can lead to depression and anxiety. Some days may be better than others, but the pain is a debilitating condition that can never be forgotten.
How to File a Social Security Disability Claim:
It is possible to file a claim for Social Security Disability (SSD) benefits if you are suffering from Chronic Pain Syndrome, but the procedure is confusing, time-consuming, and discouraging. Only 4 out of 10 people who apply for Disability benefits are ultimately successful; it makes sense to begin the process with the help of an experienced Social Security lawyer who knows exactly what documents you will need and what verbiage is most appropriate to use on your application. 
The Social Security Administration (SSA) has several strict requirements that must be met to qualify for disability benefits:
You cannot do work and engage in substantial gainful activity (SGA) because of your medical condition.

You cannot do work you did previously or adjust to other work because of your medical condition.

Your condition has lasted or is expected to last for at least one year or to result in death.
The SSA has a list of conditions that could cause CPS and that qualify for benefits listed in their Blue Book; these include such conditions as back injuries, inflammatory arthritis, or inflammatory bowel disease. However, what if you have chronic pain without a qualifying condition listed in the Blue Book? 
Chronic Pain Syndrome and Complex Regional Pain Syndrome are not listed in the Blue Book, but it is still possible to qualify for disability benefits if you suffer from them. It's just more difficult. Unlike many of the conditions that are listed, CPS and CRPS can exist without necessarily showing up on diagnostic tests. Simply declaring that you are in pain isn't sufficient. 
What can you do if your pain isn't caused by a condition listed in the Blue Book?
Prove that your disability has lasted for a year. 

Keep records of your limitations.

Keep records of your mental and emotional states. 

Ask for a

Residual Functional Capacity Evaluation

. This is the way that the SSA determines if you are able to do any kind of work. It will involve assessments of the intensity of your pain as well as your ability to perform the tasks of working and day-to-day living. 

You will need documentation from any medical professional you have seen.

It will also help to have documentation of any other steps you have taken to alleviate your pain, such as holistic healing, acupuncture, physical therapy, or hypnosis. Usually, people who are in pain will try anything they can to solve the problem, and the government is aware of this. 

You will be asked what you do to help with the pain (such as lie flat, take medication, or apply ice or heat), and you will need to list any medications or supplements you have been taking.

It is important that you tell the truth on all of your forms because you need credibility. A Social Security Disability lawyer can help you phrase your answers effectively. 

Work with an SSD lawyer who has handled cases like yours before and who can make a compelling case for you. 
With offices in Owensboro and Madisonville, Rhoads & Rhoads Attorneys at Law represent Social Security applicants throughout Western Kentucky. We offer free initial consultations, and all cases are taken on a contingency fee basis, which means there is no payment required upfront. We get paid only if we win or settle your case, so there is NO RISK involved.
Call us at 888-709-9329 or contact us by e-mail to schedule an appointment with one of our Madisonville or Owensboro personal injury attorneys.