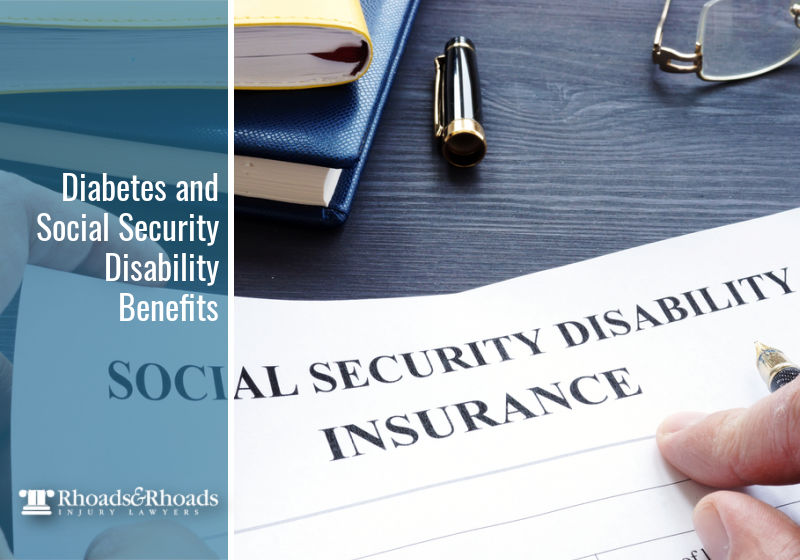 Type I and Type II diabetes are serious conditions that afflict over 37 million Americans, a tenth of the U.S. population. Additionally, 96 million American adults are prediabetic, and the vast majority aren't even aware that they have prediabetes. 
Diabetes occurs when a person can't produce sufficient insulin, preventing them from processing glucose. This condition can lead to many different types of health problems that can impact one's ability to work and make a living wage.
For this reason, some who struggle with diabetes qualify for either Social Security Disability Insurance (SSDI) or Supplemental Security Income (SSI). That said, those who qualify typically have other health challenges or struggle with diabetes-related medical conditions, such as cardiovascular problems, seizures, and other serious issues. 
Whether or not you qualify for Social Security benefits will depend on how diabetes has impacted your ability to work and whether it's caused a medical condition that's outlined in the Social Security Administration's list of diabetic complications. 
This blog discusses the SSA's list and other important information you need to know about diabetes and Social Security.  
Is Diabetes a Social Security Disability?
When it comes to diabetes and social security, it's important to know that diabetes itself doesn't qualify you for disability benefits. You must be able to demonstrate that insulin does not keep your diabetes under control and that your condition prevents you from working. 
You either need to prove that you've been unable to work for the past 12 months or that you don't expect to be able to work for the next 12 months. You must even prove that you cannot perform a sedentary job, such as a clerk, transportation provider, or data entry worker. 
Finally, you need to show that you complied with your doctor's treatments and still cannot work. For example, if you refuse to take insulin prescribed by your doctor and can't work as a result, you likely wouldn't qualify for Social Security benefits. 
Diabetes-Related Impairments That May Qualify You For Social Security Benefits
The Social Security Administration (SSA) lists a series of impairments that may qualify you for receiving benefits, but diabetes itself is not considered an impairment. Diabetes can cause a number of health problems that do qualify and are recorded in the SSA's Listing of Impairments.  
The SSA lists diabetes-related impairments that may qualify you, but it's important to note that these conditions must be considered severe for you to receive benefits. These include:
Amputation of an Extremity:

Diabetes can cause circulation issues and nerve damage that may result in amputations. 

Cardiovascular Issues:

Diabetes can cause different heart conditions that qualify for SSA benefits including coronary artery disease, chronic heart failure, an irregular heartbeat, and peripheral vascular disease. 

Cerebral Edema:

Diabetes can cause life-threatening brain swelling that's referred to as cerebral edema or intracranial pressure. 

Diabetic Nephropathy:

This occurs when a diabetic person struggles with proper kidney functions or if their plasma has too much protein or creatine. 

Diabetic Ketoacidosis:

Also known as DKA, this condition relates to complications from diabetes mellitus. The condition can cause eating and mood disorders which are problems within the SSA's Listing of Impairments. 

Diabetic Peripheral Neuropathies:

It's common for those with diabetes to have nerve damage or neuropathy in the extremities and limbs. This may qualify a diabetic person for SSA benefits if it impacts their ability to walk or use their hands. 

Diabetic Retinopathy:

Diabetes can cause vision blurring or blindness. Those with poor peripheral vision or visual acuity between 20/100 and 20/200 in their better-seeing eye may qualify for SSA benefits. 

Seizures:

Diabetes can cause seizures when a person's blood sugar is below 30 mg/dL. 

Ulcerating Skin Lesions:

Those who develop ulcerating skin lesions that last longer than three months may qualify for SSA benefits if the skin condition impacts their ability to walk or use their hands. 
Qualifying for Social Security Benefits If You Don't Have a Diabetic Complication 
Sadly, the majority of those with diabetes who apply for SSA benefits are denied, but there are still cases in which someone can receive benefits without having a qualifying impairment. 
To qualify, you need to be able to prove that you have a low enough residual functional capacity (RFC), which measures your ability to work and do activities while living with diabetes. The Social Security Administration or Disability Determination Services (DDS) measures your RFC by considering your medical history and your doctor's assessment. If your doctor states that you do have serious limitations and provides sufficient medical evidence supporting that claim, you're more likely to have a low enough residual functional capacity to receive benefits. The agency considering your RFC will also take your personal assessment regarding your limitations and the assessment of those close to you, such as friends and family. 
The SSA or DDS will consider various factors when determining your ability to work including your ability to focus, work regularly, and whether you can interact with other people appropriately. Your diabetes may cause conditions that directly impact your ability to work and focus, such as depression and extreme fatigue caused by low glucose levels. The SSA or DDS will also consider any diabetes-related complications you may have that impact your ability to work. 
Your RFC assessment will detail whether you're capable of working. As discussed above, if you're capable of performing sedentary work, you likely won't be able to receive Social Security benefits for diabetes. 
If the SSA denies you benefits — as is the case with most who apply for diabetes — you'll need to file an appeal and present your case in front of an administrative law judge. 
Contact Kentucky Social Security Attorneys
If you're struggling to receive diabetes Social Security Disability, consider contacting a Social Security legal team that can help you recover the SSDI or SSI benefits you deserve. The Social Security Disability appeals process is lengthy and challenging, and you're more likely to prove that you qualify for benefits through the assistance of Social Security attorneys. 
For help receiving Social Security benefits in Kentucky, contact Rhoads & Rhoads Attorneys at Law at 888-709-9329, or you can contact us online here.