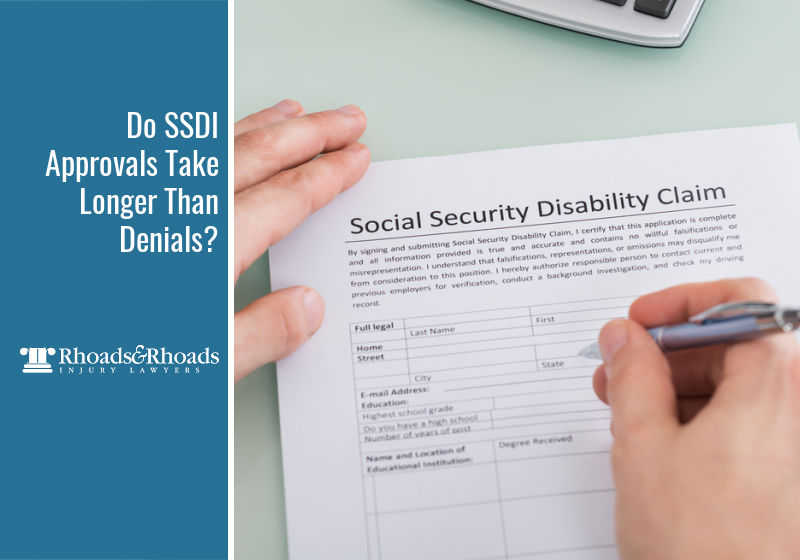 Social Security Disability Insurance (SSDI) is vitally important for those struggling with disabilities. People who can't work because of mental or physical disabilities count on SSDI to provide benefits. Although SSDI benefits are essential for millions of Americans, the process of getting approval can be difficult, and many applicants don't receive full benefits or are outright denied.
One common question many SSDI applicants have is whether approvals take longer than denials. The short answer is "no." There's no difference between the amount of time a denial or approval will take, but every applicant is different, so it's difficult to predict how long you can expect before being approved or denied.
In this blog, you'll learn about the factors determining how long you should expect to wait for your application. Additionally, you'll learn what you can do to speed up the SSDI claims process and what next steps you should take if your claim is denied.
When Can I Expect to Receive SSDI Benefits?
After you submit your SSDI application, a disability examiner will go through the application to make sure that the information is accurate. They'll examine your work history, medical history, and medical status. The average application takes between three and four months to process, but there's no mandated amount of time the process can take, so it could be shorter or longer than three months. The process may take longer than four months if the examiner is sorting through many applications.
Although a long wait time isn't necessarily indicative of a problem with your application, your examiner may need additional information to process your claim. Even if you provided detailed documentation of your medical records, the Social Security Administration may require you to undergo further medical examinations by independent medical examiners. You would then have to wait for the medical examiners to provide the Social Security Administration with subsequent information regarding your medical status.
Can I Speed Up the SSDI Process?
Although there's no guarantee that you'll be able to quicken the process of receiving SSDI benefits, there are certain steps you can take that may help. Disability examiners will have an easier time processing your claim if you provide ample medical information with your application. You should provide your medical records and information regarding your treating physicians. The more details you can provide, the easier it will be for a disability examiner to process your claim.
Another way you might be able to expedite the process is by contacting your disability examiner regularly. When you contact the disability examiner, you ensure that your claim is on their mind, and if any information is missing from your application, the disability examiner can inform you promptly. There could be information you forgot to include or there could have been an issue when you provided your documentation. When you speak with your disability examiner, you speed up the process of providing any subsequent information you may need for your claim.
In certain situations, you can also apply for the Social Security Administration's compassionate allowances program, which also speeds up the process. The compassionate allowances program is typically reserved for people diagnosed with certain cancers or have brain disorders.
What Should I Do If My Claim Is Denied?
It's incredibly common for a person's SSDI claim to be denied. 70% of SSDI applications are denied, but there are additional steps you can take if you're rejected. After receiving notification that you've been denied, you have 60 days to apply for a reconsideration request. With reconsideration, you can provide additional medical information that could support your claim. Unfortunately, most reconsideration requests are also denied.
If your reconsideration request is denied, you can then appeal before a judge, but it can take up to a year for your hearing to take place. If your claim is then denied in court, you can request an appeal with the Social Security Appeals Council. If they also deny your claim, you can file a civil action through the federal court system.
Contact Kentucky SSDI Attorneys
Getting your SSDI claim approved can be difficult and often requires diligence and persistence. You may need to apply for appeals and present your case to different parties before getting approved. You can increase your chances of getting approval while making the situation less stressful by working with an SSDI lawyer. Social Security Disability Insurance lawyers will work with you to help you get your claim approved. For expert SSDI legal guidance, contact Rhoads and Rhoads. We represent SSDI applicants all over Kentucky, and we'll help you get the benefits you deserve for your disability.
Call our offices at 888-709-9329 or click here for a free consultation.