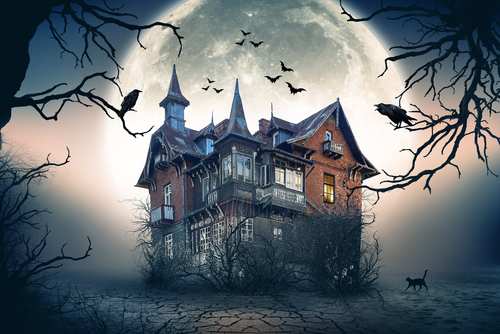 Visitors Assume A Certain Amount of Risk For Haunted Venues
Many people love spending their money on spooky attractions this month. In fact, each Halloween, more than $7 billion is spent on entertainment activities like haunted houses and related spooky attractions across the country. If you are one of those people currently rallying your friends to tour a haunted house or hop on a hayride traveling through a "haunted" Kentucky forest filled with actors dressed as the Grim Reaper, we wish you a safe and scary-fun time. We also want you to know your visit should not be dangerous. If someone does get injured, the haunted attraction venue or management may hold legal liability but visitors should also assume a certain amount of risk the moment they walk through the venue entrance.
Haunted House Operators May Not Be Thinking of Safety First, You Should
Haunted house operators continue to find creative ways to make a guest's experience as scary and real as possible. This helps them stay competitive, edgy and attractive to their audience. This also means that safety may not be at the forefront of the operator's priority list. And sadly, in Kentucky that can sometimes be too easy since the state currently does not have any safety or fire codes specific to haunted houses or similar attractions. This means if you plan on attending a haunted house this Halloween season, you should be extra mindful or the risks you are taking. Be smart and stay safe with these suggested tips.
Don't ever smoke or carry an open flame of any kind in a haunted house or attraction. Ask where the exit doors are before entering in case of a fire.
Most haunted attractions have strict no touching policies for both actors and visitors. To be safe, don't touch actors, other guests, or props.
Arrive sober of drugs and alcohol to stay in better control of your actions and emotions.
Wear comfortable shoes and clothing that is not too loose and could get caught on props.
Act accordingly and follow the posted rules. If rules aren't posted remember to not run, horse around, fight with the actors, or behave in an unsafe manor that could cause injury to yourself or others.
Don't bring in valuable items that could easily be dropped or stolen if left unattended. Most haunted houses will say they are not responsible for any lost, stolen or damaged possessions while on the premise.
Most haunted attractions will have its own set of safety rules posted at the entrances. It is assumed it is then the responsibility of the patrons to read and follow these rules.
Take extra precautions in a fog-filled room. Many haunted houses have rooms being pumped with artificial fog. If you start feeling light headed, request to be escorted out or to a room with proper ventilation to prevent carbon monoxide poisoning. Report the incident to management.
Watch your step as slips and falls are some of the most common haunted attraction injuries and could bring a case involving premise liability. Since these locations are often set in a dark environment, it becomes very easy for guests to fall over a loose cable or ropes or down stairs, or slip on floors that may have become wet from a mist sprayer or hose.
If you have a medical condition that may become agitated from a haunted house, perhaps it is best to not go. Sometimes an actor may jump out towards guests to give them a scare and trigger an emotional reaction that is not safe for either the customer or guests. Terrified visitors that run in a crowded environment could wind up trampling other visitors in the process.
Always make sure younger children visit haunted houses with age appropriate adults and that older children go in groups and know the rules.
Disclaimers and Injuries
Some businesses and haunted event planners will not require guests to sign a release. Instead, they will post a disclaimer and release on the back of every ticket, or include warning signs or have a tour guide quickly list off the rules as people enter. It is important to know that a signed release or disclaimer may rule out a lawsuit or claim if you have been injured. If an injury occurs, it is important to first take these steps:
Dial 911 or seek medical attention if needed.
If you do not need to leave immediately for medical help, call the manager over. It's important for the manager or venue owner to know immediately of your injury. Be sure to tell them exactly what happened.
Write out a summary of the timeline of the night, and include notes of how the injury happened. Pull together any information on how the owner or manager of the property did not meet his or her duty of care to prevent the injuries.
Gather any photographs of the accident scene, props involved, or photos that show room conditions or lighting and attendance at the time of the accident. Also photograph any injuries you suffered.
Compile a list of all witnesses' names and their contact information. These are people who were present during the accident.
If you or your child has been injured in a Kentucky haunted attraction, there will be many questions left to be answered. Will there be enough coverage to deal with the cost of a potential claim or lawsuit? If there is an insurance policy enforced, does it have adequate limits of liability? Could it be excluded from their current policy because it doesn't fit within the scope of their original operation? If it isn't covered under their insurance policy, where is the recourse for an injured party to seek compensation for injuries, medical bill, or loss of future wages? This is when it is time to speak with a personal injury lawyer from Rhoads & Rhoads.
With offices in Owensboro and Madisonville, Rhoads & Rhoads represents premises liability and personal injury victims throughout Western Kentucky. We offer free initial consultations, and all cases are taken on a contingency fee basis, which mean there is no payment required up front. We get paid only if we win or settle your case, so there is NO RISK involved.
Call us at 888-709-9329 or contact us by e-mail to schedule an appointment with one of our Madisonville or Owensboro personal injury attorneys.