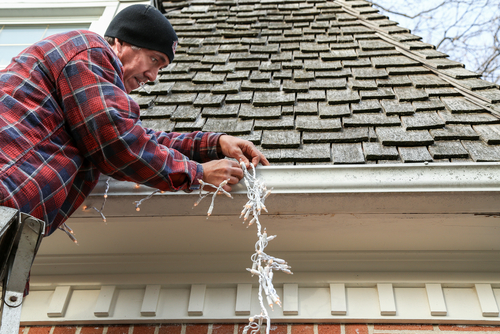 The Holiday Season Sees a Spike In Accidents Around the House
Although it is the last thing you want to happen, the holidays are a time when accidents around the home are more likely. According to the Consumer Product Safety Commission (CPSC), the average number of visits to doctor's offices and/or emergency departments each year is 69,000, all directly due to holiday activities based in the home.
To prevent yourself or a house guest from an injury sustained from these cheer-filled festivities, take some time to review three common home injuries and how to prevent them.
Holiday Slips, Trips, and Falls
Taking a nasty slip, trip, or fall can happen any time of the year, but around the holidays they seem to occur more often from the many irregular activities, such as hauling boxes and Christmas trees, or using a ladder to hang lights and other holiday decorations that add to the risk. As the weather gets cooler, the chance for black ice along driveways and doorways quickly becomes an issue as well. Holiday slips, trips, and falls often cause more serious issues like broken bones, strains, and even traumatic head injuries. They can also create personal injury or wrongful death, and even product liability claims. Don't let this happen to you, your family, or your guests by following the tips listed below.
Inside and outside of your home, keep walkways clear of extra electrical cords and decorations. Avoid putting things on or near stairs or in the way of common foot traffic.
Never carry something that obstructs your view of where you're going or is too heavy to deliver in one load. Take trips instead or ask for help.
Many people fall off of ladders or chairs while decorating their home or Christmas tree. Be sure to inspect your ladder to make sure it is in good condition before using it and always place it on firm, level ground away from debris. Maintain three points of contact at all times while climbing. Once your task is finished, move the ladder to the next position rather than overreaching.
Kids and other guests may want to help you decorate, but they're better off handing you tools and ornaments or holding the ladder.
If you are having a holiday party in your home, limit your guests' drinking. Alcohol is a major contributor to holiday accidents in the home (but also on the roadways). Never let your guests drive drunk.
Have your ice melt products ready even when you think you won't need them. It only takes a bit of moisture and freezing overnight temperatures for ice to form. Try a mix of calcium chloride, calcium magnesium acetate, magnesium chloride, potassium chloride, or rock salt. Then add sand for traction. If it has already snowed, safely clear as much snow as you can before spreading.
Celebrating the holidays should be an enjoyable time, rather than spending countless hours nursing wounds and injuries, or feeling responsible for a guest's unfortunate accident in your home. Follow our tips listed above and you all can enjoy a safe and spirited holiday season.
Owensboro and Madisonville Personal Injury Lawyers — No Recovery, No Fee
With offices in Owensboro and Madisonville, Rhoads & Rhoads represents personal injury and accident victims throughout Western Kentucky. We offer free initial consultations, and all cases are taken on a contingency fee basis. There is no payment required up front and we get paid only if we win or settle your case. There is NO RISK involved.
Call us at 888-709-9329 or contact us by e-mail to schedule an appointment with one of our Madisonville or Owensboro personal injury attorneys.