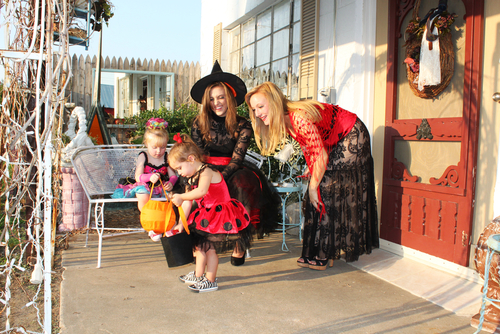 Halloween Top Trick-or-Treating Safety Tips For Kentucky Families
For the Kentucky families that celebrate the Halloween season, it is no doubt they have started their countdown to the candy collection dress up event known as Trick-or-Treating. There are many safety issues that can arise on this fun night mostly caused by distracted motorists and irresponsible and negligent homeowners. Rhoads & Rhoads wanted to take some time to first wish you a fun-filled Halloween but also remind you of that fine line between fun and those community hazards that may involve more than a good spook.
Be Safe On and Off the Road
Did you know that children are more than twice as likely to be injured in a pedestrian accident on Halloween than on any other time throughout the year? The mix of unpredictable and excited children, visibility issues, unusually populated streets, and more drunk drivers, there can be a real danger to children and their families who are venturing out for a simple candy pickup. Some simple Halloween safety tips to follow include:
Children under 12 should be trick-or-treating with a grown-up. Though many parents believe sending younger children out with older children is an acceptable option, we urge caution in this approach.
Avoid crossing in unexpected locations. Teach your children to use crosswalks and to ensure drivers see them before crossing.
Darting out into the street is a major danger, as is walking out to cross the road from between two parked cars. Even older children can be hard to see between two cars.
Be cautious with costume selection including masks so they can see their surroundings. If your child is wearing a dark costume, use glow sticks, flashlights, reflective tape, or other light up items so that drivers can see them.
If your child is taking an electronic device out with them, it's important to be clear about when and where they should use the devices and to not be distracted.
Homeowners Can Help Keep Trick-or-Treaters Safe 
Help keep your community and personal property safe for children and their families this Halloween by taking some time to address these safety concerns.
Keep your driveway, porch entrance or sidewalk well-lit to show the pathway to your door.
Avoid lighting candles because they can pose a fire hazard, the National Fire Protection Association Trick-or-treaters can easily knock over the lit candles or the brightly lit pumpkins lining a walkway. Choose to light pumpkins with battery operated lights or a string of lights around the front porch.
Be sure to clear a path in your yard and walkway and remove any obstructions or hazards. In addition, remove leaves and branches, potted plants, and hoses out of the yard and a safe distance from any walkways.
Repair loose porch railings or stones that may pose a safety threat to trick-or-treaters. Be sure your Halloween decorations do not obstruct any pathways.
Be sure to do all you can to protect your children and trick-or-treat visitors from holiday harm. If your child is unfortunately injured during a Halloween outing due to another's wrongdoing, the attorneys at Rhoads & Rhoads will be at your side to ensure they are cared for in the best way possible. Call us today for a completely FREE initial consultation: 888-709-9329.