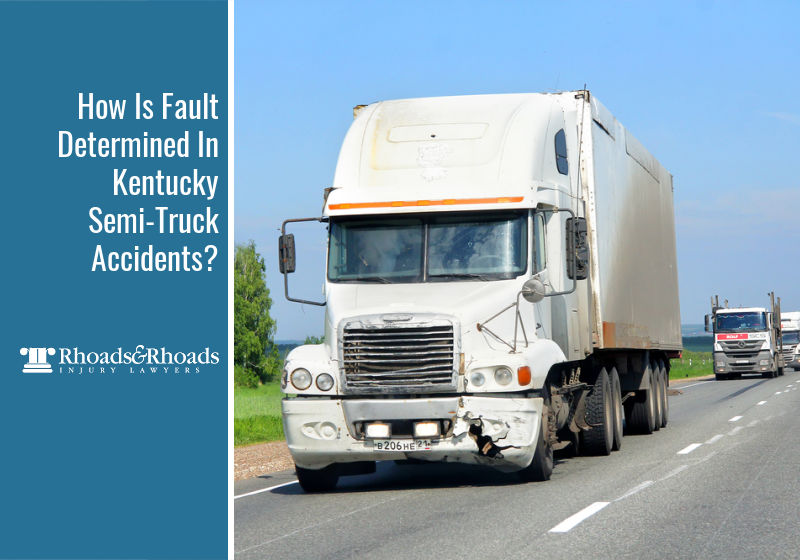 Key Points of This Article:
The dangers of trucking accidents

What parties can be held liable in trucking accidents

How to prove and determine fault 
When someone is involved in an accident with a semi-truck or a tractor-trailer, the resulting damages and injuries can be extensive and severe. Unfortunately, proving fault in these types of accidents can get complicated as it's not necessarily the truck driver alone who is at fault. There are multiple other parties and entities that could be responsible as the truck is just one part of a large commercial industry. 
In 2019, over 4,000 people were killed as a result of truck accidents, with only 16% of those deaths being truck occupants and 67% being passenger vehicle occupants. These numbers are already daunting, but semi-truck-related accidents only continue to increase. 
It's important for the victims of truck accidents to work with an experienced attorney to ensure all parties are held accountable and full damages are awarded. Because these trucks are often owned and driven by commercial companies, they have good insurance policies and representation to protect them in case someone files a claim or a lawsuit. You'll need the help of an attorney that has experience handling truck accident cases and knows how to fight against insurance companies to prove fault and win your case. 
Who Is At Fault In a Semi-Truck Accident?
Though you might naturally think the truck driver is the obvious one to blame and go after, the accident might not necessarily have been directly related to their negligent driving. There are other parties that could be either directly or indirectly at fault for causing the accident. Liability falls on the negligent party whose involvement contributed to the accident and your injuries. 
Potential liable parties can include:
The truck driver:

Of course, you and your lawyer should always first determine whether or not the driver themselves is at fault. If your injuries and the accident were a direct result of their negligent actions and driving, such as speeding or improper lane changes, then they will be to blame. 

The trucking company:

Trucking companies are responsible for the trucks they own and maintain as well as those who drive them. If they are aware that one of their drivers has a tendency to drive recklessly, or if they failed to keep up with the truck's maintenance, then they may also be held responsible for causing the accident. 

The truck owner:

In some cases, the truck may be part of a very small fleet rather than a larger company. In this case, there may be one person who owns just a couple of trucks, and they could be the one found liable if there was a malfunction or if they knew their driver was negligent. 

The truck parts manufacturer:

The company that manufactured the truck or its parts can also be held liable for causing the accident if it was the result of a malfunction or a faulty part. Defective brakes or steering mechanisms, for example, can be traced back to the manufacturer in a personal injury case involving a tractor-trailer. 

The truck mechanic or repair shop:

The mechanic who performs maintenance on the truck or the repair shop where the maintenance is performed can be held responsible if their work was not done properly. 

The shipping company:

The purpose of commercial tractor-trailers is to transport freight and cargo. When a driver arrives at a shipping facility, it is someone else's responsibility to ensure the freight is loaded properly and secured. If the truck loses control and causes an accident because of an error on the shipper's part, the shipping company can be held liable. 

The government:

State and other local government groups and the contractors they hire are responsible for maintaining the roadways. If a truck causes an accident due to things like poor road conditions, faded or damaged signs or lane markings, missing lights and reflectors, or poor grading, the local government may be responsible. 

Another driver:

There is always the possibility that another driver, or multiple drivers even, is responsible for causing a truck to crash. Passenger vehicle drivers often get frustrated by large trucks on the roadways and will drive negligently and aggressively around them. Unfortunately, semi-trucks require longer stopping distances and can easily be thrown off balance and tip over. If a truck crashes because they had to slam on their brakes or swerve to avoid another reckless driver, the truck driver may not be the one held liable, but rather the other driver or drivers involved. 
How Is Fault Determined? 
In accidents involving a commercial truck, it is almost always necessary for the injured party to work with an attorney to prove fault. In some cases, it may be straightforward and obvious who was responsible, but in other cases, multiple parties could share responsibility for causing the accident, and proving who all was at fault can be challenging. 
Additionally, insurance companies will often try to deny fault in whatever way they can, especially when they insure large trucking companies. Accidents involving large trucks notoriously result in more damage and serious injuries, so insurance companies often have to pay larger compensation amounts in these situations. 
To avoid having to pay victims so much money, they will use tactics to deny fault or reduce the amount they owe as much as possible. For this reason, it's especially important for injured victims to work with an attorney who knows how to fight against insurance companies to get the full compensation they deserve. 
Kentucky Personal Injury Lawyers – Rhoads & Rhoads
The team at Rhoads & Rhoads has experience handling complex trucking accident claims and lawsuits. We are dedicated to helping injured victims receive the guidance and help they need to win their cases. Severe trucking accidents not only cause severe physical injuries but can result in emotional scarring and trauma as well. It's essential to get the total compensation you deserve to cover any necessary costs, including therapy.
Call us at 888-709-9329 to schedule an appointment with one of our Madisonville or Owensboro personal injury attorneys. We offer free initial consultations, and all cases are taken on a contingency fee basis, so no initial payment is required. We get paid only if we win or settle your case, and there is NO RISK involved.