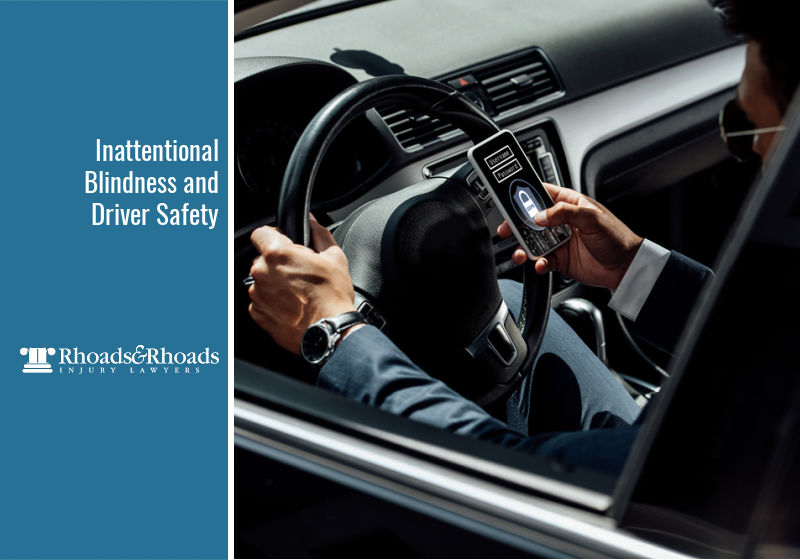 Most people (even those who text and drive themselves) are aware that distracted driving is dangerous. For example, there were 961 collisions in Kentucky where cell phone use was cited as a factor in 2020. The number of Kentucky crashes where distracted driving was cited as a contributing factor was even bigger: 4,564.
Distracted driving is something that can be controlled. If all drivers ignored their cell phones, tuned out their squabbling children, kept their hands on the wheel instead of in a bag of fast food, and kept their eyes straight ahead instead of rubbernecking when passing the scene of an accident, many lives could be saved each year.
Unfortunately, there is another driving issue over which we have no control; it's called inattentional blindness.
Inattentional blindness is what happens when a person misses important visual information even when they are looking straight ahead. Drivers may be paying close attention to the road in front of them and yet still miss a critical visual cue simply because they weren't looking for it. Their hyper-attention on another aspect of driving can cause their brain to filter out what may be crucial stimuli.
The example of inattentional blindness that many people may have seen involves an experiment where participants were instructed to count the number of times a basketball was passed between white-shirted players on a basketball court. In the middle of the video they were watching, a woman dressed in a gorilla suit walked to the center of the court, paused, and pounded her chest before walking off. The "gorilla" was clearly visible for a full 9 seconds. Half of the people watching did not see the woman in the gorilla suit at all. This is because they were so hyper focused on their task of counting.
Something similar happens when drivers are focused on the road. This isn't because our brains are deficient. In fact, by filtering out extraneous details, our brains are making it possible for us to live each day. If we gave equal weight to all stimuli, we would be overwhelmed by the perceptual load.
One study published in Frontiers in Psychology asked drivers in a simulation to evaluate whether a gap between two rows of parked cars on either side of a street was wide enough to drive through. While drivers focused on this task, many of them missed noticing such unexpected details as people, animals, bus shelters, and posters. "Specifically, participants were unaware of inanimate objects on 56% of all trials and animate objects on 25% of all trials," reported the researchers conducting the experiments. The other interesting conclusion drawn from this study was that younger and older drivers suffered from inattentional blindness at similar rates. Previous studies have shown that inexperienced drivers (whatever their age) are more likely than experienced drivers to suffer from situational blindness because their brains are focusing on so many things at the same time as they drive. Nothing has yet become "automatic" for them.
How can drivers counter the effects of inattentional blindness?
Even if your car can go on cruise control, you can't. Constantly scan the road ahead and look for visual cues. For example, a ball at the side of the road might mean a child will follow. One deer bounding across the road in the distance may mean that 2 or 3 others are ready to cross by the time your car approaches.
Put your phone on silent while you drive. Even if you would never dream of reading or answering a text, it's easy to become distracted if you hear a text come in and start wondering who it's from. Your eyes may remain on the road, but your brain just took a detour.
Always be aware of what other drivers are doing. Leave room between your car and other vehicles in case someone else is experiencing inattentional blindness and has to brake suddenly.
Simply the fact that you are aware of this phenomenon will go a long way towards helping you guard against it. Yes, it is always possible to miss something obvious right in your field of vision. Know that, and be vigilant.
Call our car accident attorneys at 888-709-9329 to discuss your injury case or contact us online to schedule an appointment with one of our Madisonville or Owensboro Kentucky personal injury attorneys for a free initial consultation.