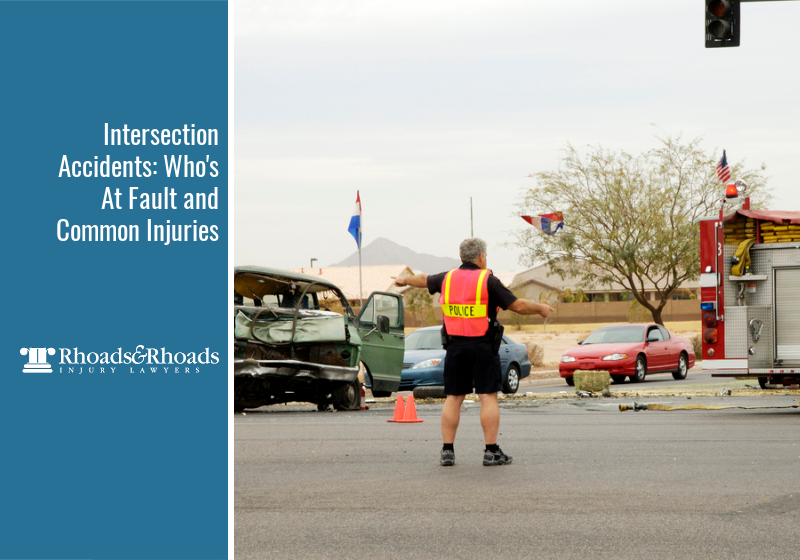 Key Points of This Article:
How to determine who is at fault in an intersection accident
The leading causes of intersection accidents
Common injuries sustained from intersection accidents
Steps to take following an intersection accident
Intersections are designed to allow for the flow of multi-directional traffic, making it easier to connect not only drivers, but pedestrians, cyclists, and even public transportation as well. However, due to several intersecting lanes and paths, it's all too common for accidents to occur at these heavily trafficked points. According to the Federal Highway Administration, more than 50 percent of all crashes resulting in fatalities and injuries occur at or near intersections.
Unfortunately, with intersections, there are so many factors that can make it difficult to determine who or what was at fault for causing the accident. When you've got multiple vehicles, pedestrians, cyclists, and/or public transportation all potentially following different rules or traffic signals, determining who made the first mistake or who intentionally disobeyed traffic laws is a challenge.
Dealing with intersection accidents can be especially frustrating if you were injured and are trying to file a claim for compensation. No matter who was at fault, you likely just want to recover from your injuries in peace. It's often necessary in these types of cases to work with an experienced personal injury attorney, especially one well acquainted with intersection accident cases. They can help you navigate the challenges involved in determining fault and pursuing the compensation that you deserve.
Determining Fault In Intersection Accidents in Kentucky
If multiple vehicles and/or individuals are involved in an intersection accident, it is typical for everyone to have their own point of view or opinion of what happened. And, of course, no one wants to admit blame. For this reason, it's important for the authorities to be contacted so an investigation can take place. There are special teams and individuals whose job is to collect evidence and even create diagrams and reconstruction reports of the scene to help them determine who or what was to blame for the accident.
More often than not, a driver is usually to blame for the incident, whether they were intentionally disobeying the law, driving recklessly, or were distracted. However, other factors can be partially to blame, such as bad weather, obstructed views, or even malfunctioning traffic signals. Proving that the "roadway" or weather conditions were at fault is not easy, however. There must be substantial evidence to show that factors other than the driver(s) are to blame.
No matter the circumstances, it is important for the parties involved to collect as much initial evidence on their own as possible. This can include:
Photos of the scene as a whole
Up Close photos of the damage to your vehicle
Pictures of your injuries
Witness statements
Though law enforcement and the investigation team will do their own collecting of evidence and taking statements, things can be missed when there are multiple parties involved. Therefore you should be proactive in collecting what photographic evidence you can, not only for the police but for your insurance company and your lawyer as well.
Leading Causes of Intersection Accidents
Though many factors can lead to a multi-vehicle crash at an intersection, some of the most common causes include:
Incomplete stops
Running red lights
Failing to yield the right of way
Speeding
Failing to signal a turn
Making illegal turns, including u-turns
Merging
Distracted driving
Driving under the influence
Often, accidents that occur at intersections can be a result of a combination of any of the above factors. There can even be multiple drivers at fault, as opposed to just one individual causing the entire accident. Again, due to the intricacy and complex nature of these types of accidents, it can be helpful to work with an attorney that can help navigate you through the process.
Injuries That Result from Intersection Accidents
Due to the fact that multiple vehicles are often involved in intersection accidents, the injuries sustained are often severe and even life-threatening. Depending on the situation and how you were involved, you could also walk away with merely a few scrapes and bruises.
The following are some of the more common injuries that are seen in intersection accident victims:
Traumatic brain injuries
Lung Contusions
Deep lacerations
Ligament, tendon, and muscle tears
Fractured or broken bones
Internal bleeding
Neck and back injuries
Spinal cord injuries and paralysis
Crushed limbs
Amputations
Head injuries
Burns and road rash
What to Do Following an Intersection Accident
If you or a loved one is injured or involved in an intersection accident, there are a few steps you can take to ensure you get the compensation that you need to pay for damages. First, immediately contact the authorities so a proper report can be filed. Next, document your injuries and any damage your vehicle sustained. Additionally, gather any witness information if possible. Some individuals may not want to stick around and wait for the police to arrive, so collecting any names and contact information is a good idea in case they need to be contacted later to make a statement.
Once you have received any essential immediate medical attention and a report has been filed, you should contact your insurance company as soon as possible to file a claim. From there, it may be necessary to contact a local Kentucky attorney to help you prove your case and receive benefits to help cover the costs of damages, such as medical bills, car repairs, and lost wages.
Kentucky Personal Injury Lawyers – Rhoads & Rhoads
The team at Rhoads & Rhoads has experience handling difficult intersection accident cases. We are dedicated to helping injured victims receive the guidance they need to win their cases. Severe accidents not only cause physical injuries but can lead to emotional complications down the road as well. It's important to get the full compensation you deserve to cover any necessary costs, including therapy.
Call us at 888-709-9329 to schedule an appointment with one of our Madisonville or Owensboro personal injury attorneys. We offer free initial consultations, and all cases are taken on a contingency fee basis, so there is no initial payment required. We get paid only if we win or settle your case, and there is NO RISK involved.