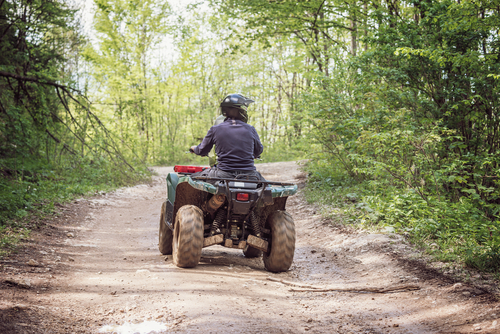 Without Proper Training, ATVs Can Be Dangerous and Deadly
Kentucky has miles of ATV (All-Terrain Vehicles) trails, calling fast riding enthusiasts from all parts of the state to enjoy a thrilling ride on nearly any kind of terrain. ATVs are intended for off–road use only, and mostly used as recreational vehicles to experience the outdoors but are also commonly used by people who work on farms, in mining and logging, or other commercial operations. Sadly though, Kentucky continues to rank in the top five of all U.S. states with the most ATV-accident related deaths, according to the Consumer Product Safety Commission.
The issue with these adrenalin-inducing recreation vehicles is that they can easily tip and throw riders off, or even roll on top of riders and other passengers. The high center of gravity and no roll bars, safety cages, or seatbelts, can cause major injuries and fatalities when a driver gets into trouble. More than one-third of these tragic accidents take place on paved roads that can seriously affect the handling and control of the fast vehicles.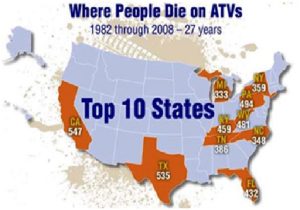 ATV Riding Safety Guidelines
Major fatalities and serious injuries involving ATVs are most commonly caused by driver misuse and inappropriate rider behavior. To reduce the risk of a fatal accident or serious injury, ANYONE riding an ATV should follow these safety tips while riding:
Receive proper training on driving (and riding) an ATV.
Wear a DOT approved protective helmet and protective clothing. In Kentucky, riders under age 16 must wear a helmet at all times. Riders age 16 and over must wear a helmet on public property.
Do not operate on paved roads and avoid unfamiliar terrain.
Read the owner's manual carefully, and keep the ATV in good repair.
Never carry a passenger on a single-rider ATV.
Do not drive in adverse weather, hazardous terrain, or insufficient light.
Do not take unnecessary risks such as performing stunts, driving while under the influence of alcohol or drugs, or driving at excessive speeds.
Children should never ride or be a passenger on an adult ATV, and should be supervised at all times. Experts estimate nearly one-quarter of ATV related deaths happen to children.
Kentucky ATV Training Courses
The team at Rhoads & Rhoads suggest training as the first and most important way to reduce your risk of being involved in an ATV driving accident. The ATV Safety Institute is a non-profit organization that offers ATV training. The training is free with any purchase of a new ATV. Other drivers may need to pay a small fee. For more information about a Kentucky ATV training course near you, contact the ATV Safety Institute.
If you have been injured in an ATV accident and you believe it was caused by the actions of someone other than yourself, don't hesitate to call us. Many injury victims are afraid they can't afford high-quality legal representation, but working with Rhoads & Rhoads is totally risk-free. All you need to bring are the facts of your case and your trust—we'll take care of the rest. Call us at 888-709-9329 or contact us by e-mail to schedule an appointment with one of our Madisonville or Owensboro personal injury attorneys.