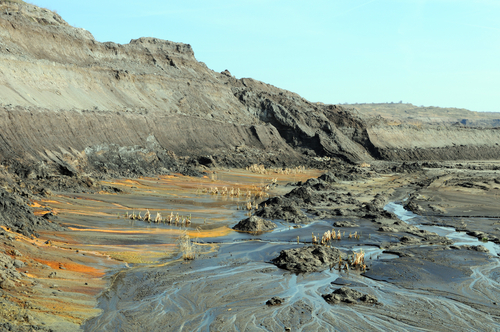 Worker Dies After Slipping Into Coal Ash Pond at Kentucky Power Plant
A 36-year-old Kentucky Utilities contractor, Aaron Bunger, was tragically killed at a workplace accident when KU officials say he "slipped into" a coal ash pond at the power plant in Ghent, Kentucky. Bunger was employed by Tetra Tech, a global services company based out of California, and working at the facility. A Tetra Tech spokesperson said in several media reports that the incident was under investigation and could not answer further questions about the circumstances. The October incident is still being investigated as the ash pond ground has been "unstable" and not safe.
The KU plant is located 45 miles northeast of Louisville, along the Ohio River in Carroll County and just one of many coal-powered power plants in the United States that generates 140 million tons of hazardous solid waste, known as coal ash. Much of this waste is stored in more than 1,400 sites like large ponds and landfills. Kentucky is home to 48 coal ash ponds, eight of which are rated high hazard by the Environmental Protection Agency (EPA).
Kentucky's Coal Ash Ponds
According to the Kentucky Energy and Environment Cabinet, the Commonwealth state is both a leading coal-burning and coal ash producing state, generating more than nine million tons of coal ash annually. The Sierra Club says that ash count ranks Kentucky as the third largest coal ash storage state in the nation — with 64,000 acre-feet of hazardous ash to cover the Churchill Downs Racetrack, under 800 feet of toxic sludge.
The U.S. Environmental Protection Agency has finalized national regulations to provide for the safe disposal of coal combustion residuals from coal-fired power plants but unfortunately there are no regular reporting requirements, except for certificate renewal every five years. Coal ash sites have been able to operate in the event of a spill or after the tragic death of a worker like Bunger. The lack of safeguards involved in monitoring coal ash sites represent an incredible failure of oversight, putting workers at risk of a tragic accident, workplace fatality, or lifelong illness.
The Known Hazards for Coal Ash Workers
USA Today recently ran an article about the harmful coal ash pond lawsuit in neighboring Tennessee that proved workers are not always informed of the dangers of working in coal ash. The case is set for trial next year and will be the nation's largest test case of whether coal ash kills.
Coal ash contains many toxic contaminants, including:
Aluminum
Arsenic
Barium
Boron
Chlorine
Lead
Hexavalent chromium
Mercury
Selenium
In fact, the EPA found that working at (or living nearby) certain coal ash ponds is significantly more dangerous than smoking a pack of cigarettes a day. Coal ash toxins have the potential to damage major organ systems and can cause cancer, heart damage, lung disease, respiratory distress, kidney disease, reproductive problems, gastrointestinal illness, birth defects, and impaired bone growth in children.
Western Kentucky Work Injury Lawyers – Working For Kentucky Laborers
Rhoads & Rhoads is no stranger to representing Kentucky coal workers who have been injured, disabled, or wronged. In fact, in 1974 Jerry Rhoads started the law firm in Madisonville with the majority of the practice focusing on representing the United Mine Workers' of America (UMWA) and its coal workers in injury and black lung claims throughout western Kentucky. Most recently, Rhoads & Rhoads won the case for Nathan Attebury. Attebury, who is a husband and father of two young children, filed a claim as a result of his coal related chemical exposure while employed as a miner.
If you have been seriously injured in a coal ash or coal mining workplace accident or have lost a family member, we want to help you. Call us at 888-709-9329 or contact us by e-mail to schedule an appointment.