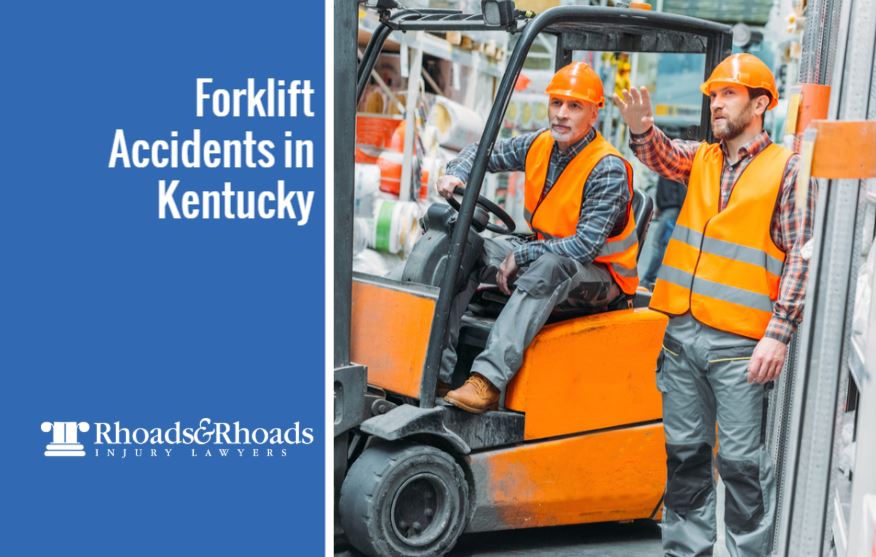 Synopsis
More than 2.8 billion workers will be injured on the job each year, and thousands more die from work-related accidents that could have been prevented with the proper training and work-site protection.
Powered industrial trucks, commonly referred to as PITS, forklifts or lift trucks, are used in many industries to move heavy boxes and shipments and raise and lower materials onto pallets or tall shelving.
Last year, worker injuries caused by forklifts made the top 10 most frequently cited standards by federal workplace safety officials.
Kentucky's Safety and Health Program for workers has received much criticism over the years for not thoroughly investigating forklift-related worker deaths and injuries.
Forklift Accidents Are Rarely Investigated in Kentucky
The Occupational Safety and Health Administration (OSHA) estimates that one million forklifts, also known as powered industrial trucks (PITSs), are used in workplaces across the United States. These mobile machines are responsible for nearly 100 worker deaths and 20,000 injuries each year. While some of these cases may be real accidents, many will be caused by employers who choose not to follow safety protocols designed to prevent careless operation. Even the most experienced forklift operators can be involved in a catastrophic event caused by four common accidents.
rollover caused by overturn
falling objects and cargo
worker struck by distracted or poorly trained forklift operators
operator falls from forklift and runover
Forklifts remain extremely dangerous given the size and weight of about 9,000 pounds. Safety violations involving PITS used in general industry are so common they were included in the top 10 most frequently cited standards by Federal OSHA in the fiscal year 2018 (October 1, 2017, through September 30, 2018).
These work trucks can be especially unforgiving under the wrong conditions and operators must be knowledgeable on how to maneuver them safely compared to other moving machines. An operator who has undergone the correct and required training should be safe during a forklift's operation, understand load capacity, how stability works, and operate within these limitations related to the forklift truck's center of gravity, load center and stability.
Positioning the center of gravity as close as possible to the center of the PIT will help keep the vehicle from toppling sideways, especially when turning.
Keeping the load as close as possible to the vertical face will help keep the load from overcoming the counterweight at the rear of the vehicle and causing it to tip forward.
A forklift truck's stability is tested by the front axle and the rear center point in line with the rear axle. The combined center of gravity must stay within this stability triangle to maintain centered.
OSHA oversees the responsibility for work safety regulation in about half of the U.S. Kentucky is one of those states where the federal safety group does not, and forklift truck safeguarding tasks fall to the Kentucky Safety and Health Program (KY OSH). KY OSH has received much criticism over the years for not adequately investigating forklift-related worker deaths and injuries.
In 2018, a county prosecutor and federal labor officials confirmed KY OSH inspectors perform incomplete forklift safety reviews, and are not in compliance with the federal requirements. Because of this, Kentucky employers must be extra vigilant in ensuring the safety of their workers who operate forklifts or within the presence of one.


Importance of Safety and Operational Checks Before Each Shift
Under the Occupational Safety and Health Act of 1970, employers are responsible for providing a safe and healthful workplace. Employers must only allow certain individuals who are trained to operate and routinely check a forklift's safety measures. This sample checklist, provided by OSHA, intends to assist in ensuring safe operating standards of PITS.
When the motor is OFF: 
Leaks – Hydraulic Oil, Battery
Tires – Condition and Pressure
Forks, Top Clip Retaining Pin and Heel — Condition
Load Backrest Extension – Attached
Hydraulic Hoses, Mast Chains, Cables & Stops – Check Visually
Finger Guards – Attached
Overhead Guard – Attached
Safety Warnings – Attached (Refer to Parts Manual for Location)
Battery – Water/Electrolyte Level and Charge
Hydraulic Fluid Level – Dipstick
Transmission Fluid Level – Dipstick
Operator's Manual in Container
Capacity Plate Attached – Information Matches Model, Serial Number and Attachments
Battery Restraint System – Adjust and Fasten
Operator Protection
Sit-down Truck – Seat Belt – Functioning Smoothly
Man-up Truck – Fall protection/Restraining means – Functioning
Brake Fluid – Check level
When the motor is ON: 
Accelerator Linkage – Functioning Smoothly
Parking Brake – Functioning Smoothly
Service Brake – Functioning Smoothly
Steering Operation – Functioning Smoothly
Drive Control – Forward/Reverse – Functioning Smoothly
Tilt Control – Forward and Back – Functioning Smoothly
Hoist and Lowering Control – Functioning Smoothly
Attachment Control – Operation
Horn – Functioning
Lights & Alarms (where present) – Functioning
Hour Meter – Functioning
Battery Discharge Indicator – Functioning
Instrument Monitors – Functioning
If You Have Been Injured in a Forklift Accident
If a problem with forklift equipment is detected, the machinery should not be used again until the issue has been documented and a qualified mechanic has determined it is considered safe to operate again.
Employers May Be Liable for Worker Injuries and Deaths
When a worker unexpectedly dies or is seriously injured in a workplace accident, family members may be eligible for compensation. The injured person or deceased worker's family could have a case to seek compensation that will help cover lost wages, medical bills and related healthcare expenses, disability payments, pain and suffering including emotional distress, as well as other legal needs specific to their case.
If you or someone you know has been killed or injured in a forklift accident or other industrial vehicle accident, they should follow these steps.
Seek medical attention immediately.
Notify the employer and file an injury or accident report.
Collect statements from witnesses and coworkers at the event.
Make notes or take photos that could be used as evidence related to the accident or injury.
Never sign or agree to anything your employer gives you without first consulting with a lawyer. Your worker's legal rights will be preserved by hiring an attorney because the employer has likely already done the same.
Owensboro and Madisonville Workplace Injury and Wrongful Death Lawyers
With offices in Owensboro and Madisonville, Rhoads & Rhoads represents work-related accident victims and their families throughout Western Kentucky. We get paid when we win or settle your case, so there is NO RISK involved. Call us at 888-709-9329 or contact us by e-mail to schedule an appointment with one of our workplace injury attorneys.
Watch: Understanding Kentucky Workers' Compensation Laws with Attorney Jerry Rhoads