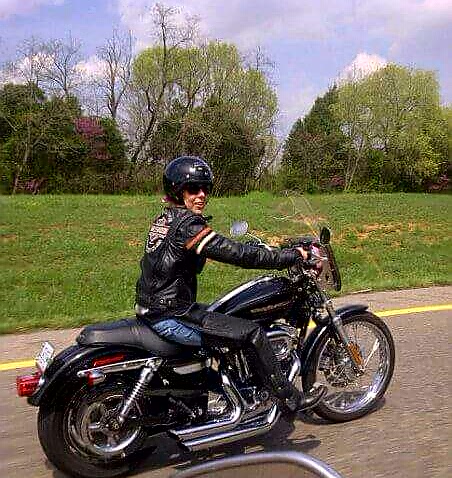 All Motorists Are Responsible for Watching Out for Kentucky's Motorcycle Enthusiasts
As the spring motorcycle season has been set into motion, drivers of all types are now more likely to be sharing the road with motorcycles. The team at Rhoads & Rhoads knows all too well that means a higher prevalence in motorcycle crashes on Kentucky roads. Over the years, Kentucky's Commission on Motorcycle Education and Safety has continuously reported a rise in injuries and deaths related to the more than 2,000 motorcycle accidents across the state. Highway safety officials agree that lack of skill, riding while impaired or under the influence of drugs or alcohol, as well as driving above the speed limit or without the proper gear such as a helmet, are causes behind the escalating rates of fatalities and injuries involved in motorcycle accidents across the Bluegrass state.
Car, truck, SUV, and semi drivers who travel the same routes alongside motorcycles are also at fault for the rise in motorcycle accidents. In 2016, motorcycle deaths accounted for 13 percent of all motor vehicle crash deaths. Most of these incidents shared a common link in that 42 percent of them involved a vehicle turning left while the motorcycle was going straight, passing or overtaking the vehicle.
Because of the dangers related to that deadly left turn, all drivers should be reminded of the risks motorcyclists can face while traveling. The Kentucky Governor's Commission on Motorcycle Safety and Education expects you to:
Share the Road: Remember that motorcyclists are entitled to a full lane in order to maneuver and avoid road hazards. Give the motorcyclist respect by keeping a safe distance. Sharing the road will save lives.
Look Twice for Motorcycles: Motorists need to be especially alert at intersections and when making a left-hand turn. This is where most accidents occur, so be sure to look both ways for motorcycles.
If you are a non-motorcyclist, you play a role in the safety of riders.
How Motorcycle Operators Can Avoid a Crash with a Driver Making a Left Turn
Most motorcyclists know they are safer when clearly seen but they should also know that drivers who are distracted on their phones, have blind spots, or are just being inattentive tend to look for cars, but not always shiny, loud bikes. The most common motorcycle accident occurs when the vehicle positioned in front of a motorcycle is turning left. The driver typically fails to see the bike or is unsure of the bike's speed and makes the wrong move. A crash is likely to occur when this happens if a car turns left in front of the cycle or a car turns left from the lane to motorcycle's right, or trucks on side streets pull into the same lane as a bike. Here are several reminders for motorcycle operators to avoid a left turn accident.
Bikers should always position themselves where they are most likely to be seen and can maintain a fair amount of distance from other motorists.
Too often, a driver looks right at a motorcyclist and still fails to see a rider. Never count on "eye contact" as a sign that a driver will yield.
When approaching a blind intersection, move to the portion of the lane that will bring the bike into another driver's field of vision at the earliest possible moment.
Think about time and space requirements in order to maintain a margin of safety. Always leave space and time to react if an emergency arises.
Riders should adjust positions as traffic situations change and slow down, cover their brakes, and get ready to make smart and quick choices if needed.
Ride with the headlight on and in a lane position that provides
the best view of oncoming traffic.
Watch for vehicles that are changing lanes by paying attention to turn signals, wheels, and a driver who is not motionless in the seat, as they may be distracted.
As mentioned before, drivers aren't always on the lookout for motorcycles. Motorcycle operators should try to figure out where other driver's blind spots are and avoid traveling in them, especially when a vehicle has the opportunity to turn left.
Wear a Helmet Because Riding a Motorcycle is Riskier Than Driving a Car
Simply put, motorcycles are less stable and less visible than cars. When a bike crashes, riders don't have the protection an enclosed vehicle offers. This leaves them more likely to be injured or killed. This is especially true in the case of brain injuries. The most important thing a motorcycle operator can do is know their bike well, know their abilities, and wear the right gear even during warm spring outings and hot summer months. That gear should always include a motorcycle helmet because serious head injuries are common among fatally injured motorcyclists. Helmets are about 37 percent effective in preventing motorcycle deaths and about 67 percent effective in preventing brain injuries making helmetless riders 3 times more likely to sustain traumatic brain injuries in the event of a crash.
In Kentucky, the law requires that all motorcycle operators and passengers younger than 21 years wear a helmet. Riders 21 and older may travel without helmets only when showing proof that they are covered by a medical insurance policy. Motorcycle helmet laws in Kentucky will cover operators with instructional and learner's permits. Although the motorcycle accident attorneys at Rhoads & Rhoads suggest it, Kentucky law does not require all new riders to complete a motorcycle-training course.
With motorcyclists being 30 times more likely to die in a crash than occupants of cars, safe motorcycling that involves proper road and motorcycle handling and training, balance, coordination and good judgment remain very important when aligned with other motorists attentive and proactive driving behaviors.
Contact an Experienced Kentucky Motorcycle Lawyer
Despite taking all safety precautions, motorcycle accidents happen, and lasting injuries and tragic fatalities still occur each riding season. If you or someone in your family has been seriously injured or killed in a motorcycle accident, the Kentucky motorcycle accident lawyers at Rhoads & Rhoads can help.
Take advantage of our free initial consultation and discuss your motorcycle accident case with us. Call us today at 888-709-9329.