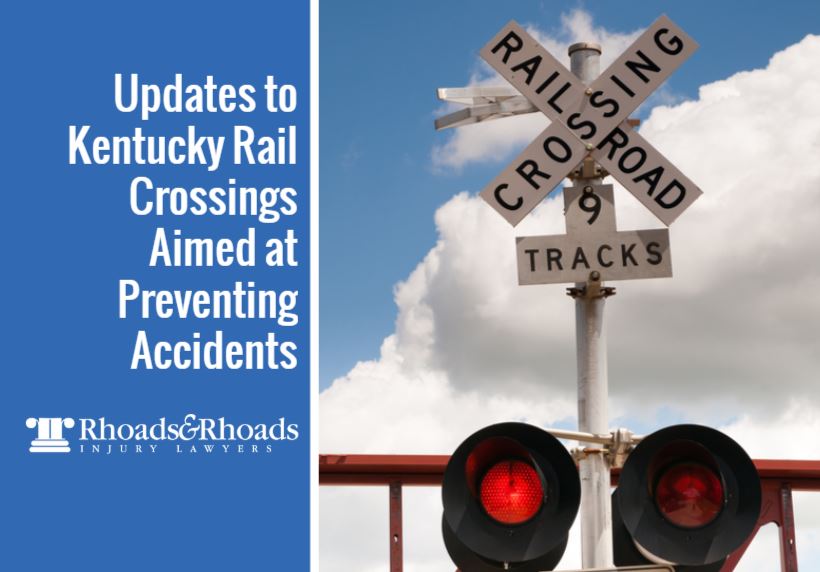 Synopsis
A motorist is almost 20 times more likely to die in a crash involving a train than in a collision involving another motor vehicle, according to the National Highway Traffic Safety Administration (NHTSA).
Seven Kentucky counties have received more than a million dollars in railroad improvements with the installation of warning signals, lights, barriers, gates, and bells to help prevent accidents between motorists and trains.
Common causes of train accidents include mechanical and maintenance failures, track defects, train operator or driver error, poor cross-warning signage, and speed.
With the help of an experienced train accident attorney who is fearless of railroad insurance companies, a train operator may be found negligent for causing a motorist injury in the event of broken train warning signage or lack of safety concerns for passing motorists.
Kentucky Is Updating Rail Crossings to Prevent Accidents 
Kentucky's central U.S. location keeps trains busy moving products like coal, aerospace, automotive, metals, chemicals, and timber all while sharing crossroads with motorists. With approximately 2,700 miles of track across the Bluegrass, the state transportation cabinet recently put forth nearly $1.3 million in grants to update 14 rail crossings in seven counties. Significant safety updates will be made in Lexington and Louisville along with projects in Logan, Caldwell, Ohio, McCracken, and Grayson Counties. The locations were determined based on unsafe crossings and rail industry needs to install signals, lights, barriers, gates, and warning system bells. Projects are expected to be completed by the summer of 2020.
In 2018, there were 2,214 collisions at U.S. rail crossings, 819 injuries and 270 fatalities representing a stagnant number of incidences compared to 2017. In Kentucky, there were 17 reported train accidents in 2018 in Whitley, Jefferson, Marshall, Scott, Fayette, Bullitt, and Hopkins counties. Some of these crossings have average daily traffic counts as high as 13,000 vehicles.
On April 9, 2019, an elderly couple was killed in Webster County on Kentucky 138 at the railroad crossing in Slaughters when their vehicle was struck by a train. The driver tried to go around a northbound railroad crossing without seeing that a southbound train was stopped on a side switch track waiting for a train to pass.
Finding Fault for a Train vs. Car Collision
Railroad partners play a key role in ensuring motorists are cautious near crossings. They should practice safety measures such as designating consistent road grading, and all passes should be free from visual impairments on each side of the track. Adequate warning systems such as train horns and lights should be provided at all crossings and also well-maintained to prevent accidents with drivers, pedestrians, and workers.
In some cases, a train company may be responsible for causing an accident and injuries or death to motor vehicle users in the event of missing or broken train warning signage or lack of safety crossbars. Train operators traveling too fast or failing to use a horn to signal drivers of its approach may also be to blame.
Common causes of accidents caused by train operators can include:
Mechanical or electrical failures
Track, roadbed, and structural defects
Maintenance problems
Human error
Warnings and communication problems such as signage
Driver fatigue, impairment or inexperience
Speed
Railroads partner with expensive, powerful insurance companies prepared to fight and ready to place blame on accident victims. If you were injured in a collision with a train or a loved one was killed while crossing a train track, it is critical to seek counsel from an experienced attorney before accepting a quick settlement offer from the railroad.

Driver Tips for Avoiding a Collision with A Train 
Individuals riding in cars are 20 times more likely to die in a crash involving a train than another motor vehicle. This is because the force of being hit by a train is equal to a passenger car smashing an aluminum can. Passenger vehicle occupants stand a slim chance for survival if hit by a train, or at the minimum will be left with the most severe of life-long injuries. Yes, it is essential to keep railroad companies responsible for rail crossing safety, but the personal injury and motor vehicle accident legal team at Rhoads & Rhoads would also like to share these safe driver tips with the help of Kentucky's Operation Lifesaver, a rail safety education program.
Trains and cars don't mix. Never race a train to the crossing — even if you tie, you lose.
The train you see is closer and faster-moving than you think. If you see a train approaching, wait for it to go by before you proceed across the tracks.
Be aware that trains cannot stop quickly. Even if the locomotive engineer sees you, a freight train moving at 55 miles per hour can take a mile or more to stop once the emergency brakes are applied. That's 18 football fields!
Never drive around lowered gates — it's illegal and deadly. If you suspect a signal is malfunctioning, call the emergency number posted on or near the crossing signal or your local law enforcement agency.
Do not get trapped on the tracks; proceed through a highway-rail grade crossing only if you are sure you can completely clear the crossing without stopping. Remember, the train is three feet wider than the tracks on both sides.
If your vehicle ever stalls on the tracks, get out and get away from the tracks, even if you do not see a train. Locate the Emergency Notification System sign and call the number provided, telling them about the stalled vehicle. If a train is approaching, run toward the train but away from the tracks at a 45-degree angle. If you run in the same direction a train is traveling, you could be injured by flying debris.
At a multiple track crossing waiting for a train to pass, watch out for a second train on the other tracks, approaching from either direction.
When you need to cross train tracks, go to a designated crossing, look both ways, and cross the tracks quickly, without stopping. Remember it isn't safe to stop closer than 15 feet from a rail.
ALWAYS EXPECT A TRAIN! Freight trains do not follow set schedules.
Many train accident injury victims are afraid they can't afford high-quality legal representation, but working with Rhoads & Rhoads is entirely risk-free.
Call Us If You Need a Train Accident Lawyer in Western Kentucky 
If you or someone you love has been injured, don't hesitate to call us. Our train accident clients pay no up-front fees for consultation or investigation of claims. And compensation comes only after we have successfully settled or won your case. All you need to bring are the facts of your case and your trust—we'll take care of the rest.
Call us at 888-709-9329 or contact us by e-mail to schedule an appointment with one of our Madisonville or Owensboro personal injury attorneys. 
Also Read: What is a Wrongful Death?