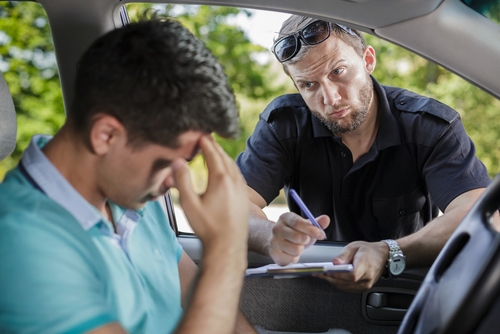 Speeding Continues to Contribute to Kentucky Motorist Fatalities
Ranked high amongst the main causes of motor vehicle crashes in America, speeding continues to contribute to 30 percent of all accidents on U.S. roadways. Latest statistics from the Kentucky Transportation Cabinet show that of the 640 people killed in Kentucky traffic accidents last year, 90 occurred due to speeding.
Official say crashes are categorized as speed-related if the driver was charged with a speeding-related offense or if an officer investigating the crash indicated that racing, driving too fast for conditions, or exceeding the posted speed limit was a contributing factor.
Know the Kentucky Speed Limits:
65 MPH on interstate highways and divided highways with 4 or more lanes
55 MPH outside business or residential districts
35 MPH in business or residential districts
15 MPH on off-street parking facilities
Kentucky's "Absolute" Speeding Law
Kentucky's "absolute" speed limit law says that if the interstate highway sign is posted at 65 mph and a motorists operates at 66 mph (or more), that driver has violated Kentucky law and can be found guilty. In Kentucky, a driver may be able to claim three possible defenses:
Refusal to agree to the officer's determination of your speed.
Claiming an emergency forced you to exceed the speed limit to avoid serious damage or injury to yourself or others.
Claiming that the officer mistook your car for another car.
Kentucky motorist operating at an unsafe speed will be ticketed if not following the "absolute" speed limit law.
Speeding is Dangerous For All Involved, Follow These Tips
Drivers who speed, even just a little bit over the designated limits, are dangerous to everyone traveling in that vehicle or to anyone who might be sharing the roadway with them. It is in everyone's best interest to operate motor vehicles at the correct posted speed limit to reduce a driver's reaction time to hazardous situations and provide a safer control run over the vehicle.
Follow these tips to prevent speeding:
Don't Be a Distracted Driver: Distracted driving, which can easily be prevented, is often the cause of accidental speeding. Stay off your phone, avoid eating while driving, and don't play with the radio or give attention to things other than the road.
Know Your Timeline: Avoid having to rush and leave ten minutes earlier than you normally do. You never know when bottleneck traffic, an accident or roadwork will be in your path. These situations can be stressful and tempt you to speed in fear of being late.
Choose the Right Vehicle: Owning a car with a smaller engine can help people who like to speed. These tend to be slower cars, which not only keeps speeding to a minimum, but typically provides car owners with better fuel mileage.
Add a Classic Beat: While driving, relax and listen to classical music or talk radio or listen to books. Fast tempo or loud music may influence you to speed while driving.
Be Alert and Follow The Rules of the Road: Keep your eyes on the road and become familiar with the roadways you frequently travel and the speed limits. If driving in new areas of town or another state, pay close attention to speed limit signs and also to your speedometer.
Never Drive Under the Influence of Drugs or Alcohol!
Speeding Accident Attorneys in Kentucky
If you've been hurt in an accident by someone who was speeding, Rhoads & Rhoads is available to counsel you. As one of Kentucky's leading and most experienced personal injury firms with offices in Owensboro and Madisonville, we represent clients throughout Western Kentucky.
We offer FREE initial consultations, and all cases are taken on a contingency fee basis. We get paid only if we win or settle your case, so there is NO RISK involved. Call us at 888-709-9329 or contact us by e-mail to schedule an appointment.