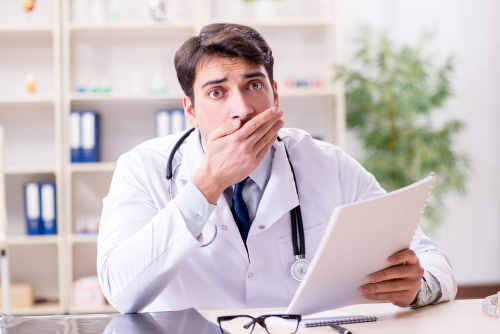 Bad Doctors Can Continue to Practice with History of Medical Negligence
Information about medical professionals who had to surrender their medical license because of unprofessional conduct such as sexual assault, medical malpractice and medical negligence, or prescription abuse while practicing in another state other than Kentucky may not be disclosed to local health systems and new patients. In fact, at the close of 2018, investigative reporters at the Milwaukee Journal Sentinel, USA Today and MedPage Today found more than 250 physicians who surrendered a medical license were able to practice in another state. These physicians are able to simply leave their bad history in one state and move their practice to another while continuing to make risky medical mistakes and errors. Equally disturbing is that if a physician voluntarily surrenders his license, the public may not ever be able to access or gain knowledge about why the surrender occurred.
Investigative reporters from the three leading news outlets published their findings in a MedPage Today special report titled, "Bad Docs Give Up Licenses, But Not Medical Practice.":
"More than 500 physicians who had been disciplined in one state yet still were able to practice elsewhere with a clean license.
The FDA sent 73 warning letters to physicians alleging serious patient safety concerns, though only one had been disciplined by a state board.
216 physicians collected a total of $26 million from federal taxpayers through Medicare despite losing a license or being excluded from state-paid health care rolls."
John Hopkins claims more than 250,000 people in the U.S. die every year from medical errors and other reports published in the Institute of Medicine
claim the numbers to be as high as 440,000. Misdiagnosis and delayed diagnosis account for the largest percentage of medical malpractice complaints.
9 Common Types of Medical Negligence
Any injury that meets the four requirements for proving medical negligence is worth pursuing through a malpractice claim. That said, there are errors that occur more commonly than others, including:
Surgical errors, such as wrong-site, wrong-procedure, or wrong-patient surgeries;
Retained surgical instruments (surgical tools, such as sponges, left in the body after surgery);
Anesthesia errors;
Use of unclean instruments or tools, which can cause infection;
Medication errors;
Misdiagnosis;
Delayed diagnosis;
Failure to diagnose.
Because medical malpractice cases are complicated and doctors, medical professionals, or hospitals carry so much more information and resources than the patient, it is easy for injustices to occur and for those injured to be victimized physically, emotionally, and financially.
Contact a Kentucky Medical Malpractice Lawyer at Rhoads & Rhoads
With offices in Owensboro and Madisonville, Rhoads & Rhoads represents medical malpractice victims throughout Western Kentucky. The attorneys at Rhoads & Rhoads will fight to ensure you are properly compensated for the egregious wrongs done to you. We offer free initial consultations, and all cases are taken on a contingency fee basis, which mean there is no payment required up front. We get paid only if we win or settle your case, so there is NO RISK involved.
Call us at 888-709-9329 or contact us by e-mail to schedule an appointment with one of our Madisonville or Owensboro personal injury attorneys.