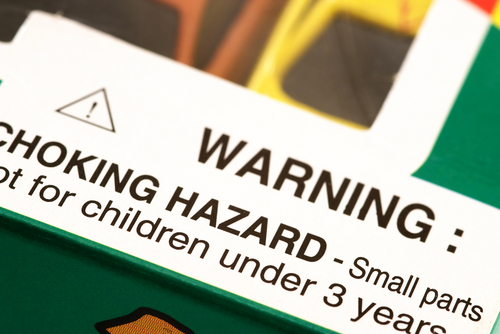 2017 "Worst Toy List" Can Help You Avoid the Dangers of Harmful Toys
Buyers have a right to expect that the gifts they purchase for children are safe. Unfortunately, potentially dangerous toys remain an ongoing problem in the U.S. Due to poor design, manufacturing and marketing practices, there are toys available for purchase today with the potential to lead to serious injury and even death. When a child is injured while using a product, like an unsafe toy, the family may make a claim for damages through a product liability lawsuit. Product liability is the means by which a seller, distributor, supplier, or manufacturer is held liable for introducing a defective product into people's lives.
Luckily, there are several organizations working to keep these toys off the shelves. W.A.T.C.H. (World Against Toys Causing Harm, Inc.) has been releasing a list of dangerous toys each holiday season, for over 40 years. This year's toy report addresses the types of toy hazards available online, as well as in retail stores, so parents know what traps to avoid when buying toys. The watchdog group has long been concerned about the risk of serious injury and even death of children as a result of poorly designed or manufactured toys. This concern peaks around the holidays when toy shopping is at an all-time high.
The attorneys at Rhoads & Rhoads would like to urge holiday shoppers to take precautions when buying all toys – especially during the Christmas season – by paying special attention to those items included on W.A.T.C.H.'s 2017 "Worst Toys" list. 
Beware of These Top Ten Dangerous Toys by W.A.T.C.H.
HALLMARK "ITTY BITTYS" BABY STACKING TOY: This plush Disney-themed stacking toy with four rattling rings is sold without age recommendations or warnings. The Consumer Product Safety Commission issued a recall notice on August 31, 2017 due to "fabric hats and bows that can detach, posing a choking hazard." A Hallmark "Itty Bittys" Baby Stacking Toy was purchased online after the recall was announced.
PULL ALONG PONY: Despite the industry's standard requiring strings on playpen and crib toys to be less than 12 inches in length, manufacturers are still permitted to market "pull toys" such as the "Pull Along Pony" with a cord measuring approximately 19 inches. No warnings are provided.
WONDER WOMAN BATTLE-ACTION SWORD: Young children are encouraged to bear arms, like a popular comic book and movie character, to engage in "fighting alongside men in a war to end all wars. …" The rigid plastic sword blade has the potential to cause facial or other impact injuries.
HAND FIDGETZ SPINNERS BY KIPP BROTHERS: Fidget Spinners, like these bright-colored versions, can be found in retail toy aisles. These spinners remain popular with children of all ages, and some present potential small parts hazards.
SPIDER-MAN SPIDER-DRONE OFFICIAL MOVIE EDITION: This "official movie edition" remote-control drone, based on the well- known Spiderman Superhero franchise, is sold for use by children. The "performance drone", designed to launch into the air powered by multiple rotating rotor blades is accompanied by numerous warnings, including the potential for "damage or injury"
NERF ZOMBIE STRIKE DEADBOLT CROSSBOW: Children as young as 8-years-old are encouraged to load "arrows" into the "deadbolt" crossbow, pull back the "primary pressurized lever" and fire the projectiles in order to "strike back" at "zombies." The force of the arrow launch presents the potential for eye and facial injuries.
SLACKERS SLACKLINE CLASSIC SERIES KIT: This Slackline is marketed for "all ages" pursuant to a package insert, providing a tightrope-like device intended to be anchored between two trees. The manufacturer warns of the potential for "severe injury", including "a strangulation hazard, especially with children."
OVAL XYLOPHONE BY PLAN TOYS, Plan Creations Co., LTD: This multi-colored musical instrument is sold for babies as young as 12 months old. The manufacturer provides no warnings regarding the slender, rigid approximately 9 1⁄2" long drumstick handle, which has the potential to be mouthed and occlude a child's airway.
JETTS HEEL WHEELS BY RAZOR USA: "Heel Wheels" are marketed to be strapped to heels of children's shoes so footwear can be transformed into a type of rear-wheel roller skate. The manufacturer adds "real sparking" action to the "Jetts" with "skid pads", as evidenced by numerous warnings, including: "Keep sparks away from eyes, hair, exposed skin and clothing. Sparks can burn."
BRIANNA BABYDOLL BY MELISSA & DOUG: These "huggable, soft" dolls, marketed for babies as young as 18 months old, have "removable clothing." The pink ponytail holders are also removable, presenting the potential for ingesting and choking.
Unfortunately, dangerous toys can impact child safety in many ways presenting choking hazards, suffocation risks, parts prone to causing head or traumatic brain injury, projectiles that can result in severe eye injury, and even toxic paints or other materials that if inhaled, ingested, or handled can cause neurological and permanent injuries in the short and long term.
Shoppers should not ONLY rely on safety warnings and labels to determine if an item is safe or not because these labels can be inaccurate, misplaced or removed. The failure to warn parents of a risk can be intentional, to hide risk and maximize profit, or it can arise out of pure ignorance. This ignorance does not absolve a company of its responsibility to warn parents, and they can still be held liable for injuries to a child.
There are so many more toys and holiday items like "Santa" pajamas, that have been recalled or deemed unsafe to use this season. You can view an official recall list by the Consumer Product Safety Commission here. If you are the toy purchaser this holiday season don't depend just on lists to guide you. Instead, approach all toy purchases cautiously, with risks in mind, and make thought out, researched, safe decisions.
Unsafe Holiday Gifts Can Cause Serious Injury – We Can Help
If a child in your life has been injured by an unsafe toy, the product liability attorneys at Rhoads & Rhoads would like to discuss your potential claim. In the case of serious injuries, an experienced personal injury lawyer can advise your family and help you receive the financial support needed so your child can get back to playing. Call us at 888-709-9329 or contact us to schedule an appointment.
[/fusion_text][/fusion_builder_column][/fusion_builder_row][/fusion_builder_container]