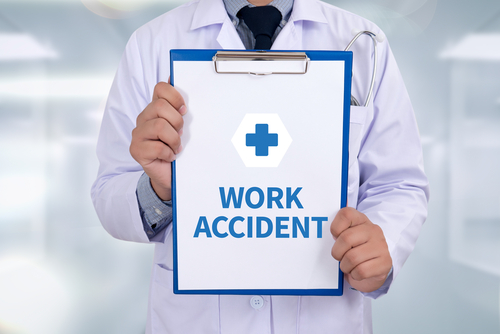 Understanding Kentucky's Workers' Comp Coverage 
Workers injured on the job in Kentucky, are covered by the state's workers' compensation laws – with few exceptions for independent contractors, domestic workers, and most volunteers. Workers' compensation provides injured workers with compensation for medical costs, temporary disability, or permanent disability if lingering injuries or impairments are present. State law requires all employers who have at least one part-time employee to have workers' compensation insurance or become self-insured. Certain agricultural employers may be exempt from this requirement.
Kentucky is unique in that the Department of Workers' Claims (DWC) allows workers to waive their rights to workers' comp and keep their right to sue their employer for qualifying injuries or illnesses.
[fusion_builder_container hundred_percent="yes" overflow="visible"][fusion_builder_row][fusion_builder_column type="1_1″ background_position="left top" background_color="" border_size="" border_color="" border_style="solid" spacing="yes" background_image="" background_repeat="no-repeat" padding="" margin_top="0px" margin_bottom="0px" class="" id="" animation_type="" animation_speed="0.3″ animation_direction="left" hide_on_mobile="no" center_content="no" min_height="none"]
WATCH Attorney Jerry Rhoads gives an overview of Kentucky's workers' compensation laws and pay structure, as well as what injured employees can expect under its rules and guidelines.
Qualifying Workers' Comp Injury or Illness
Injuries or illnesses that develop during employment are covered but workers' compensation for injuries resulting from carelessness may be reduced. Some of the most common claims from bluegrass workers result from these occurrences.
Most physical injuries occurring while anytime at work can hold a viable case. These injuries often involve industrial accidents, slip-and-falls, equipment failure, or defective machinery and include general injuries like broken bones but also more serious events that cause amputations and traumatic brain injuries.
Occupational diseases contracted due to products, processes, and chemicals, in the workplace are common workers' comp cases. Often these cases involve diseases such as lung cancer, coal workers' black lung disease (CWP) or other kinds of long-term diseases that develop over time from an employee being exposed to toxins at work.
Repeated stressors injuries and illnesses (such as a lower back injury) or exposure to excessive noise (hearing loss) can also be claimed.
Injuries and illnesses that occur from the natural aging process or other health conditions unrelated to employment are specifically excluded from Kentucky's workers' comp coverage. Psychological problems are covered only if they are a result of a physical injury.
Workers' Compensation Claims 
The first thing that must happen if an injury occurs or a worker is diagnosed with an illness related to work, is to report it to the employer immediately. This begins the process of filing for workers' compensation because the employer will provide the necessary forms for filing a claim.
Once the claim is notarized it will then be filed with the Department of Workers Claims. Within two months a decision will be provided and the worker will find out if their claim was approved or denied. If the claim is denied, workers have the option to appeal the decision. The Kentucky Workers' Compensation Program is run by the Kentucky Department of Workers' Claims (DWC) and is a division of The Kentucky Labor Cabinet. The DWC administers benefits and has jurisdiction over all compensation claims. For more information, see
The Kentucky Workers' Compensation Program is run by the Kentucky Department of Workers' Claims (DWC) and is a division of The Kentucky Labor Cabinet. The DWC administers benefits and has jurisdiction over all compensation claims. For more information, see Kentucky's guidebook to workers' comp.
Contact a Madisonville or Owensboro Workers' Comp Attorney
With offices in Owensboro and Madisonville, Rhoads & Rhoads represents work injury victims throughout Western Kentucky. We offer free initial consultations, and there is no payment required up front. Call us at 888-709-9329 or contact us by e-mail to schedule an appointment with one of our Madisonville or Owensboro workers' comp attorneys.
Video Transcript
I think it's important for workers in the state of Kentucky to understand what their rights are under Workers' Compensation. All employers in Kentucky, with very few exceptions, are required to have Workers' Compensation Coverage. This provides coverage for an employee who is hurt in a work-related accident.
It has several elements of compensation, one of which is medical benefits. All of your medical treatment is required to be paid by the employer or its insurance carrier for the rest of your life. It's important to understand also that you can see a doctor of your choice. If you have a family doctor that you've been seeing in the past, you can continue to see that doctor and any specialist that doctor might refer you to: you have that option.
You are also entitled to draw income benefits as long as you're off work due to the effects of the accident. These benefits will be paid as long as you are disabled from working and have not reached your maximum medical improvement. Now you will not be drawing the same wage that you were drawing when you weren't hurt, but you can draw two-thirds of your average weekly wage. For instance, if you made $600 per week, you can draw $400 per week in Workers' Compensation.
Now there is a deadline for filing claims and it's important that you seek legal advice. The insurance company is not going to look after your interests so you are probably going to need legal representation so that you can adequately be compensated for your accident.[/fusion_builder_column][/fusion_builder_row][/fusion_builder_container]