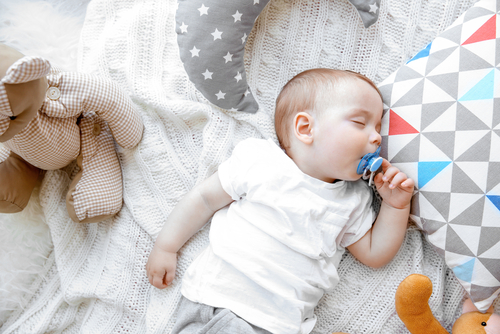 Popular Pacifier Accessory Recalled Due to Choking Hazard
On March 15, 2018, the U.S. Consumer Product Safety Commission (CPSC) reported a voluntary recall for nearly 590,000 pacifier and teethers made by Handi-Craft, a manufacturer and distributor of baby bottles and accessories. Although no injuries are known at this time, the recall ignited after a reported 67 instances of a snap detachment from the pacifier ribbon occurred and posed a choking hazard to infants and young children.
Important Recall Information
The recall covers popular baby brand, Dr. Brown's Lovey pacifier and teether holders that were sold in character styles of a Giraffe, Zebra, Turtle, Reindeer, Frog, Spring Bunny, Deer and Bunny. These products were sold at Bed Bath & Beyond, K-Mart, Target, Toys/Babies 'R Us, Walmart and other stores nationwide including Amazon.com between August 2015 and March 2018 for about $10. The recall also includes 10,500 products that were sold in Canada.
Consumers can confirm lot codes included in the recall at www.drbrownsbaby.com/recall-lovey. The lot codes are printed on the tag attached to the pacifier holder and include:
RICH0615
RICH0715
RICH0815
RICH1215
RICH0516
RICH0616
RICH0716
RICH1116
RICH1016
RICH0916
RICH1216
RICH0317
RICH0417
RICH0517
RICH0617
RICH0717
RICH0817
RICH0917
If your child is using one of these lovey pacifier and teether holders, you are urged to stop using the affected product and to contact Handi-Craft for a replacement product or merchandise of equal or lesser value.
Unsafe Children's Products Can Cause Serious Injury
Parents should be able to trust that a simple soother made to comfort their infant or toddler will also be safe and not cause harm. Unfortunately, injuries happen to children each day because of defective products. When this happens, an individual, no matter what their age, may make a claim for damages through a product liability lawsuit. This means a seller, distributor, supplier, or manufacturer can be held liable for introducing a defective product into people's lives.
Defective product cases can be very complex and expensive, especially since the opposition is usually a large company with a department full of lawyers and legal staff ready to fight against your claim. You need a law firm with substantial experience and resources to support and protect your rights. Rhoads & Rhoads has a reputation for being an aggressive personal injury firm that gets results, and we genuinely care about you, your family, and ensuring your family is compensated appropriately for the injuries your child has sustained.
Owensboro and Madisonville Product Liability Lawyers
If your child has been injured because of a recalled Dr. Brown's Lovey pacifier and teether holder, or any other product failed and caused an injury or the wrongful death to someone you love, contact us. With offices in Owensboro and Madisonville, Rhoads & Rhoads represents product liability victims in Western Kentucky and we offer free initial consultations. All cases are taken on a contingency fee basis with no payment required up front. We get paid only if we win or settle your case, so there is NO RISK involved.
Call us at 888-709-9329 or contact us to schedule an appointment with one of our Madisonville or Owensboro personal injury attorneys.