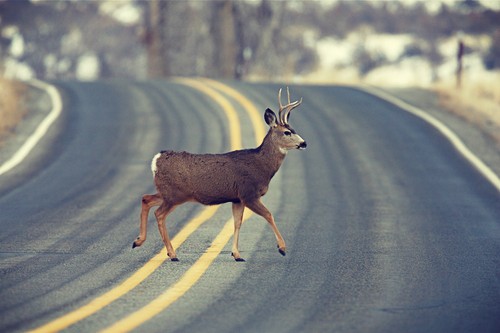 An accident on the Western Kentucky Parkway on Sunday serves as a reminder that is it peak season for deer-vehicle collisions (DVCs). Richard Inman of Owensboro was driving his vehicle near Hartford when he hit a deer crossing the roadway. Inman and his passenger suffered minor injuries and were taken to Ohio County Hospital.
Fortunately, the individuals involved in this accident were not seriously injured. In truth, deer are the number one deadliest animals in the United States. Shark attacks make sensational news, but it is the gentle, cotton-tailed deer that really pose humans a significant threat, taking nearly 200 lives each year and injuring ten thousand more. Due to mating habits, the months of October, November, and December are when many deer-vehicle accidents occur.
Daviess County a Hotbed for Deer-Vehicle Accidents
According to the Insurance Institute for Highway Safety (IIHS), there are 1.6 million deer-vehicle collisions at a total cost around $4.6 billion. As a state, Kentucky ranks 13th in terms of the number of DVCs. November far outpaces all other months for car crashing involving deer, nearly doubling the number of accidents that occur in the next most dangerous month.
Daviess County is on the high end of all Kentucky counties, with an average of 73 deer-vehicle collisions each year. It joins the following counties with 71 or more such accidents annually:
Boone County (151)
Hopkins County (124)
Jefferson County (98)
Hardin County (93)
Christian County (93)
Campbell County (89)
Boyd County (85)
Henderson County (82)
Kenton County (77)
Franklin County (75)
Muhlenberg County (74)
Though many DVCs result in minor injuries, others can be catastrophic for those driving (or riding in) passenger vehicles, trucks, and motorcycles. Perhaps the greatest danger comes from many drivers' instincts to swerve to avoid the animal. When this happens, the vehicle driver can easily drive off the road and hit a tree, or worse, swerve into oncoming traffic. Crashing into a fixed object or suddenly hitting another vehicle head-on will almost always result in more serious injuries, such as internal injury, traumatic brain injury, head injury, spinal injury, and even death.
How Else Can We Minimize the Impact of Deer-Vehicle Collisions?

As I just mentioned, one key to safety in the event a deer darts out in front of your vehicle is NOT to swerve. Brake and turn on your hazard lights, so other drivers understand there is a potential danger. Always stay in your own lane.
Wearing a seatbelt is another critical factor in preventing a DVC from being a deadly accident. The sudden impact of hitting a deer or of hitting another kind of object can result in an unrestrained individual being ejected from the vehicle, increasing the odds of a life-changing injury.
Using high beams can help, as can a heightened level of vigilance. Avoid any distractions, especially between 5 – 8 a.m. and 5 – 8 p.m., the busiest times of day for deer. Keep your eyes on the road and slow down when you observe deer crossing signs.
Even the most diligent driver may find him or herself in an accident with a deer. If you find yourself in that position and someone is seriously injured, we can help ensure you get the compensation you deserve from the insurance company. Call our vehicular accident attorneys today to get started: 888-709-9329.