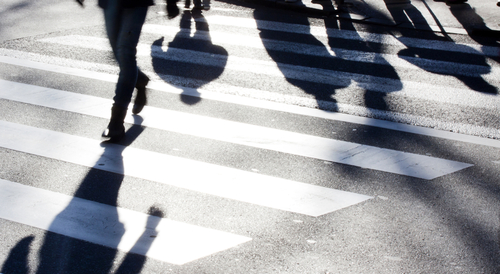 Homeless Man Dies In Fayette County Pedestrian Car Crash
Lexington police have recently reported a pedestrian death after a homeless man was struck and killed at Winchester and Elkhorn roads in the Hamburg area.
A 25-year-old Winchester woman, was the operator of the inbound vehicle that caused a blunt force trauma to the pedestrian after he was crossing the road against a traffic signal. Although the driver initially drove off, she did return and seek contact with an officer in a nearby parking lot. At this time, no charges have been filed. Police said the driver had the green light and she told officers that she didn't see the pedestrian. Pedestrians are 1.5 times more likely than passenger vehicle occupants to be killed in a car crash on each trip. Most pedestrian deaths occur in urban areas, non-intersection locations, and at night
According to the National Highway Traffic Safety Administration, latest numbers show 5,376 pedestrians were killed in traffic crashes in the United States in 2015, averaging one crash-related pedestrian death every 1.6 hours. Additionally, almost 129,000 pedestrians were treated in emergency departments for non-fatal crash-related injuries in 2015.
Driver Behaviors Likely Cause of Most Pedestrian Accidents
By far, the riskiest groups of drivers are those who are new or inexperienced behind the wheel. The National Highway Traffic Safety Administration is one of many organizations whose research shows that 16-19 year-olds are responsible for more accidents than other age groups. They are most likely to instigate an accident due to one of three critical errors: failure to appropriately scan for hazards, driving too fast for road conditions, and distracted driving.
For obvious reasons, failing to make a full stop at intersections and walkways poses a common injury risk to pedestrians. A full stop is necessary to allow drivers to thoroughly observe their immediate environment and see any pedestrians who may be walking into the road. Not only can a failure to make a full stop result in an accident with a person who is walking or running, but it can also result in a serious car crash with another vehicle.
U-Turns are not allowed in areas where speed/direction of traffic or low visibility make the practice unsafe. It may seem like no big deal, but illegal u-turns are dangerous for drivers and pedestrians alike.
Pedestrians Can Take Steps To Stay Safe
All pedestrians should be crossing the street at a designated crosswalk or intersection and it is always safest to walk on a sidewalk, or on the shoulder of the road, facing traffic. Pedestrians should avoid being distracted by their phones while traveling and keep their attention on their surroundings. If traveling at night, pedestrians can take extra safety precautions like carrying a flashlight and wearing retro-reflective clothing.
If you or a loved one has been injured in a pedestrian accident, the Kentucky personal injury law firm of Rhoads & Rhoads is ready to provide you the legal support you need to ensure you are able to recover successfully and without undue financial stress. We never collect fees unless your case is won or settled, and we provide a completely free initial consultation. Call us today to hear more about how we can help: 888-709-9329.