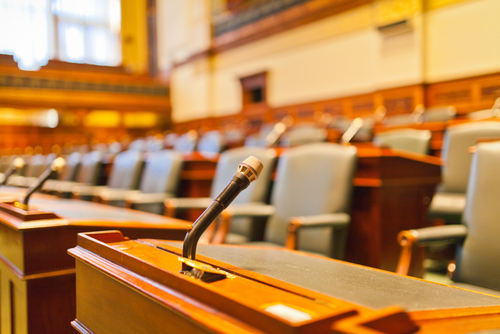 Common Client Question: Will I have to go to court?
The majority of personal injury clients Rhoads & Rhoads represent do stay out of the courtroom. Not only is this preferred by most clients because a jury trial can quickly become costly, but also because we work tirelessly to resolve any claims through settlement negotiations before a case would need to be presented in a courtroom. In addition, our lawyers have built a credible reputation with insurance companies who know that the cost of courtroom litigation will be higher than negotiating with us so you can receive a fair settlement offer.
WATCH Attorney Kyle Lamar explains why the majority of clients who hire Rhoads & Rhoads won't necessarily have to go to court if they pursue a personal injury claim.
Opening a Personal Injury Claim or Filing a Lawsuit
If someone has suffered injuries and there is no question that an at-fault party is responsible for the incident, it is good to evaluate the option of opening a personal injury claim or possibly even a lawsuit against them. It's important to become familiar with the process of opening a personal injury claim or lawsuit and also contact an attorney as soon as you are able.
Gather Your Personal Injury Information and Learn About Insurance
It is a good idea to start documenting your injury with medical records and learn more about the insurance and liability coverage involved in the accident. Finding out about the at-fault person's coverage will likely begin the first steps in creating your personal injury claim and help you decide if you need to hire a lawyer.
Meet With a Reputable and Experienced Personal Injury Lawyer
A personal injury lawyer with a reputation for settling out of court is a good one to look for. The team at Rhoads & Rhoads is experienced in knowing how to best proceed quickly to get you the fair compensation you deserve without having to deal with a jury trial or extra expenses.
Making Decisions, Resolution and Settlement
The majority of personal injury cases do reach a settlement before ever going to trial, and many are resolved before a lawsuit is even filed. It is recommended to work with an attorney to gather the best information to establish facts in the case. An attorney can also deal with all settlement negotiations and correspondence with the opposing parties and help you decide the best way to accept your compensation.
Settle Out of Court With a Trusted Kentucky Personal Injury Lawyer
Rhoads & Rhoads is now one of the largest personal injury firms in Western Kentucky. The personal injury lawyers at Rhoads & Rhoads have decades of experience working with injury victims and settling their cases out of court. We offer free initial consultations, and all cases are taken on a contingency fee basis. We get paid only if we win or settle your case, so there is NO RISK involved.
Call us at 888-709-9329 or contact us by e-mail to schedule an appointment.
Video Transcript
One of the most common questions our clients ask here at Rhoads and Rhoads is, "Am I going to have to go to court?" The answer is maybe. I think statistically speaking most of our cases settle, but that's because we are experienced courtroom lawyers.
Insurance companies know which law firms are prepared to take a case to trial and which ones aren't. Through the years our firm has shown consistently that we get good results for our clients when we do go to court. That's because we prepare every case like it will go to court.
We do the background, we do the legwork to prepare every case like it will go in front of a jury. That's the only way that insurance companies will take your claim seriously: to show that we take your claim seriously and that they need to.
The best thing you can do is to have an experienced trial lawyer on your side because if insurance companies know we're willing to go to court, that's the only way to get you a fair settlement result.