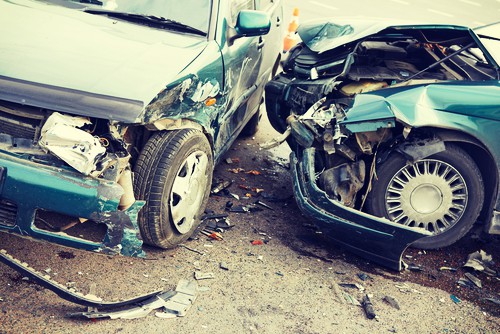 Secondary crashes are accidents that occur in some part due to a prior crash. Definitions can vary. The Federal Highway Administration's Office of Safety defines a secondary crash as an unplanned incident for which a response or intervention is taken, where a collision occurs either within the original incident scene or within the queue resulting from the original incident. Other definitions may delineate the time or distance from the initial accident a secondary incident must occur in order to be considered a secondary crash.
These accidents can be deadly or cause lifelong disability for those involved. It is not unusual for a secondary crash to involve more than two vehicles, as a chain reaction can easily cause a multi-vehicle accident when traffic is congested. Kentucky doesn't systematically track secondary crashes, but a five-year old study tracked them for an 18-month period. During that time, researchers found secondary crashes accounted for around 4% of all traffic accidents observed.
This number would put Kentucky on the low end of secondary accidents relative to states that do track this type of collision. In those states, the percentage of traffic accidents attributed to secondary crashes ranges from just 3% to over 20%. The low numbers in the study may be an inaccurate reflection of statewide accidents. They may also be accurate but indicative of the types of roadways and accidents common to our state.
Secondary Crashes and Kentucky Crashes
In some ways, secondary crashes may be less likely to occur in Kentucky, where a great many of our roadways are rural. Secondary crashes are far more common in urban areas. They are also more likely to occur on freeways with more than four lanes than are primary accidents. These characteristics are useful in looking at the factors contributing to an accident, even if they are far from universal traits of secondary crashes.
Certainly, these factors make sense. If a crash happens on a busy freeway, there may be thousands of cars passing the accident site, especially during rush hour, which is the time of day most likely to include secondary crashes. Speeding or driving faster than the rest of traffic is the single most common contributor to secondary crashes. This is especially true when the speed of traffic fluctuates greatly as it approaches and passes an in-progress accident. The repeated speeding up and braking can result in rear-end collisions. Rear-end collisions make up over two-thirds of all secondary crashes.
Though primary crashes are more likely to cause severe injury or death, the risk of secondary crashes can vary based on many factors. The force of the crash and the types of vehicles involved can be key. Motorcyclists involved in a secondary accident can suffer severe head injuries and brain trauma if the force of the accident propels the driver into the back of a larger vehicle. For obvious reasons, any vehicle accident involving a semi-truck or tractor-trailer can be deadly. Override and undderride accidents can leave a driver of a smaller passenger vehicle with fatal internal injuries, spinal injuries, or blunt force injuries to the head, neck, and body.
If someone you know has been injured in a secondary crash or any other kind of accident in Kentucky, please encourage them to call us. The car accident attorneys at Rhoads & Rhoads have served the people of our communities for decades, and we have the experience necessary to win compensation for the injuries and suffering of car accident victims. We offer a free initial consultation and a guarantee that you will not be charged any fees unless your case is won or settled. Call us today at 888-709-9329.