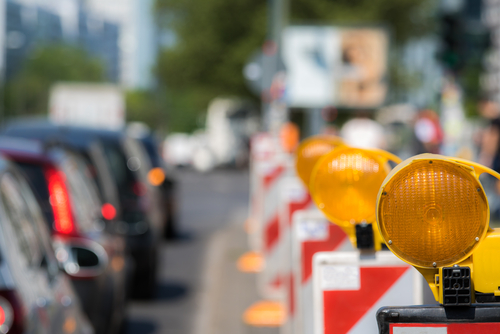 Chain-Reaction Crash At I-65 Construction Zone Kills Four
Reports of a chain-reaction crash involving four vehicles says that six people were killed recently on a busy Kentucky Interstate. The crash involved two vehicles and two tractor-trailers amongst a pile up of construction zone traffic on Interstate 65 near Bowling Green. The highway currently narrows from three lanes to two lanes causing slow-moving vehicles and treacherous bottleneck traffic. One tractor-trailer started the reaction when it slammed into a passenger vehicle and killed five of the accident victims. Police said a minor in the van was hospitalized with serious injuries. The other victim was in a second passenger vehicle that was hit as part of the chain-reaction between the four vehicles, said State Police. One tractor-trailer driver was treated at a hospital and released, and the other wasn't injured. The investigation is ongoing.
In the United States, large truck accidents take eleven deaths every day and cause 100,000 injuries each year. When you add a work-zone risk factor and heavy, slow-moving bottleneck traffic, this tractor-trailer accident was sadly, just waiting to happen. Tractor-trailers, also referred to as semis and big-rigs, can often represent danger in certain driving situations. When that danger approaches, the average passenger in a car rarely walks away without injury. Injuries suffered in a semi crash will often be catastrophic, similar to those with the I-65 crash. In fact, 10 percent of Kentucky traffic accidents cause at least one fatality involved with a semi-truck. 
Traveling in Work-Zone Induced Bottleneck Traffic, Alongside Semi-Trucks
Kentucky road planners do see an association between big trucks and other vehicle backups, also called bottlenecks, resulting in fatal accidents. In fact, accident reports on I-65 have shown the congested areas having stop-and-go traffic, increasing a risk for front- and rear-end collisions for all types of vehicles but especially those with tractor-trailers. Bottlenecks in work-zone areas typically happen because there is a limited physical capacity for the number of vehicles on the roadway.
Avoiding accidents with huge trucks while in bottleneck traffic, in a work-zone, is crucial, but it can be very tricky to protect yourself against a slow moving, chain reaction accident with a semi-truck. Here are some things from the Department of Transportation to help you be more aware of what to do when sharing the road with these road-hogs (and other drivers) while in a congested work-zone: 
Stay Alert and Minimize Distractions
Dedicate your full attention to the roadway
Avoid changing the radio station, using a mobile phone or texting, eating, or other distractions that can remove your concentration from the road
Keep Your Headlights On
Even during the day, congested traffic can make it hard to see
Just keep them on
Pay Attention to the Road
"Listen to the signs"
Watch brake lights on vehicles ahead
Watch traffic around you and be prepared to react
Merge into the Proper Lane
Merge well before you reach the lane closure
Be aware that traffic patterns can change daily
Don't tailgate
Follow other vehicles at a safe distance
Obey the Posted Speed Limit
Workers may be present just feet away
Fines may be doubled for moving traffic violations
Be prepared to slow down further if conditions indicate the need
Change Lanes Safely
Change lanes only where pavement markings indicate, and only when traffic conditions permit
Follow Instructions from Flaggers
They are there for your safety
Expect the Unexpected
Workers, work vehicles, or equipment may enter your lane without warning
Other vehicles including large trucks may slow, stop, or change lanes unexpectedly
Be Patient
Patience and vigilance can be the difference between making it home safely and not making it home at all – stay calm, stay safe
Tractor-Trailer Accidents Can Cause Serious Injury and Create a List of Damages To Be Claimed
In addition to having a higher risk of fatalities, injuries caused to survivors of semi-truck accidents can also be quite severe. These injuries are often life-changing, requiring significant changes to daily life for the accident victim, as well as the victim's family. Potential injuries can include:
Amputation Injuries
Back Injury
Broken Bones
Disfigurement
Internal Organ Damage
Neck Injury
Paraplegia
Quadriplegia
Severe Burns
Spinal Cord Injury
Traumatic Brain Injury
These injuries can create claimable damages such as medical bills and lost wages, other damages like loss of lifestyle or pain and suffering are more difficult to assess in dollar figures. Some of the damages that can be recovered in a personal injury claim resulting from a tractor-trailer accident include:
Loss of ability to earn an income
Loss of lifestyle
Lost wages
Medical expenses, including those for ambulance bills, surgeries, doctor visits, and prescriptions
Necessary medical equipment
Pain and suffering
Physical, occupational, and rehabilitation therapy
Psychological or emotional counseling
Trucking Companies Prefer To Redirect Fault
The devastating injuries or loss of a loved one due to a tractor-trailer accident creates stress for families in many ways. Of course, the first priority for you and your family should be healing and grieving. Unfortunately, the other practical results of a serious accident cannot be put off for very long. Working closely with an attorney will maximize your ability to recover damages and receive the largest settlement possible. Big and small trucking companies and their insurance companies are quick to redirect fault and minimize the truck driver's liability. For this reason, it is critical to find an experienced attorney who will fight for you against these powerful trucking interests.
Once on the case, the attorneys at Rhoads & Rhoads will immediately start investigating the accident, gaining access to the driver's log and other information. We work closely with experienced expert witnesses, those who reconstruct accidents, and your medical doctors. We do a thorough investigation of every accident identifying any witnesses and collecting all evidence.
Rhoads & Rhoads has been protecting the rights of the injured throughout Western Kentucky for over 43 years. If you or a loved one have been injured by a truck accident, our team of experienced trial attorneys and knowledgeable support staff are available to help you through this difficult time and get you the financial recovery you deserve.
Truck Accident Lawyers Who Care About You
With offices in Owensboro and Madisonville, Rhoads & Rhoads represents truck accident victims throughout Western Kentucky. We offer free initial consultations, and all cases are taken on a contingency fee basis, which mean there is no payment required up front. Call us at 888-709-9329 or contact us by e-mail to schedule an appointment with one of our Madisonville or Owensboro personal injury attorneys. We get paid only if we win or settle your case, so there is NO RISK involved.