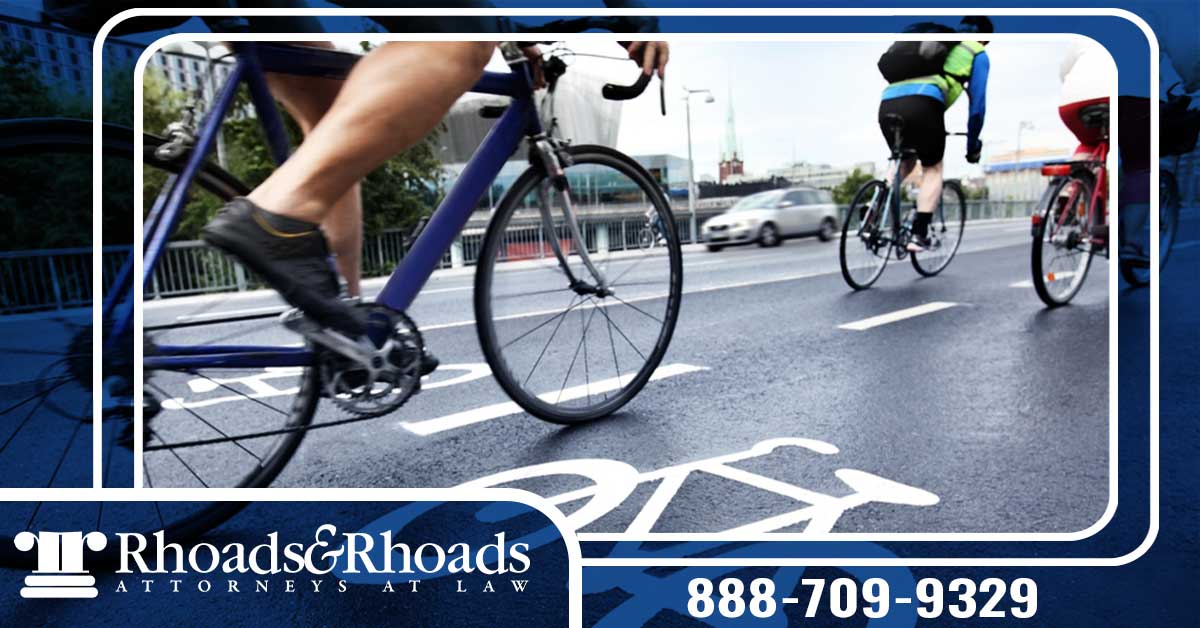 Key points of this article:
Sharing the roadway with bicyclists is required by law.

Bicyclists are to be treated like other motor vehicles on the road.

There are traffic laws that both bicyclists and drivers must obey.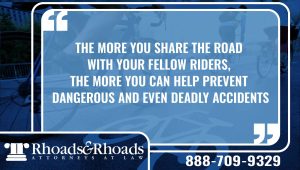 Summer is finally here, and that means more people are going to be out on the roads with their bikes. Unfortunately, nearly 1,000 bicyclists die, and over 130,000 are injured in motor vehicle-related accidents yearly. 
So to help keep the roads safe, we thought we'd share Kentucky's laws about sharing the roadway with bicyclists. 
Sharing is caring — and the more you share the road with your fellow riders, the more you can help prevent dangerous and even deadly accidents. 
If you or a loved one were injured in a bicycle accident in Kentucky, the team at Rhoads & Rhoads is here to help. We understand how devastating and tragic these accidents can be and will do everything we can to help you win the compensation you deserve to help pay for your injuries. 
What Does "Sharing the Roadway" Mean?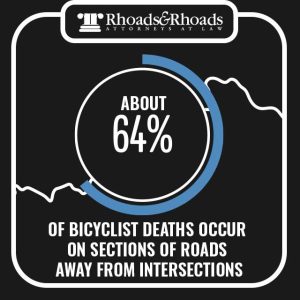 "Share the Road" has become a popular slogan that was adopted to address bike safety. While everyone is responsible for sharing the road, including trucks, cars, motorcycles, and pedestrians, this slogan is primarily used when referring to motor vehicles and bicyclists. And this is because many drivers, unfortunately, do not share the road and do not know the laws where bicyclists are concerned. 
So, what does "share the road" mean? It simply means that drivers need to be more mindful of bicyclists and obey the traffic laws where riders are concerned. In other words, be courteous and share the road with bicyclists so they have the space they need to travel safely. 
Bicyclists are legally allowed to ride on the road and must follow many of the same traffic laws as drivers, but many drivers don't know this and assume they always have the right-of-way. Unfortunately, this results in drivers being negligent and failing to share the road with bicyclists, which then causes accidents.  
This negligent behavior is what causes bicyclists to have to ride more defensively to keep from getting hit. But respect is a two-way street. If everyone obeyed the rules and courteously shared the roadway, there wouldn't be as many issues or accidents. 
What Regulations Should Bicycle Riders Observe?
Bicyclists have a right to be on the road, which means they must also obey certain traffic laws to avoid causing accidents. The Kentucky Laws and Regulations for Bicycle Travel are as follows:
Bicycles are required to operate in the same manner as motor vehicles. Exceptions include:

Operating on the shoulder of the road unless prohibited by local law 

Operating in a bike lane if one is available

Bicyclists must keep to the right side of the lane unless:

They are making a left turn

They are passing a slower-moving vehicle

The lane is too narrow (if so, the bicyclist may ride far enough to the left to prevent vehicles from passing them)

They are avoiding a hazard

It is a one-way road with two or more lanes

They are approaching a driveway or intersection (if so, they may ride far enough to the left to prevent conflict with a vehicle turning right)
No more than two bicyclists can ride side-by-side in a single lane unless they are in a designated bike lane. If they are riding side-by-side, they may not do so if blocking the flow of traffic. 

Bicyclists can proceed through a red light if it is safe to do so if the light does not change because they are too lightweight to trigger the sensor. 
What Laws Should Motorists Observe When Sharing the Roadway With Bicyclists?
Motor vehicles must also abide by traffic laws, which include special regulations when sharing the roadway with bicyclists:
All drivers must share the road with bicyclists. There are no exceptions. You must think of them as if they were also operating a vehicle on the road. 

 Before passing a bicyclist:

Make sure you can allow three feet of space between your vehicle and the bicyclists when you pass. You may not attempt to pass if there is not enough space, then you may not attempt to pass. 

Make sure there are no obstructions that will cause the bicyclist to move to the left suddenly. 

After passing, return to your lane only when you are completely clear of the bicyclist. Do not move back over too quickly, as this could cause the bicyclist to crash. 

Check for bicyclists before attempting to turn right. Do not turn right directly in front of a bicyclist that is proceeding straight and would be forced to brake. Wait until they have safely moved ahead, and then turn. 

Check for bicyclists before opening your door when parked on the right side of the road. 
Road Safety For Bikers
To keep bicyclists safe, BikeSafety.com and Drive Safe Kentucky offer the following tips:
Wear a helmet at ALL times.

If you are able, use hand signals when changing lanes or making turns.

To increase visibility, wear bright colors and use lights and reflectors on your bike.

Avoid distractions and pay attention to what you are doing at all times.

Scan ahead for possible obstacles in your path, such as parked cars or vehicles pulling out of driveways.

Ride in the same direction as the flow of traffic.

Keep up with bike maintenance and ensure your brakes are working.

Do not operate your bike while under the influence of drugs or alcohol.
Kentucky Bicycle Accident Lawyers – Rhoads & Rhoads
If you are the victim of a Kentucky bicycle accident, the team at Rhoads & Rhoads can help. We are dedicated to guiding injured victims through the challenging process of personal injury claims and lawsuits — and can help them receive the full amount of benefits they need to recover. 
Call us at 888-709-9329 to schedule an appointment with one of our Madisonville or Owensboro bicycle accident attorneys. We offer free initial consultations, and all cases are taken on a contingency fee basis, so there is no initial payment required. We get paid only if we win or settle your case, and there is NO RISK involved.