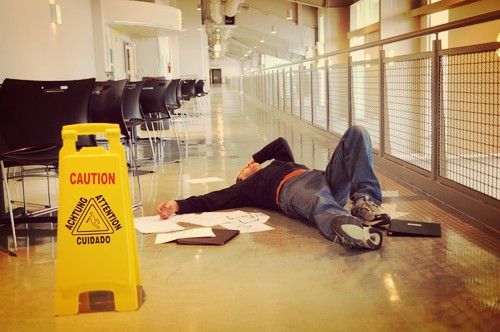 It's a common joke in both kid and adult programming: an unsuspecting victim steps onto a banana peel, slips, and falls painfully to the ground (usually landing on their heads to a funny sound effect). In reality, slip and fall accident are incredibly dangerous, leading to serious back injuries, head injuries, traumatic brain injuries, paralysis, and even death.
Most everyone has slipped and fallen in their lifetimes. In most cases, those accidents caused more damage to our egos than to our bodies. Still, the Centers for Disease Control and Prevention (CDC) estimate that one million Americans have a slip and fall injury every year. In a truly frightening statistic, nearly 20,000 people die each year as a result of injuries after a slip and fall accident.
Slip and Fall Accidents Cost Workers
Often we think of slip and fall accidents as primarily the business of states where ice and snow cover surfaces regularly. The reality, though, is that slip and fall accidents are common in the workplace, regardless of your state or types of employment. Some jobs obviously carry a higher risk, but nationwide, slip and fall injuries make up 15% of all job-related injuries. Such accidents leave workers in a tough place, unable to work. Fortunately, workers' compensation can help fill the gap in some instances; however, some workers, based on the circumstances of their fall, may find themselves without a way to make up their lost wages.
Employers have an duty toward their employees to ensure reasonable safety in the workplace. As mentioned above, workers who incur a slip and fall injury is often entitled to workers' compensation. If, however, workers' compensation is denied or if the compensation seems inappropriate given the level of injury or disability, there may be grounds for suing the employer for damages, invoking premises liability. Premises liability can be invoked in situations where a property owner was or should have been aware of a dangerous environment on their property. This can apply in the workplace, on the sidewalk outside a store, in a rental property, and in many other situations.
The National Institute of Occupational Safety and Health (NIOSH) estimates slip and fall accidents occur for many reasons, including:
Slippery walking surfaces due to spills;
Outdoor slip hazards, especially in parking lots, such as rain, ice, and snow
Boxes or heavy goods obstructing vision;
Poor lighting affecting visibility;
Protruding nails and boards, clutter, or other objects in walking areas;
Irregularities in flooring, causing uneven surfaces.
Rhoads & Rhoads takes pride in our long history of serving the workers of our community, especially when they find themselves in great need. Whether you need help with a workers' compensation claim or believe you may have grounds for a premises liability case, we have the knowledge and experience required to prepare a persuasive case on your behalf. From preparing a claim to fighting for you in court, the attorneys at Rhoads & Rhoads will be with you every stop of the way. Call us today for a FREE initial consultation and to see how we can get to work for you: 888-709-9329.