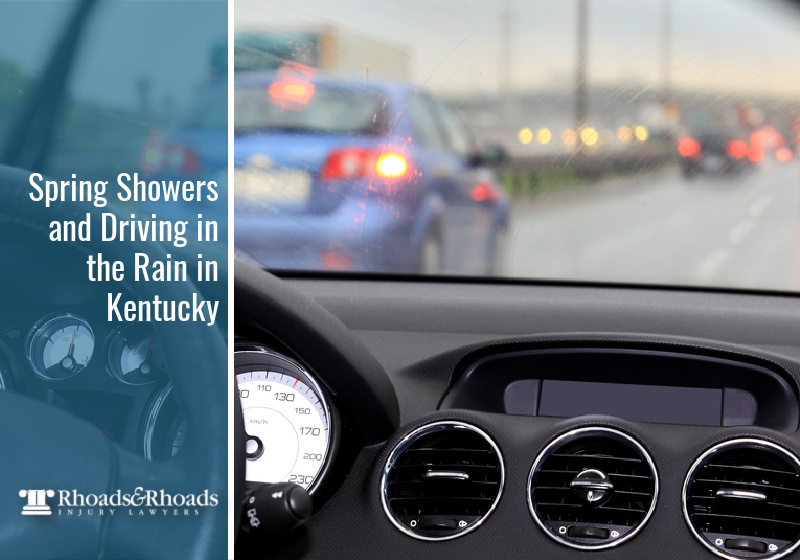 Key Points of This Article:
Kentucky is one of the top three worst states for driving in the rain.

Over 5,000 people are killed annually as a result of weather-related accidents.

Though rain increases the risk of accidents, drivers are ultimately to blame for their negligent actions, such as speeding or following too close to another driver. 
Spring is officially here! But while spring showers are good for the earth, they are not so great for drivers. No one likes to drive in the rain as it can make it harder to see, increase travel times, and most dangerous of all, lead to an increase in accidents. And while you would think most drivers are used to driving in the rain at this point, wet and slippery roads continue to result in high numbers of collisions. 
Unfortunately, Kentucky drivers seem to be among the worst when it comes to driving in the rain. In fact, a recent article showed that Kentucky is ranked as the third most dangerous state for driving in the rain. 
Though some collisions might only result in minor damage, some car accidents in the rain can have tragic outcomes, especially when drivers operate their vehicles at high speeds. Luckily, car accident claims in Kentucky can help drivers recover compensation for their injuries and other damages. However, proving fault in rain-related accidents is not always easy.
This is because many drivers will try to blame the accident on the rain rather than on their driving. However, even if the rain contributed to an accident, there is still likely someone to blame. In these cases, it can be useful to work with an experienced personal injury attorney as they can help you gather evidence and prove fault to ensure you get the compensation you deserve.  
The Dangers of Driving in the Rain
Naturally, when driving in the rain, the roads become more slippery, which can result in an increase in accidents. According to the U.S. Department of Transportation's Federal Highway Administration (FHWA), nearly 1,235,000 accidents occur annually because of the weather. And of the weather-related accidents that occur, the vast majority happen due to wet roads from rainfall. 
Additional statistics from the FHWA show that from all of the weather-related accidents that occur every year, around 418,000 people in those crashes sustain injuries, and over 5,000 people are killed. 
To show how and why this happens, the FHWA breaks weather-related accidents down into three different types of impacts: Roadway impacts, traffic flow impacts, and operational impacts.
Roadway impacts include:
Visibility distance

Pavement friction

Lane obstruction

Traffic flow impacts include:
Speed

Time delay

Accident risk
Operational impacts include:

Vehicle performance

Access control

Evacuation decision support
When all of these impacts are combined, it creates a highly hazardous scenario in which accidents are more likely to occur. This is why when driving in the rain you must take extra precautions. 
Liability and Rain-Related Accidents
Drivers need to understand that though rain is considered a cause of accidents, drivers are actually to blame. Rainfall is only the catalyst that creates more hazardous conditions, but it is still always the driver's duty to operate their vehicle with care. So if it's raining, it is the driver's responsibility to take note of these conditions and adapt their driving behaviors accordingly; if they do not, they could be held liable.  
The rain itself cannot be held responsible when you file an accident claim. While insurers might be more understanding if the road conditions were bad, they will ultimately seek to discover a negligent party to justify the damages being awarded. 
However, keep in mind that Kentucky is a no-fault state, which means you can initially file a claim through your own no-fault Personal Injury Protection (PIP) insurance to recover damages. If you file a claim through no-fault insurance, you do not need to prove who was at fault to recover damages. 
PIP insurance only covers up to $10,000 for medical bills, lost wages, and out-of-pocket expenses, however. So, if your damages are more than $10,000 you may need to file a claim against the guilty driver. And in that case, you will need to prove who was at fault. 
Tips for Driving in the Rain
When driving in the rain, it is always best to be extra cautious of your own driving as well as others. Just because you might be driving safely does not mean you will automatically avoid any accidents. So always be aware of yourself and other cars around you to avoid getting into an accident when it is raining. 
Additional tips for driving in the rain include:
Maintain more cautious speeds that are closer to the speed limit. 

Increase your distance between other cars. 

Sudden braking can cause sliding in the rain, so brake at slower paces.

Increase your visibility by using your headlights, even if it's daytime. 

Drive in the center lane to avoid runoff and puddles that can cause hydroplaning.

Use your windshield wipers and defog windows for better visibility.

Maintain your vehicle's tires to ensure good traction.
Kentucky Personal Injury Lawyers – Rhoads & Rhoads
If you need help with your rain-related accident case, the team at Rhoads & Rhoads can help and ensure you get the compensation you deserve for your injuries and other damages. We are dedicated to guiding injured victims through the challenging process of personal injury claims and lawsuits.
Call us at 888-709-9329 to schedule an appointment with one of our Madisonville or Owensboro personal injury attorneys. We offer free initial consultations, and all cases are taken on a contingency fee basis, so there is no initial payment required. We get paid only if we win or settle your case, and there is NO RISK involved.