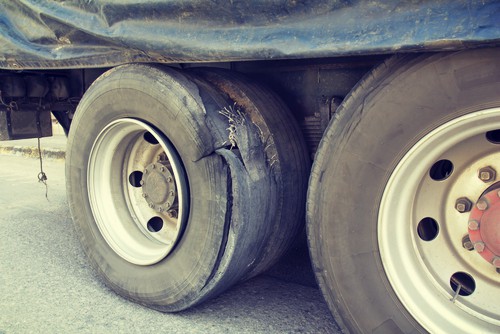 When the temperatures outside start to rise above 90, we always worry about the safety of our neighbors and community members. Of course, there is always the immediate concern about whether or not everyone is in a situation that allows him or her to stay cool. We also think about the safety of outdoor workers or athletes who may suffer from heat exertion while doing their jobs or engaged in a training session. There are less obvious dangers as well.
During hot summer weather, all vehicles are at increased risk for tire blowouts. In fact, Popular Mechanics deems the time period from mid-May to mid-October as "Blowout Season." The most dangerous blowouts involve large, 18-wheeled semis. Often in semi-tire blowouts, the entire tire tread explodes off the tire in a single large piece. Other times, the pieces of the tire shoot off in multiple directions. Either way, there are two major dangers for other drivers when this happens. First, the tire tread pieces pose their own risk, as they cause other drivers to maneuver quickly to avoid them. Even more dangerous is if the blowout causes the semi driver to lose control of the vehicle. When this happens, the possibility of a very serious, multi-car accident is high.
Why Are Blowouts More Common During Warmer Weather?

The reasons for "blowout season" are many but boil down to the fact that summer conditions create an environment where a damaged tire is more likely to fail. We've already discussed the heat, which is compounded by drivers going further and with heavier vehicles than during the rest of the year. This is a deadly combination for a tire that may already have suffered damage in one of a variety of ways.
An underinflated tire can pose a major problem, but some drivers will decrease their tire pressure in the warmer months. This has to do with the way hot air expands and can be completely acceptable. The problem occurs if the pressure is lowered below safely accepted standards. If a driver keeps a lower tire pressure during the summer, it's important to watch the tire pressure carefully to ensure further unintentional decreases do not make the tire unsafe. The deadly twin to underinflation of tires is an overloaded truck. If both ingredients exist together, it may take very little damage to push the tires over the edge into a blowout.
Truckers and Trucking Companies Must Maintain Tires
The responsibility placed on truckers and trucking companies is very high. Drivers are required to check tires regularly and they, along with the trucking companies for whom they work, are responsible for maintaining tires that are safe and in good condition. Though blowouts can happen for many reasons, poor or ineffective maintenance is at the sources of most major semi-truck tire blowouts. If a blowout occurs due to negligent maintenance, those who are injured are likely to have a right to compensation.
If you or someone you love has been injured in an accident with a semi-truck, the experienced Kentucky truck accident attorneys at Rhoads & Rhoads will review maintenance logs, amongst other evidence. If negligence is at the center of your accident, we will discover it, and we will fight for the compensation you deserve. Call us today at 888-709-9329 for a no-cost, risk-free consultation.