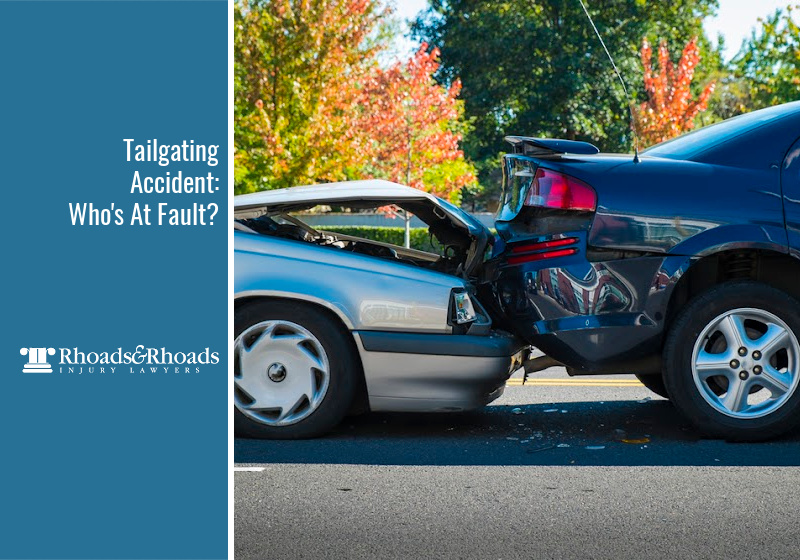 Tailgating is a significant problem in both Kentucky and the rest of the United States. Aggressive drivers often follow closely behind other vehicles in order to prompt them to drive faster. And if a driver then needs to make a sudden stop, the result is a rear-end crash.
If you've been involved in a tailgating wreck, you may wonder who will be held liable for the accident. In this blog, we discuss everything you need to know about tailgating accidents in Kentucky, including statistics, how insurance companies and courts determine liability, preventing rear-end collisions, and receiving compensation after a tailgating accident.
Tailgating Accident Statistics in Kentucky
Rear-end accidents are incredibly common and often result from drivers tailgating. In 2018, there were over 2.17 million rear-end wrecks, making them the third most common type of car accident. Of those 2.17 million accidents, almost 594,000 people were injured and almost 2,500 were killed, and many of those rear-end collisions were preventable tailgating accidents.
In 2018, there were almost 9,000 accidents caused by tailgating drivers in Kentucky alone.
So why is tailgating such a common problem?
Drivers tailgate for a variety of reasons including:
Being distracted
Being impatient
Driving aggressively
Driving while tired
Driving while under the influence of drugs or alcohol
Driving angry
Running late
Many drivers make the mistake of following too closely because they think they'll be able to avoid a wreck in the event that the driver in front of them has to make a sudden stop. Unfortunately, it's incredibly difficult to stop on time if you're following too closely, especially if you're driving at a high speed.
Determining Liability After a Tailgating Accident
A driver who follows too closely and rear-ends the vehicle in front of them is liable after an accident. Drivers are required to perform reasonable care on the road, meaning that they need to drive reasonably. They have the responsibility to drive safely to ensure the safety of others. If they tailgate a vehicle which results in an accident and personal injuries, they broke reasonable care and someone was injured as a direct result.
The driver who was rear-ended could also bear partial blame if they brake-checked the tailgating driver, meaning they suddenly tapped on their brakes, or if their brake lights were out, which then contributed to the wreck.
Sadly, rear-end accidents can cause serious and even fatal injuries including:
Fractures
Back injuries
Spinal cord injuries
Whiplash
Soft tissue injuries
Lacerations
Preventing Rear-End Accidents
When you're on the road, you need to take precautions to ensure you don't cause a rear-end accident. You can greatly reduce your likelihood of causing a rear-end accident by:
Driving the speed limit
Avoiding distractions, such as texting
Driving slower in bad weather conditions
Never driving angry or aggressively
Leaving for your destination early so that you're not tempted to tailgate the person in front of you
Additionally, you should allow a reasonable distance between you and the vehicle in front of you. Two rules you can follow to maintain a safe distance are the car-length rule and the two-second rule.
The car-length rule means that you allow a car length's distance between you and the person in front of you for every ten miles per hour. For example, if you're driving 30 miles per hour, you would allow three car lengths between you and the person in front of you. If you're driving 70 miles per hour, you stay seven car lengths behind.
The two-second rule means that you give yourself a stoppage time of two seconds in the event that the vehicle in front of you stops. This allows you enough time to react and put your foot on the brake.
You can also prevent rear-end collisions by driving safely when another driver tailgates you. Rather than slowing down or brake-checking the tailgater, you can allow them to pass to avoid conflict or a potential wreck.
Receiving Compensation After a Tailgating Accident
If you experience a tailgating accident that wasn't your fault and you become injured, you can seek compensation against the liable person for vehicle damages, medical bills, lost wages, and more. To recover damages, you need to be able to prove that the other driver was at fault and their negligence resulted in your injuries.
It's illegal to tailgate in Kentucky, so if you're injured because of a driver who followed too closely, you should be able to recover compensation, but you need to be able to prove that they caused the accident. If you were partially to blame because you brake-checked or your brake lights were out, you could share partial liability for the wreck. Your percentage of fault in the wreck will reduce the amount of compensation you can receive for your vehicle damages and injuries.
Some forms of evidence that you can use to prove that the other driver was liable for your wreck include:
Eyewitness statements
Police reports
Photos or videos of the accident or aftermath
You should also make sure to keep track of all of your medical records related to your wreck to prove that the negligent driver caused your injuries.
Call a Kentucky Car Accident Lawyer
If you become injured after a tailgating accident in Kentucky, don't fight your claim alone — contact the lawyers at Rhoads & Rhoads Injury Lawyers. We'll help you recover compensation for your injuries, and we'll work to maximize the amount you'll receive for your claim. Call our office at 888-709-9329, or contact us online here.