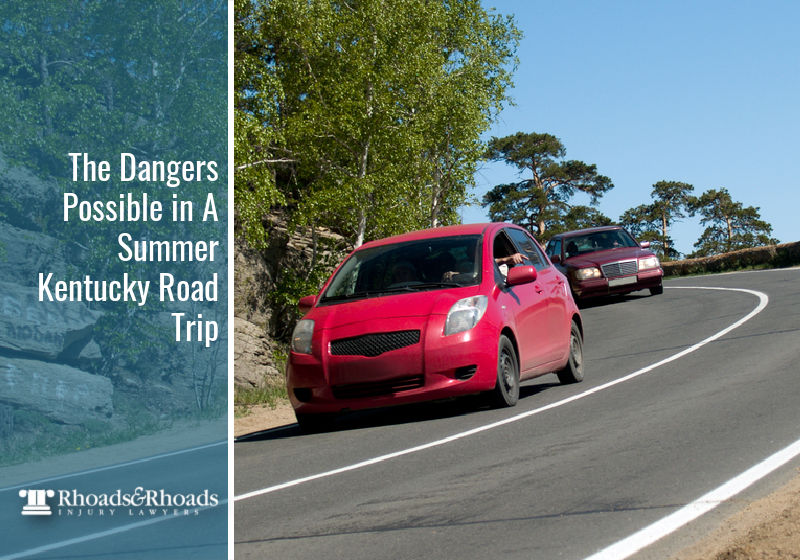 Key Points of This Article:
Road trips are more dangerous during the summer.

Traffic experts have designated the summer months as the deadliest days for drivers.

Teen drivers are particularly at risk of being in an accident during the summer.
Though summertime is one of the most loved times of the year, it is, unfortunately, also one of the most dangerous—especially for drivers. This is because the summer months see a significant increase in cars on the road with so many people off work, out of school, spending time outdoors, and going on trips. 
For this reason, it's incredibly important for drivers to take extra precautions this summer and understand the potential driving dangers. The last thing you want when enjoying a summer road trip is for you or your loved ones to find yourselves the victims of a car accident. 
Are Road Trips Dangerous?
Yes, road trips are dangerous. However, this doesn't mean you shouldn't go on them. But it does mean you should better prepare yourself and drive with caution, especially during the summer. So long as you take proper precautions, then your chances of getting into an accident will decrease. 
Still, road trips are inherently dangerous because the more time you spend on the road, the more you increase your chances of causing or being the victim of an accident. The NHTSA even offers summer driving tips for road trips because of the increase in accidents this time of year. And traffic experts have even designated the period between Memorial Day and Labor Day as the "100 Deadliest Days of Summer". 
And despite being a midwest state, Kentucky is no exception. There are many things to do and see in Kentucky and the surrounding states, so Kentucky road trips are quite common during the summer.  In previous years, reports have shown between 700 and 800 deaths total in the state, with the majority of accidents occurring during the summer months. 
But what exactly makes summertime and road trips so dangerous? Let's take a look. 
Common Kentucky Road Trip Dangers During Summer
Road trips are more dangerous during the summertime for many reasons, including:
1. Teen Drivers 
With school out for the summer, teenagers tend to have more freedom, which means they are more likely to act recklessly and engage in risky activities. And for newly licensed drivers, this can be a serious driving hazard. Later curfews, less supervision, parties, and fewer responsibilities during the summer mean more teens are out driving around having a good time with their friends. Unfortunately, this means accidents tend to increase this time of year, putting teen drivers and others on the road at risk. 
2. Traffic Congestion
Naturally, with more people out of school and taking time off work, this means there are more people on the road going out and enjoying themselves. It also means there is an increase in traffic from people going on road trips and traveling for vacation. And the more cars there are on the road, the more traffic gets congested, which increases the risk of being involved in an accident. 
3. Mechanical Failures
When things heat up in the summer, vehicles are more likely to have mechanical problems and maintenance issues. Things like tire blowouts, engines overheating, and other mechanical failures are more common in the summertime, and if you are driving when something fails or goes wrong, it can cause you to lose control of your vehicle and cause an accident. This is why vehicle maintenance is especially important to keep up with during the summer, especially if you are planning a road trip. 
4. Construction
Road construction increases significantly during the summer, thanks to the warmer weather. In the winter, most construction projects get put on hold due to things like snow, ice, and freezing temps. But as soon as spring and summer hit, construction starts all over again, especially road projects to fix things that got ruined during the winter, like potholes. And when road construction increases, so does traffic, which means accidents are more likely. 
5. Motorcyclists, Bicyclists, and Pedestrians
With the nicer weather, there is also an increase in motorcycles on the roads, as well as cyclists and pedestrians out walking. Not all drivers take necessary precautions where bicyclists and pedestrians are concerned, and many drivers even get annoyed having to share the road with motorcycles. And, of course, motorcycle riders themselves can also drive recklessly. Unfortunately, all this adds up to more accidents.
6. Alcohol and Drug Use
With all the vacations, summer events, bar hopping, pool parties, and BBQs, drinking and drug use increase this time of year. Unfortunately, not everyone responsibly relies on a designated driver or public transportation when they've been using. This means more drivers are on the roads while drunk and under the influence of drugs, which means more accidents.  
Kentucky Personal Injury Lawyers – Rhoads & Rhoads
If you are planning a summer road trip this year or simply plan to be on the road for any reason, it's important that you take extra precautions to keep yourself and your loved ones safe. As shown above, road dangers increase significantly this time of year, and the aftermath of an accident can be devastating if you aren't careful. 
If you do get into an accident and need help filing a personal injury claim, our team of attorneys can assist you. At Rhoads & Rhoads, we are dedicated to helping our clients get what they need after suffering from an accident. We will do everything we can to ensure you are fully and fairly compensated. 
Call us at 888-709-9329 to schedule an appointment with one of our Madisonville or Owensboro personal injury attorneys. We offer free initial consultations, and all cases are taken on a contingency fee basis, so no initial payment is required. We get paid only if we win or settle your case, and there is NO RISK involved.