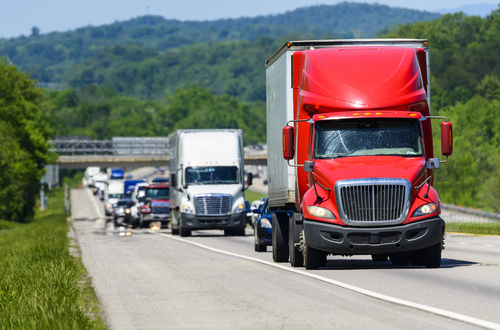 How To Avoid An Accident With A Large Truck or Bus
Big trucks and buses have many operating limitations such as large blind spots, long stopping distances, and limited maneuverability. These limitations make it essential for other vehicles to put an extra special focus on safety when sharing the road with them. The team at Rhoads & Rhoads, with the help of the Our Roads, Our Safety program by the Federal Motor Carrier Safety Administration, would like to offer these ten driving tips to help.
Stay out of the No Zones. Large trucks and buses have huge blind spots – or No Zones – around the front, back, and sides of the vehicle. If you can't see the driver in the truck's side mirror, assume that the driver can't see you.
Pass Safely. Make sure you can see the driver in the mirror before passing. Signal clearly then move into the left lane and accelerate so that you can get past the truck or bus quickly and safely. Never pass from the right lane.
Don't Cut It Close. Cutting in too close in front of another vehicle is always dangerous, but it's especially dangerous to "cut off" a commercial bus or truck. If you move in quickly from either side, you're likely to be in a blind spot so the driver may not see you in time. Even if you're visible, the vehicle may not be able to slow quickly enough to avoid a crash.
Stay Back. Tailgating a truck or bus presents added dangers. Because trucks are so high off the ground, if you fail to stop in time your vehicle could slide under the truck.
Anticipate Wide Turns. Buses and trucks require extra turning room – they swing wide, or may even initiate a turn from a middle (rather than far right) lane.
Be Patient. Honking, driving aggressively, or weaving through traffic won't make the trip faster, but can cause dangerous distractions and crashes.
Buckle Up. Wearing your seat belt is one of the most important things that you and your passengers can do to save your lives. A seatbelt may keep you in your seat and help you maintain control of your vehicle.
Stay Focused. If you need to attend to a text, a call, GPS, or an app, get off the road and stop driving. Driving distracted can be as dangerous as driving impaired.
Don't Drive Fatigued. Take regular breaks, get another driver to relieve you, or get off the road and find a safe place to rest.
Never Drive Under the Influence of Alcohol or Drugs. Alcohol and other drugs impair both judgement and reaction time. There is no safe limit for drinking before driving. If your medication carries a warning, take it seriously.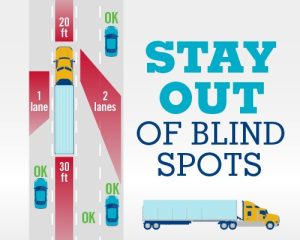 Owensboro and Madisonville Accident Lawyers — No Recovery, No Fee
Many accidents involving large trucks or buses contain a lot of uncontrolled variables, occurring even when these ten tips are being followed. We can help.
 With offices in Owensboro and Madisonville, Rhoads & Rhoads represents motor vehicle accident victims throughout Western Kentucky. We offer free initial consultations, and all cases are taken on a contingency fee basis, there is no payment required up front. Call us at 888-709-9329 or contact us by e-mail to schedule an appointment with one of our Madisonville or Owensboro personal injury attorneys.