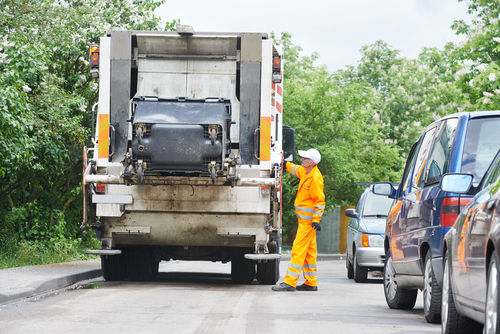 Scottsville City Worker Killed After Being Hit By Driver
Kentucky State Police recently reported a two-vehicle collision in the city of Scottsville that caused the wrongful death of a waste collection worker. Preliminary investigation reports indicated that Kenny Manion, 58 of Scottsville was operating a 2011 GMC Yukon headed east on Locust Street when he approached a 2014 Freightliner waste collection vehicle owned by the city of Scottsville, which was stopped in the roadway with its caution lights on and shining. Witnesses on the scene advised police that Jeffrey P. Anderson, 38, an employee of the city of Scottsville was working behind the waste collection vehicle when Manion's vehicle approached and failed to stop, striking Anderson and the waste collection truck.
The city worker was transported to the Scottsville Medical Center Hospital where he later succumbed to his injuries and was pronounced deceased by the Allen County Coroner's Office. There were no other injuries reported on scene, and no criminal charges have been filed against the other driver at this time. The investigation is still ongoing. Our thoughts are with the worker's family and friends.
Kentucky Joins 'Slow Down To Get Around' Campaign
The most recent data from the U.S. Bureau of Labor Statistics shows that the waste and recycling collection occupation ranks fifth in the nation for injuries, accidents and fatalities, and more recent data shows that many accidents involving waste and collection workers are caused by inattentive motorists and distracted driving.
In March of 2017, Kentucky Governor Matt Bevin (R), signed into law new legislation that will protect workers in the waste and recycling industry. HB144, Kentucky's version of the Slow Down to Get Around law, requires motorists to slow down or move out of the way of waste and recycling vehicles and designed to protect waste and recycling workers. Kentucky is now the thirteenth state to enact this vital legislation. The law requires motorists to slow down around waste and recycling trucks that are actively engaged in making collections and have their safety lights flashing. This is similar to cautions motorists must now exercise when traveling through a construction work zone or when passing a stopped public safety vehicle.
Drive Smart, Keep Workers Safe
Avoiding accidents with big trucks like waste collection vehicles and other city transports is crucial. Start taking note when you are behind that garbage truck on your way to work, school or home, and make sure you slow down and stop so that your waste and recycling workers, and other city employees operating large vehicles can complete their jobs safely. Before you try to pass a truck, ensure that you have checked for traffic coming in the opposite direction before going around the truck and that you have looked closely for workers. This protects the workers as well as yourself from any potential deadly accidents. Here are some additional tips to help you become more aware of what to do when sharing the road with worker and utility type vehicles: 
Stay Alert and Minimize Distractions
Dedicate your full attention to the roadway, and watch for big trucks
Avoid changing the radio station, using a mobile phone or texting, eating, or other distractions that can remove your concentration from the road
Keep Your Headlights On
Even during the day, normal traffic and weather can make it hard to be seen or for you to see what is parked ahead
Just keep them on, don't turn them off so you can get a good look at your surroundings
Pay Attention to the Road
"Listen to the signs" and watch for flashing lights that are warning you to slow down or stop
Watch brake lights on vehicles ahead and watch out for large trucks that may look parked on the side of the road because they may be picking up trash and recyclables or managing other maintenance issues
Watch traffic around you and be prepared to react to their driving cues as well
Watch for pedestrians and people working outside of vehicles parked with caution lights
Watch New Traffic Patterns
Be aware that traffic patterns in the city can change on trash and recycle pick up day, during city cleanup days, and when road repairs are being done
Don't Tailgate
Follow other vehicles at a safe distance, especially big trucks
Don't ever travel close behind a garbage or recycling truck, they will not be able to see you
Watch Your Speed
Workers and sanitation employees may be present just feet away from where you are driving on the road
Be prepared to slow down if conditions indicate the need, regardless of the speed limit
Change Lanes Safely
Change lanes only where pavement markings indicate, and only when traffic conditions permit
Never try to change lanes when a garbage or recycling truck is near
Follow Instructions from Truck Signage
Watch and read the warning signs on big trucks
They are there for your safety, pay attention
Expect the Unexpected
Workers, work vehicles, or big equipment may enter your lane without warning
Other vehicles including large trucks may slow, stop, or change lanes unexpectedly
Be Patient
Patience and vigilance can be the difference between making it home safely and not making it home at all – stay calm, stay safe
If You've Been Hurt in a Garbage Truck or City Vehicle Accident
If you work on a solid waste or recycling truck or have been injured in an accident while working in a large vehicle, you will want to speak with an experienced attorney. Rhoads & Rhoads has been protecting the rights of the injured throughout Western Kentucky for over 39 years. We will help you file your claim with your employer and also determine if there is a basis for a personal injury lawsuit against a third-party for your injury. Our team of experienced trial attorneys and knowledgeable support staff are available to help you through this difficult time and get you the financial recovery you deserve.
With offices in Owensboro and Madisonville, Rhoads & Rhoads represents work injury victims throughout Western Kentucky. We offer free initial consultations, and all cases are taken on a contingency fee basis, which mean there is no payment required up front. Call us at 888-709-9329 or contact us by e-mail to schedule an appointment with one of our Madisonville or Owensboro personal injury attorneys.